Diary of a Bookworm: Physical vs digital books and their pros and cons
From price ranges to aesthetics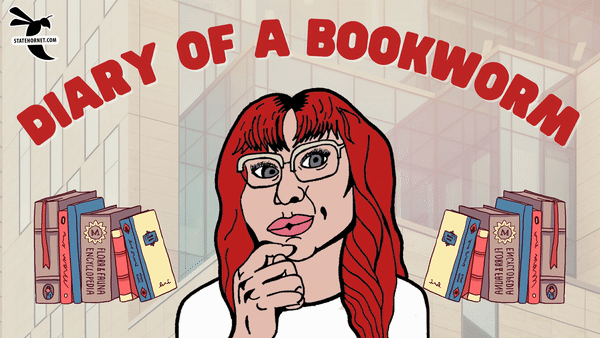 Dear diary, every time I walk into a bookstore a boost of serotonin hits me. 
Whether it's the smell of the coffee coming from the cafe, the smooth alternative music playing in the speakers, or the fact that thousands of books surround me, bookstores are my happy place.
But recently, I've found myself using my Kindle. This electronic portable reading device takes my attention away from bookstores, considering every book I could ever think of is in one tiny device.
Is using a Kindle worth losing that slight boost of serotonin I get when I step foot into a bookstore?
In this diary entry, I detail my pros and cons of reading a physical book vs. using an e-book or e-reader.
Physical books
Bookstores bring me a sense of happiness and a part of that is the smell of the books. Call me crazy, but nothing excites me more than the distinctive smell of physical books. 
Touching a book, skimming your fingers over the pages and feeling the soft, thick paper is very satisfying to the average bookworm. 
When creating a personal home library or a pleasing bookshelf, bookworms get to organize their books however they want, making their shelf aesthetically pleasing.
For example, I organize my bookshelf by genre.
Romance (contemporary on one side and dark romance on the other)

Fantasy

Fiction

Young Adult
The aesthetic of a book is almost 50% of the happiness bookworms like myself experience. However, physical books are atrociously expensive. 
Paperback books can range from $15 to $25 each and hardcovers can range from $20 to $35 each. When you are a book connoisseur like I am, I spend close to $50 a month on books. 
As a broke college student, that takes a toll on my income, but I can't help it — I'm addicted.
Digital books
One of the best ways to save money on books is to use an e-reader such as an Amazon  Kindle. 
I am using an Amazon Kindle and subscribing to Kindle Unlimited costs around $10 a month, which saves me hundreds of dollars. 
Kindle Unlimited can be accessed on a Kindle e-reader or through the Kindle app from the app store but requires a subscription to access the unlimited content.
It is cheaper to use a Kindle and  saves storage space for the special edition books you want on your bookshelf. 
The only problem I find with digital books is that Kindle Unlimited doesn't always have the book that I want to read. You lose the satisfactions that come from physical books.
I mainly use kindle unlimited for the erotic books that I won't miss if they're not on my shelf. 
In the end, I think it's essential for every bookworm to utilize both physical and digital books to find even satisfaction when it comes to reading. 
Sincerely, a bookworm.