The Big Picture – 'Knock at the Cabin'
Disclaimer: Light spoilers for the film are included in this review.
I love the apocalypse.
As a concept, it can reduce a group of people to their worst qualities while still highlighting their most human attributes. 
I can't sing the same praise for M. Night Shyamalan. 
Responsible for "The Last Airbender," widely regarded as one of the worst film adaptations ever, Shyamalan has been both deeply resented and joyfully praised through the hills and valleys of his career. 
Shyamalan's newest work,"Knock at the Cabin," is a marriage of the two and is laden with socio-political and religious commentary.
Story continues below video. 
Adapted from a novel called "The Cabin at the End of the World" by Paul G. Tremblay, a family is kidnapped by four people claiming that one of the family must be sacrificed to prevent the coming apocalypse. 
Given that's all you can gather from the trailer, I was intrigued. 
I enjoyed it, despite being in a completely empty theater.
My biggest takeaway from the film would be Dave Bautista's performance as Leonard. Seeing his growth as an actor has been inspiring to say the least. 
Bautista has shown an emotional range that would typically go unseen in most athletes that become actors. Here, he embodies remorse in such an authentic fashion that, while convincing, circumstances still keep you weary of his intentions. 
It's layered, intriguing and best of all, a plain good performance. 
Story continues below photo.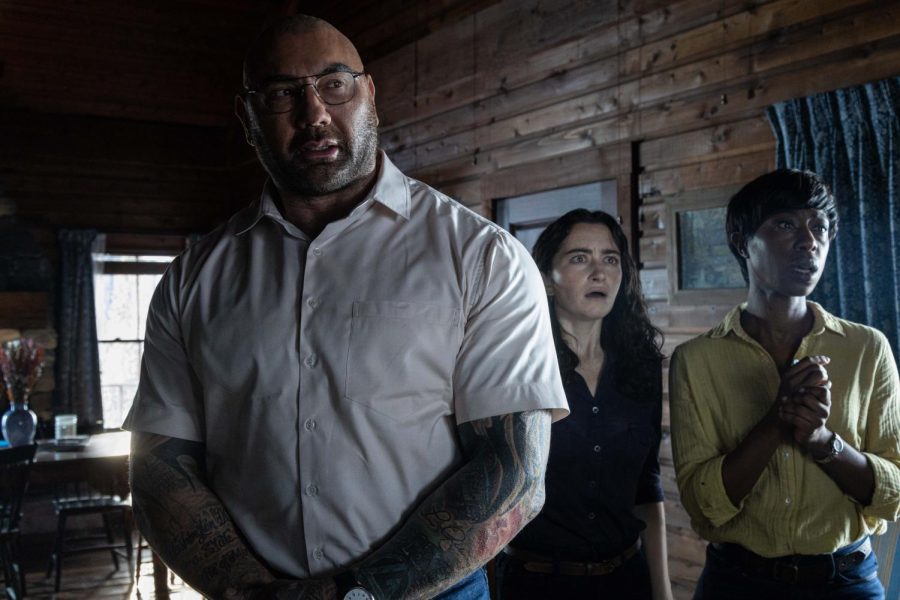 Other than Bautista's performance, not much captivated me. 
The film clearly has much to say about the pandemic, religion and personal experiences. The most obvious commentary in the film relates to the same-sex couple that leads. 
Played by Johnathan Groff and Ben Aldridge respectively, Eric and Andrew are two dads to a young girl, with their experiences as a gay couple affecting how they react to situations in the film. 
Some of the commentary can be too obvious to be impactful, especially when spoken through the daughter. Having diversity, namely a same-sex couple, in your film is amazing, but when you highlight that diversity as if it's part of what your film "offers," it comes across as ingenuine. 
While I love trying to dissect the commentary on COVID-19 and the general sacrifices we made as a society, that's not what most audiences are looking for. 
Story continues below photo.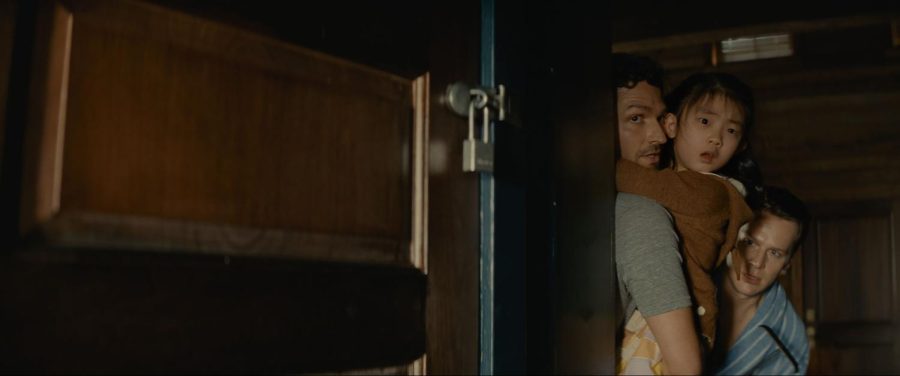 The cinematography is a mixed bag with some shots looking immaculate and others feeling lackluster. 
There's an action shot of the camera following directly behind a character being hit repeatedly that was visually grabbing. Then there are dialogue shots at a steep side angle that feel so useless for what they convey to the audience. 
The CGI displaying the few apocalyptic scenes is pretty disappointing. While those sequences aren't the focus of the film, they don't look appealing or immersive at all.. 
While I was mostly engaged throughout the film, I didn't come away with too much to say. It's worth a watch if you're truly bored, but I don't expect to see this on many "best of year" lists. 
"Knock at the Cabin" gets a 7/10 from me.