Sacramento State holds town hall in response to antisemitism on campus
Students in attendance underwhelmed by the event
Sacramento State hosted a town hall, assembled by faculty and community leaders, to bring the campus together in light of recent antisemitic events at the university on Wednesday evening.
Humanities and Religious Studies Professor Harvey Stark and Michael Nguyen, from the Division of Inclusive Excellence, moderated the town hall. 
The event was presented in three panels: historical awareness, healing from hatred and action moving forward. 
Shelly Zalezniak, the president of the Israeli-Jewish Student Association, said she expected the town hall to focus more on antisemitism and wished there was more Jewish representation.
"We kinda just heard them talking about all of this [like a] lecture we have to attend," she said. "…They maybe should've let us, the students, next time represent and lead the town hall meeting… We're the students; we're the face of this university as well."
The initial reaction from some students who attended was that the event was not authentic to the cause. 
Students added that they felt like the event's effectiveness was in question, doubting how it actually made a difference on campus. 
"I did feel a little bit like it was a production," second-year computer science major Michael Berbach said.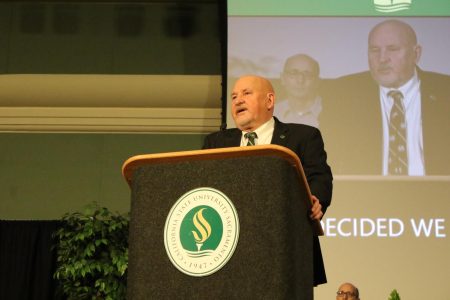 The town hall was originally announced by Sac State President Robert Nelsen on Sept. 29. At the event, Nelsen addressed the audience about the recent history of hatred on campus, adding that he wished there weren't circumstances to prompt a town hall. 
"I'm supposed to welcome you, and you are welcome here, but I wish you weren't here," Nelsen said. "But I hope that you being here today will make this university a stronger place where we don't have to face what we're facing right now."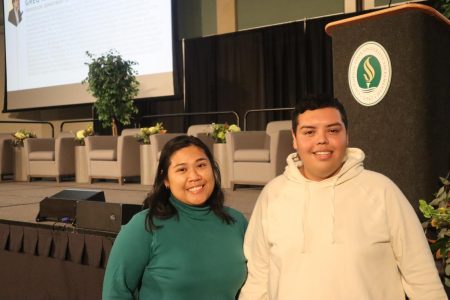 Jenn Galinato, a third-year political science and journalism major, said she was curious on how the town hall is involved in the university's anti-racism plan.  
"I wanted to see how this particularly fell in since some students I had a chance to interact with in my classes, or even in passing spaces, mentioned [antisemitism] is a really big issue for them," she said
Robert Gonzales, a third-year political science major, said he heard about the event last minute and wished it was publicized more. 
"I'm hoping to speak today about racism, antisemitism and the fact that President Nelsen is retiring at the height of racist acts and attacks on campus," he said before the event. "…I'm hoping President Nelsen is aware of these issues and it's horrible that he has to retire at the height of this issue."
The organizers asked participants to submit questions online while registering for the town hall. Only two questions from the audience were addressed during the last panel and students did not speak at the event, with the exception of a graduate student panelist. 
"I definitely think that students are scared and are feeling very unsafe," Morgan Betty, the graduate student panelist, said. "For many students, this institution is a safe space. So I think when things like this happen, they start to question if they are safe here."
The Mayor of Sacramento, Darrell Steven Steinberg, made an appearance over Zoom after the second panel, saying he didn't know about the town hall until earlier that day. 
"College campuses are supposed to be places where the free expression of ideas is not only accepted, it is to be embraced and celebrated," said Steinberg. 
As the event went on, many people began to leave early. 
"I wish that I can stay longer and really hear some more ideas about how we can get into action," Monty Faidley, a graduate student in a counselor program, said. "I think that's really what everyone is hungry for."
Additionally, Faidley doubted the productivity of the event but appreciated how it started a conversation. 
"So on one hand, it's too small; it's not enough," Faidley said. "I think it's not gonna make a huge difference. On the other hand, it's a beginning."
Additional reporting by Kamelia Varasteh, Jacob Peterson, and Justine Chahal