'It's my roots': former migrant field worker becomes college student
Jonathan Santiago honors his family through education
A line of workers kneels in the fields, sweating under the heat of the bright sun. Their bodies ache and their early morning commute adds to their already-growing exhaustion. 
It is hard work for many Hispanic Americans, but according to second-year economics major Jonathan Santiago, it may be the only work available to them. 
However, Santiago, who had worked in the fields of St. Helena in high school, had opportunities available to him. After working in the fields, he decided to focus on his further education. 
"I'm taking a deep breath like 'Okay, you have a career ahead of you,'" Santiago said. "Now focus on this. Your family came here to give you a better life and give you a better opportunity. You can't just go make that a waste."
Santiago grew up in Sonoma city with a strong Hispanic culture surrounding him as he lived in a community of migrant farmers. After seeing individuals like his mother working in the fields, he decided to do so as well for his own experience despite being warned of the harsh conditions. 
Santiago said the working conditions were as difficult even if he was aware of the circumstances. He said he worked on his knees and experienced back pain. Since he worked during the summer, he had to be outside for hours in 100 degree weather. 
"I feel really proud," Santiago said. "Not many people are aware of the situation and it's my culture. It's my roots. I know what the experience is like and how to feel about it."
He also said that communication between his employers could have been better. He was told to wear long pants and boots, but there were smaller concerns he needed to be informed of, such as the distance from the fields and the closest source of water. 
Despite the difficulty, the highlight of working for Santiago was working alongside his two friends. 
"I think that was the best part of it because I had people to talk to, being able to be comfortable around them," Santiago said. "Having a friend really helped because you're working in the fields with a friend that is there to support you and tell you to keep going." 
Santiago said he would not mind returning to work in the fields, but for now, he is glad to focus on his education. 
Saray Aguirre, retention specialist for the College Assistance Migrant Program, also known as CAMP, works to help acclimate students who are children of migrant farm workers like Santiago to college.
"Some of these students don't come to college because they don't know how to ask or who to ask [about] how to move forward with the application process or how to even submit documents," Aguirre said.  
After watching her father work long days in the fields, Aguirre went through the program herself. She said she wants students to appreciate where they come from but understand the other opportunities available to them through higher education.
The story continues below the image.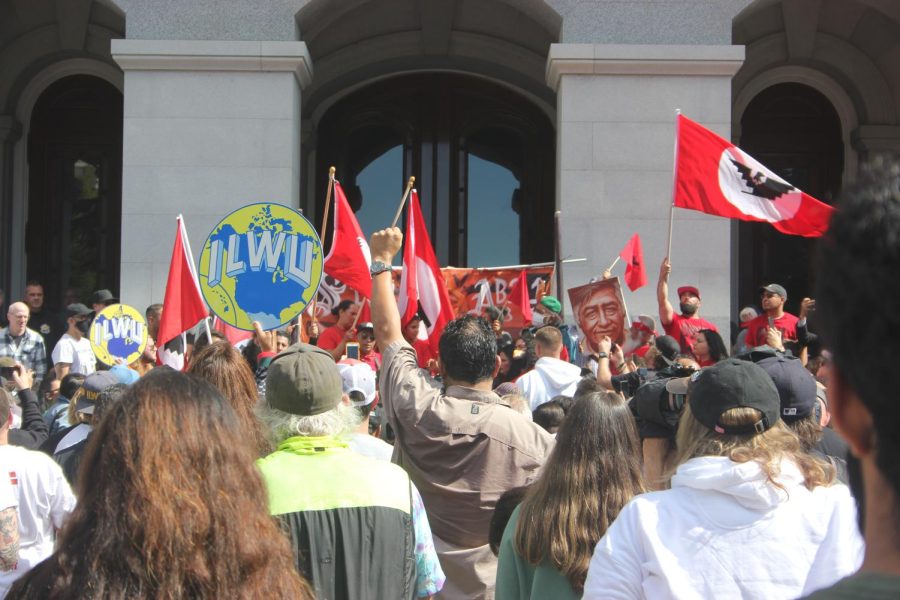 Santiago said he hopes conditions for field workers become better. He said he supports the United Farm Workers of America, a labor union that held a march in Sacramento. 
"It's pretty difficult for them because some of the workers are immigrants that don't have papers," Santiago said. "The only option is to work in those conditions, which is pretty hard and they can't go anywhere else." 
Children of these workers often see their parents struggle to support their families, according to Aguirre. Second-year kinesiology major Cristina Gonzalez Salinas watched both of her parents struggle with field work and wanted to honor them by obtaining an education. 
"It was hard because I saw the struggles they went through on the daily just to support me and my family," Salinas said. "It kind of, in a way, encouraged me to come out here to college because I want a better life for not only me but, at one point in my life, give back to them."
Salinas also said she struggled to adjust to college life when she began attending Sac State but has developed her skills professionally and become more independent through CAMP despite the ups and downs. 
Aguirre acknowledges that challenges such as homesickness can arise for these students but believes they will benefit from an education as she has. 
Santiago said he did not expect to be receiving the education that he is now working toward. He said that sometimes taking classes can be stressful, but his family inspires him to keep going. 
"At one point, I want to give up," Santiago said. "I'm tired. Let me just go to work or something. But then I remember all the things that my mom and my family said. 'You have a good life. We came here to give you a better life to help you get the education that we never got.'"