Hornets for hire: Job and internship fair provides opportunity for student employment
Career fair prepares students with exposure and practice
Figuring out one's future after college can be challenging for many students, especially given the expectation of having a job lined up post-graduation. However, Sacramento State hosted its annual Job & Internship Fair in the University Union Ballroom Tuesday, inviting students to come and meet potential future employers.
The fair will return Wednesday, Sept. 28, 2022 to the University Union from 10 a.m. until 2 p.m. Students are asked to register beforehand through the Handshake website. 
Melissa Repa, Sac State Career Center director said this event gives students and alumni exposure to employers but also provides them with an idea of possible career paths.
"I think there is this myth that major equals career, but hopefully this event dispels this myth," Repa said.
According to Repa, the Career Center is aiming to expose students to all opportunities, not just their major or degree, since many employers want employees with all types of backgrounds.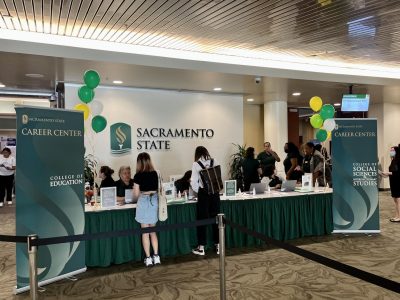 This event had to be scheduled for two separate days due to the number of employers interested in finding students for available internships and jobs. According to Repa, it is also meant to accommodate students with busy schedules.
The Sac State Career Center offers a wide range of services to students and alumni including Handshake, a hiring website for Sac State students, resume & cover letter assistance, career workshops and career counseling. 
"This career fair gives [students] exposure," Repa said. "It also gives them practice with interacting with employers [and] learning about which jobs and internships are out there." 
When asking students about what they hope to gain from this career fair, they said they are interested in finding possible future careers specific to their major. Joshue Osuna is a fourth-year computer science major looking to find a career in his field of study. 
"[I am] looking for a company that has a software developer [position] and preferably from home," Osuna said. 
Other students like Joselyne Sandouci, a  Sac State alumna who recently graduated with a degree in communications, say they are looking to gain exposure to different companies., 
"It exposed [students] to more job opportunities and different positions to explore within," Sandouci said. "[I am hoping ] to get a full-time position out of this event."
The career fair will continue Wednesday, Sept. 28, 2022 in the University Union Ballroom and will offer a wide variety of employers ready to hire for students.