Sac State Voter Guide: California law redefines election basics
Students will be able to vote on campus as California's Voter's Choice Act aims to modernize elections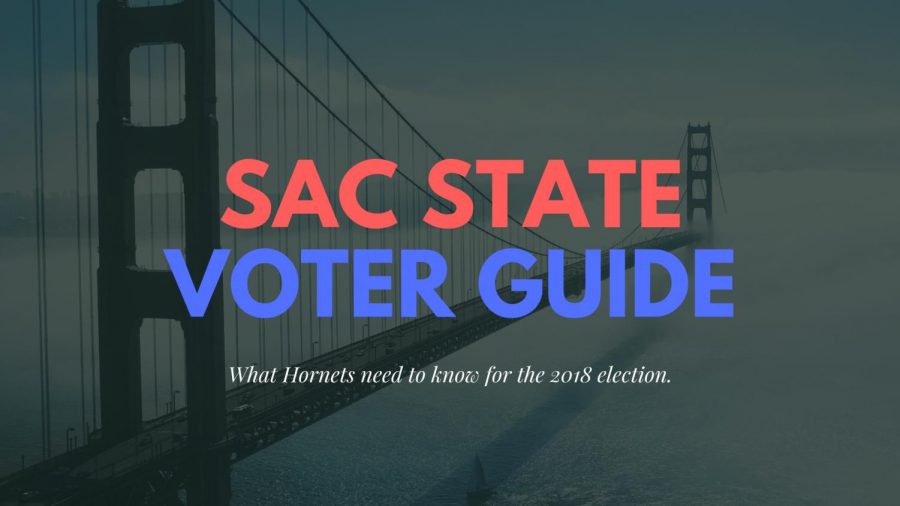 The second week of October marks the beginning of the 2018 election in California as vote-by-mail ballots begin to be delivered to registered voters.
For the first time in state history, ballots will be mailed to every registered voter in Sacramento County for a general election. This change comes under the California Voter's Choice Act, formerly known as SB 450, a 2016 state law that, according to the California secretary of state website, "Will modernize elections in California by allowing counties to conduct elections under a new model which provides greater flexibility and convenience for voters."
"The goal of Voter's Choice Act is to modernize elections and make sure that elections and the way they are run fit into modern lives," said James Schwab, California deputy secretary of state for policy and planning. "That's giving voters more choices and options for how, when and where they can cast their ballot."
According to Schwab, who is overseeing implementation of the act statewide, the goal is to increase voter participation and make voting more convenient for voters.
According to the secretary of state website, the act is only being implemented in Madera, Napa, Nevada, Sacramento and San Mateo counties in 2018, but will be in other Californian counties in the future.
The act also changes how voters will register as well as when and where they can vote, depending on what county they live in.
Registering to Vote
Anyone that is eligible to vote can register on the California secretary of state website. The deadline to register to vote in California is Oct. 22. However, conditional voting registration will be available at county election offices and vote centers for counties implementing the Voter's Choice Act.
Conditional voting registration allows for those eligible to vote to register up to Election Day, Nov. 6, and have their vote counted once the state approves their registration.
Schwab said that conditional voting can be helpful for anyone who forgets to register to vote before Election Day.
"If you just forgot about registering to vote, forgot to change your address, you can show up to a vote center and update your address or register to vote for the first time if you haven't registered prior," Schwab said. "They will give you your ballot and you will fill it out right then and there."
According to Janna Haynes, Sacramento County voter registration and elections communication and media officer, Sacramento State students who have already registered to vote should update their registration for their current address.
"If you have moved since the last election you received a ballot to, make sure you go on the secretary of state website and update your information," Haynes said. "That way, when the time comes, you'll receive your ballot in the mail and you'll be able to vote."
Besides filling out the form online, Sac State Associated Students, Inc. is providing students the opportunity to fill out registration forms every Tuesday from 12-2 p.m. before the Oct. 22 deadline in the library quad, according to Danielle Aragon, ASI civic engagement officer.
"I am out in the library quad with the table and voter registration cards," Aragon said. "Legislative report cards that give just basic information on local representatives and how they vote on various bills that will affect higher education."
California residents can also check if they are registered to vote on the state's secretary of state website.
Where and When to Vote
Finding where and when to vote will depend on the address the voter is registered at. If the voter is registered in a county besides the five counties implementing the act, then they can find their polling location on the California secretary of state website. Polling locations will be open on Election Day, Nov. 6, from 7 a.m.-8 p.m.
Voters living in counties implementing the act will be able to vote at any voting center or turn in their ballots in a number of ways.
Vote-by-mail ballots begin distribution Oct. 8 to all voters who have either signed up to receive their ballot in the mail or are registered in a California Voter's Choice Act county. Voters should expect their ballots about three to four days after Oct. 9, or the day they register following Oct. 9, according to Schwab.
"Generally, it takes the post office three-to-five days to deliver it," Schwab said. "So if you didn't get it by Monday the 15th, that's probably when you would call."
Schwab said that if voters didn't want to call, they could also wait until voting centers open and get a new ballot there.
Voters should call their county election officials if they do not receive their ballots after a week, according to Haynes.
Voters in any county can mail or drop off their ballots at their county elections office. Voters in Voter's Choice Act counties, however, will have additional options in terms of dropping off their ballots.
Ballot drop boxes will be located throughout Sacramento County starting on Oct. 8, according to the county website, allowing Sacramento County voters to turn in their ballots at any of the locations. Ballots can also be dropped off at any vote center in Sacramento County with some opening on Oct. 27, and others opening Nov. 3.
Sac State's Modoc Hall will host a vote center starting on Nov. 3, giving students and teachers a place to vote on campus, according to Aragon.
"The Sac State vote center will be open for a total of four days, including Election Day," Aragon said. "I think that will help a lot of students who have limited availability because of work, school [and] kids."
The Sac State vote center will be the first in California to be located on a college campus of any kind, according to Schwab.
Haynes said that accessibility was primarily considered in choosing the locations of vote centers.
"It has 14 criteria that has to be considered when looking for and choosing vote centers and vote-by-mail ballot drop box locations," Haynes said. "A lot of them have to deal with proximity to public transportation, to population, to language-minority communities, to voters that have disabilities, low-income communities [and] making sure we hit geographically isolated populations."
In the end, Sacramento County was able to find enough vote center locations that surpassed the minimum requirements with a total of 70 vote centers, according to Haynes.
Ballot drop boxes opened in Sacramento County on Oct. 8, followed by some vote centers opening on Oct. 27 — all vote centers will be open starting Nov. 3. Polls in other counties will be open only on Election Day, Nov. 6. Vote-by-mail is available in all counties starting Oct. 8. All voters have until Nov. 6, at 8 p.m. to vote.
Interactive map by Gloria Gibbs.