Freshman is dangerous on the field and vital to team
With five goals so far, Benji Kikanovic has other teams double and triple-teaming against him.

After hitting a game winner against University of California, Santa Barbara Oct. 3, Sacramento State men's soccer player Benji Kikanovic proved that his strike is essential to the team.
Only a freshman at Sac State, Kikanovic has scored five goals this season, tied for the team lead, two of them being game-winning goals.
"Honestly, I just play my game and I happen to play good, which is a lot of hard work at training," Kikanovic said.
RELATED: Sac State men's soccer team wins first Big West Conference match
Kikanovic is a Sacramento County native from Antelope, California, and attended Antelope High School, where he scored 42 career goals.
Kikanovic started playing when he was 7 years old and has never lost his love for the sport.
He started off playing recreational soccer and eventually made his way up to club soccer and landed a position in the Placer United Soccer Club, a competitive program for elite players, where he played as a midfielder and forward.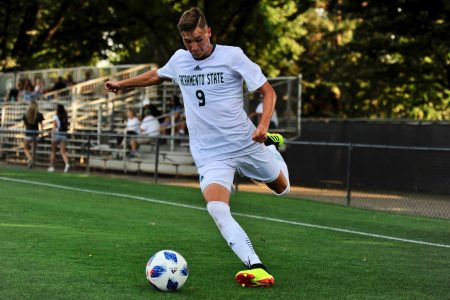 According to their website, the program pushes a competitive curriculum, which puts the players in challenging and competitive soccer environments.
He was recruited from Placer United Soccer Club by Sac State men's soccer coaches and got the opportunity for a starting position as a forward.
Kikanovic is 6 feet, 1 inch tall, but described himself as a skinny player, compared to the other guys on the team, so when the defense on his team goes against him at practices, it trains him to push and prepare him for the bigger guys in games.
Outside of practice, he spends his free time training with his father. They focus on technicalities such as hitting long balls and work on his touches.
Although he has had many influential coaches in his life, he praised his father as being the main reason why he is a good player and gave him credit for everything he knows.
"My dad is a really big part of how I play today and [he] taught me pretty much everything I know," Kikanovic said. "I tell all my coaches that and they laugh."
Many opposing teams have taken notice of Kikanovic's power on the field and began to double and triple-team against him. He knows he is dangerous when it comes to one versus one against another player and is not afraid to push through.
"It's kind of harder for me, but if anything, it's making me better," Kikanovic said.
Senior forward Brad Bumgarner is usually up top with Kikanovic pushing through to strike. From the beginning of the season, they assisted each other and scored many goals during scrimmages.
"He's come in, he's done great, he's got amazing production," Bumgarner said."I knew it was going to be a good year and it has been so far."
Bumgarner suffered an injury at the beginning of the season leaving Kikanovic to fend and work with other teammates for leading games.
"I should be back for the game against Northridge and be able to support Benji and him support me," Bumgarner said.
RELATED: Sac State men's soccer team wins second Big West Conference match
Sac State head coach Michael Linenberger says the start of the season did not go as planned, but since the win against UC Santa Barbara, he is excited to see a change. With top players getting hurt, many of the freshman class had to step up.
"We've been really happy with our freshman class, Benji in particular has done really well," Linenberger said. "He's scoring goals, he's dangerous, he creates a lot of issues and problems for opponents as a striker, so we've been super happy with him."
The roster for the men's soccer team has over 20 players, but many of the freshman are taking on leading roles such as goalie.
"We felt, coming into this season, that we had a really good recruiting class and we are really pleased that some of our freshman are playing big roles this year," Linenberger said.
Kikanovic dreams of becoming a professional soccer player, but took the chance at a good education in case becoming a professional soccer player doesn't work out.
He is a communications major and has not figured out exactly what to do with the degree, but knows he would like to work with soccer.
With many games left in the season, Kikanovic believes that there is more work to do as a team and believes there is room for improvement.
"I think these next few games are going to be tough but if we all come together and work hard just like we did [Oct. 3] we'll be fine," Kikanovic said.
Kikanovic's main goal for the season is to win the Big West Men's Soccer Tournament title at the Big West Conference and eventually make it to the NCAA tournament.