Washington, Iowa, Denver highlight Sac State 2019 gymnastics schedule
Hornets to meet Cal, UC Davis three times a piece
Six gymnastics teams coming off postseason appearances in April will compete against Sacramento State in the upcoming 2018-2019 season, according to head coach Randy Solorio.
The Hornets will open against two of the ranked teams — Stanford and Cal — to open the season in the NorCal Classic Jan. 6 at the Nest. UC Davis and San Jose State will join them.
"The NorCal Classic last season was one of my favorite meets," Sac State sophomore Jordyn Brent said. "It's a fun way to start off the season competing against multiple teams the first meet."
RELATED: All 6 seniors have nights to remember in final gymnastics home meet
Last season, the NorCal Classic was hosted by Stanford and Brent recorded her highest floor score of the season — a 9.725 — in her collegiate debut.
The NorCal Classic will be the first of three times that the Hornets will compete against Cal, who reached the national semifinals and finished this past season ranked No. 9 in the country.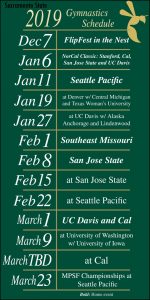 Sac State will again host Cal in a tri-meet also featuring UC Davis on March 1 before the Bears host the Hornets two weeks later at Haas Pavilion in Berkeley.
Sac State will face off against a pair of ranked teams from a season ago at the University of Denver (No. 15) on Jan. 19 that will feature Central Michigan (No. 29) and Texas Woman's University.
RELATED: Gymnastics team records highest score of the season at UC Davis
Denver is led by junior all-arounder Maddie Karr who had the nation's fifth best all-around average as a sophomore.
On March 9, the Hornets will travel to Seattle, Washington to take on the University of Washington (No. 11) and the University of Iowa (No. 33), each of which made the postseason in 2018. Washington is coached by Elise Ray-Statz, a bronze medalist at the 2000 Summer Olympics.
Sac State will also be headed to Seattle Feb. 22 to take on Seattle Pacific and then again on March 23 for the Mountain Pacific Sports Federation championship.
The remaining eight meets will all either be at home or in Davis, San Jose or Berkeley.
"As much fun as traveling is, I love competing at home so I'm super excited for this season," Brent said. "I enjoy being close enough to where my family and friends can come and watch."