Gymnastics team records highest score of the season at UC Davis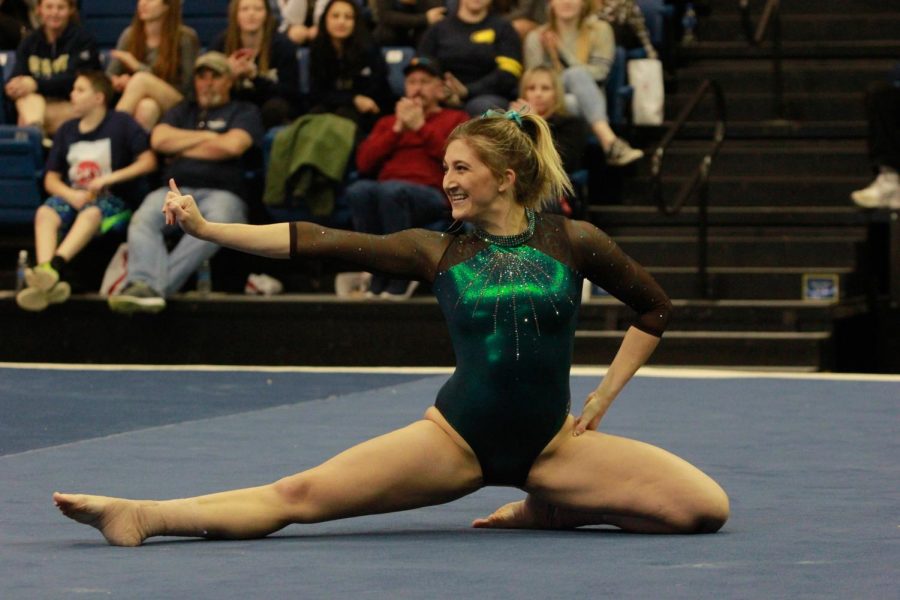 All it took was a short trip across the Causeway for the Sacramento State gymnastics team to get its season back on track in a tri-meet against Utah State and the host, UC Davis.
Not only did the Hornets set high scores as a team in vault and beam, but they destroyed their previous season high of 193.275 by hitting a 194.400.
"I'm really excited," senior all-arounder Annie Juarez said. "We really needed that. I think it is really good for our energy, our morale, it was a really good time to hit a score like that."
Juarez led the way by winning the floor event with a 9.875, and she recorded a career high in the all-around with a 39.150. It is the second consecutive week she has hit a high score in the all-around and these moments were close to never happening. In her first three seasons as a Hornet, Juarez missed 22 of the team's 34 meets due to injury and now, as the team has suffered injuries all season, she has been healthy and made an impact.
Annie Juarez ties her career high on floor with a 9.875. Sac State hits a 48.450 on floor. The Hornets are at 145.750 on the evening. Vault is up next. Here is Juarez's floor. Also, the music is really good @SH_Sports @SacStGymnastics @anniejuarez7 pic.twitter.com/4DHvaeQqsm

— Thomas Frey (@ThomasFreyRP) February 10, 2018
"I can't even explain how I proud I am of her," senior Courtney Soliwoda said. "She has come from nothing at all. Some people doubted her coming back, and now she's an all-arounder. It's very exciting to see her excel. She deserves it."
Soliwoda said that at points in their career, they were both injured at the same time and each made it their mission to get back and have a positive effect on the team.
For Soliwoda, this meet was the one that she put it all together in. She tied her career high on vault and recorded a 9.875 on beam. A season ago in this same gym, she hit her career high on beam, a 9.900.
"Here I just get it, it's here I guess," Soliwoda said. "I would love to have it at home, and it could definitely happen anywhere, but it just happens to be here. I love it out here."
Her twin sister, Caitlin Soliwoda, had two scores over 9.800 and finished with an all-around score of 39.125.
"(The Soliwodas) work really hard during practice," Juarez said. "They do a lot for the team and really do a lot for our energy, and they work really hard to bring us up. Their performances make us want to be better."
Juarez and Courtney Soliwoda were each impressed with freshman Jordyn Brent who set career highs on vault and bars while also performing on the floor. Brent's score of 9.850 on bars was enough to win the meet.
"(Her bar routine) is so easy for her," Sac State coach Randy Solorio said. "She trains the way she competes, and it's really nice. She makes it look easy."