All 6 seniors have nights to remember in final gymnastics home meet
There was hardly a dry eye on the floor or in the crowd as senior night wrapped up for the six Sacramento State gymnastics seniors performing for the final time at the Nest on Friday.
The Hornets recorded their second best score of the season with a 195.275 to finish third in a quad-meet against No. 13 Oregon State (196.850), No. 17 Arizona State (195.900) and UC Davis (194.475).
Stellar performances by seniors Jennifer Brenner, Annie Juarez, Courteney Ng, Lauren Rice, Caitlin Soliwoda and Courtney Soliwoda helped Sac State keep up with two nationally ranked Pac-12 teams.
"They have pretty much changed the way everyone thinks about Sac State gymnastics," junior Lauren Schmeiss said. "They are amazing people. Not even as gymnasts, but as leaders, as people. It's going to be really hard to see them leave."
In the regular season finale, each senior added at least one highlight to add to their career of accomplishments.
Lauren Rice:
Rice hadn't competed since tearing two ligaments in her ankle against the University of Washington on Jan. 12. It's an injury that could have ended her season. However, she remained positive and took a role of commentating the team's Facebook live stream during road meets while working in practice to get back into the lineup.
On Feb. 26, Rice said that breaking into the bars lineup didn't seem likely because of all the talent in the lineup from top to bottom. She still kept a goal of competing on bars, and on senior night, she came out of the locker room and headed straight to the training table to get taped up. She was in uniform and ready to compete.
Rice was given the chance to perform on bars as an exhibition routine. Competing in the exhibition spot means that her score doesn't count which in Rice's case is OK because she said her ankle is still a little shaky for landings.
As her name was announced, the crowd roared and every eye in the arena, including the opponents, was focused on the uneven bars setup.
Rice performed her routine and for her landing, did a jump off of the lower bar and emphatically jumped around and pumped her fists in joy.
Sac State records a 48.800 on the uneven bars. Four Hornets record scores of 9.775 but the story here is Lauren Rice returning on bars exhibition. @SH_Sports @SacStGymnastics
Here it is: pic.twitter.com/fOFHIflFVD

— Thomas Frey (@ThomasFreyRP) March 17, 2018
"That was really cool," Juarez said. "She was working really hard to put it all together, and I'm just really glad she got to have that experience."
Annie Juarez:
Injuries kept Juarez sidelined for more than half of her career, but now she is reaping the rewards of never giving up.
The Indiana native has been in a year full of firsts. Not only had she never been an all-arounder, but she had never competed on the balance beam and her uneven bars career high was a 9.550 heading into the season.
She is now in position, although very narrowly, to qualify for an NCAA Regional on bars. On beam, she had a career high of 9.800 on the event entering the meet.
"If you had asked me a year ago if I was doing beam, I would laugh," Juarez said. "Beam is one of those events that has been really hard for me, and it's all mental, so it's really tricky."
On senior night, she knew immediately after her routine that it was the best in her career as she nearly broke to tears before the judges announced she earned a new career high of 9.875.
"I was really happy that I finally was able to put it together," Juarez said. "I keep saying it, but I'm just happy to be here."
In the next and final event, Juarez scored a 9.850 on floor and her all-around score was announced as a career-high 39.275.
"Annie has kinda had the same type of stuff that I did with foot injuries and stuff," Schmeiss said. "To see her come back this year is amazing (and) it really gives me hope to come back stronger next year."
Caitlin and Courtney Soliwoda:
Every meet, the Soliwodas get the job done. Caitlin Soliwoda dominates as all-arounder while Courtney Soliwoda owns vault, bars and beam. They close events like NBA superstar Michael Jordan hit game winners, they are dependable like a running back who can be counted on to carry the football 30 times every Sunday and they can lead, pick up and give advice to their teammates when they are down or struggling like Kevin Garnett motivated Rajon Rondo and Kendrick Perkins during the Boston Celtics' 2008 NBA-title run.
"We like to call them the one-two punch," Ng said. "There gymnastics is just phenomenal. They are amazing not only inside the gym, but outside the gym. They have inspired me all of my four years to just keep going through all of my trials and all of my adversity."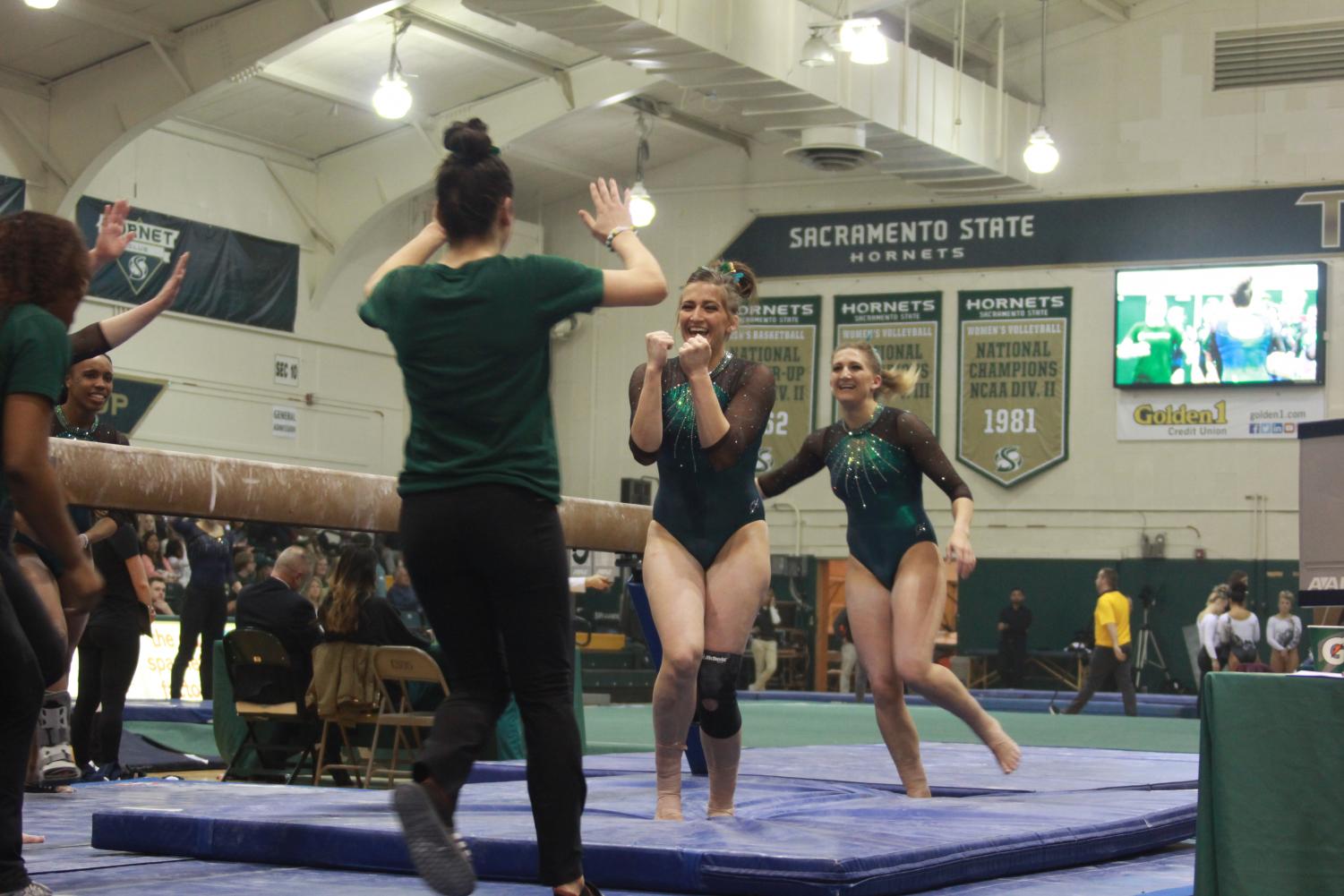 All of this culminated on senior night. On vault, Caitlin Soliwoda tied a career high with a 9.850, while Courtney Soliwoda just missed her top mark with a 9.750. On bars, Caitlin Soliwoda was in a tie for highest score on the team, while Courtney Soliwoda scored a 9.700. The sisters then commanded the four-inch wide rectangle as the last two Hornets to compete in the beam event. Caitlin Soliwoda scored a 9.800 and said she was happy she improved her front tuck which she said she was struggling with. Courtney Soliwoda nearly hit a career high and was awarded a 9.875 as the crowd rose to its feet applauding her routine.
"It was unreal, I was just taking it all in," Courtney Soliwoda said. "Words can't even begin to describe it, it was perfect. I had so much fun, and the team chemistry was there. I couldn't have asked for a better meet."
Courtney Soliwoda's final routine at the Nest ended beam and pushed the team on to floor overflowing with momentum.
Again, two seniors (Caitlin Soliwoda and Juarez) anchored and finished the event. As each of them finished their event and walked off the floor for a final time, they nearly broke down with joy.
Jennifer Brenner:
Brenner has competed on floor nearly every meet for her entire career and has filled in on vault and on beam when needed. On her senior night, she was needed in all three events. She nearly set a career high on vault before nailing down a career high on beam. But what made coach Randy Solorio say he was "proud," was her floor routine.
After she had completed only one of her three skills on floor, her floor music that is specific to her routine went out and it was silent in the Nest.
"I didn't know to keep going or to stop," Brenner said. "I just looked at my coaches and they told me to keep going."
Brenner carried on and instead of having her music, the nearly sold out audience stepped in to end the silence by cheering and yelling as loud as they could.
"I've never heard the crowd so loud," Courtney Soliwoda said.
With the fans cheering on, Brenner paused for a split second before continuing her routine and finishing her last two skills exactly as if the music was on still. On her second skill, she performed a double pike to perfection before completing her final skill, a double tuck to finish her routine.
"For her to not miss a beat and show the experience and knowledge that she has, to pull that off, and get a great score, outstanding," Solorio said. "It just makes me proud."
She ran to her screaming teammates after completing her event and was given a 9.875 which tied a career high and was the highest score for the team during the event.
"It was amazing," Brenner said. "It made my heart happy enjoying it with the rest of my team and it was definitely memorable."
Courteney Ng:
As soon as Ng finished her uneven bar routine on senior night, she put her hands on her knees and nearly broke down into tears. The senior from Elk Grove has fought through injuries her entire career and to capitalize and tie a season high score of 9.775 makes this a milestone accomplishment.
Before her junior season, she had already gone through three ACL surgeries and another knee surgery.
"I think that is why that is so emotional tonight for me," Ng said. "I didn't think I would ever even get to my senior meet. To finally be here and be healthy, that's definitely where a lot of my emotion came from today."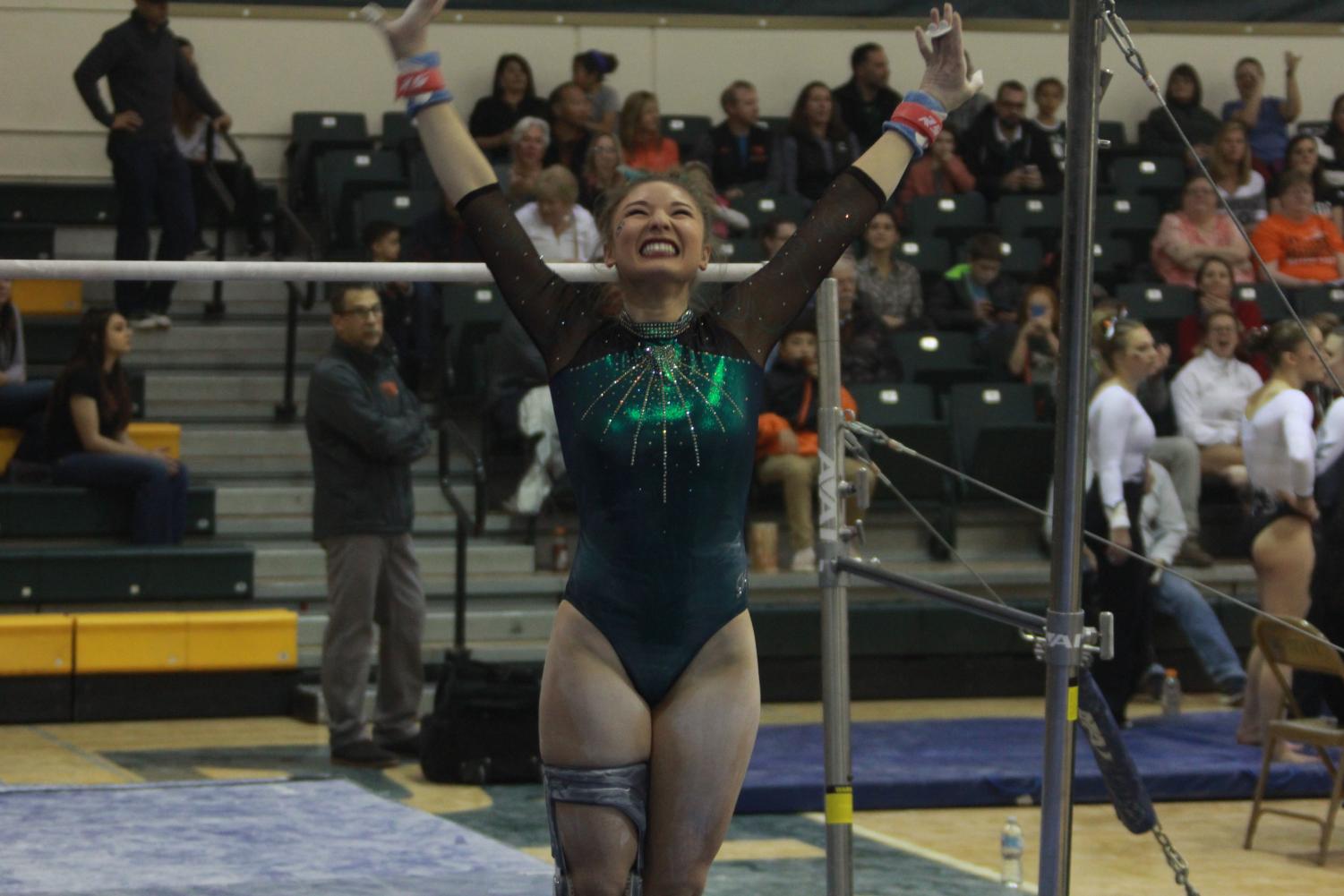 She also missed her entire freshman year and saw her sophomore season end after an injury five meets in.
After countless hours of rehab, she went into her junior season hoping for a different outcome to the season. Her tenacity paid off and she competed on the uneven bars in every meet of the season and set a career high with a 9.850 during the Mountain Pacific Sports Federation Championships.
"She is our bar star," Caitlin Soliwoda said. "When she is not in we tend to suffer (and) she is a very important factor in our big scores. I could not be more proud of her after she came back from all those injuries and her struggles, she never ceases to amaze me."
Ng's will to perform at peak form never wavered and she has led off on bars in every meet this season and she saved her best for last.
"I was pretty nervous," Ng said. "All I wanted to do was exactly that, hit a really solid routine and right when I landed I was just overwhelmed with emotion. I felt the crowd, and I felt my teammates having my back . Finishing that way was exactly how I wanted to in my eyes. It was perfect."