3 Sac State alumni win Pulitzer Prize for wildfire coverage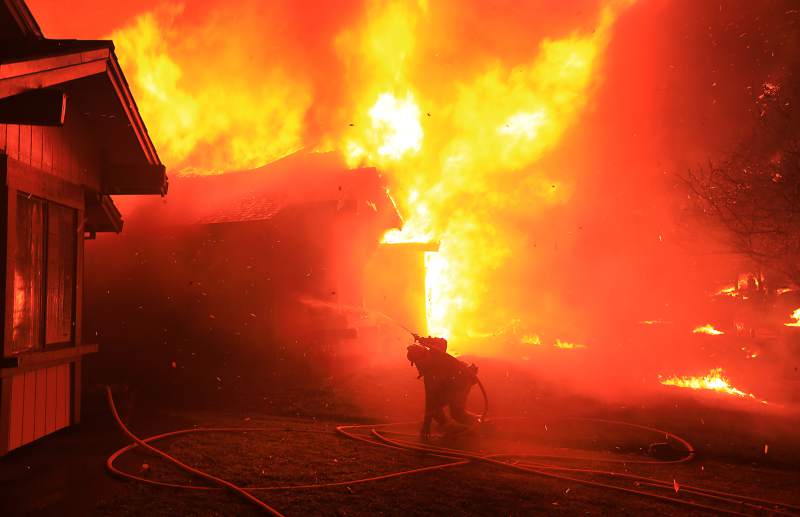 Three Sacramento State alumni were awarded the Pulitzer Prize on Monday for their work covering the wildfires in Santa Rosa and Sonoma County at The Press Democrat.
Derek Moore, Jim Sweeney and Martin Espinoza each covered the fires in a unique way.
Sweeney, the assistant editorial director, explained what was happening and put it in context through editorials.
"(Sweeney) is scary smart," Moore said. "For him to be in this position writing editorials was a really good thing for the community because Jim has a perspective to put this into context."
Moore evacuated his home in Napa and went to Santa Cruz with his family to get away and immediately called to see if he could work.
He had moved to a new career about two months prior after spending 18 years at The Press Democrat but he called to see if he could freelance. He said the paper readily accepted and he was off to work.
"I felt a real need to be part of the story and help out my former colleagues," Moore said. "There is overwhelmingly pressure to produce (and) it felt like an all hands on deck moment."
Espinoza was able to be on scene almost immediately as he woke up from his home in an area where people were evacuated.
Espinoza said that as soon as the fires started on Oct. 8, the entire staff at The Press Democrat shifted its attention to the fires.
He said that on the first day, he only took a couple of notes but utilized Facebook Live as he went through the neighborhoods showing the fires and the damages that occurred.
In the neighborhoods that were evacuated, only media and proper authorities were able to enter.
"How overwhelmingly sad it was," Espinoza said. "You could feel the sorrow."
He said that a lot of people were asking him to check on their properties and that it was "impossible" to accommodate the volume of requests.
By seeing different neighborhoods on Facebook Live, a lot of people were able to find out the status of their property, Espinoza said.
He said that he is conflicted about winning the award because of the damage the city went through.
"It's hard to reconcile being so happy and so excited," Espinoza said. "We didn't do it for that. We are just a reflection of our community as a newspaper."
Espinoza said that since the award was announced on Monday, that people he covered and lost their homes have congratulated him and thanked him for the job that he and the rest of the staff did.
Moore had similar thoughts about winning the award.
"You do feel conflicted because it reflects suffering on a massive scale," Moore said. "It comes with a sense of deep sadness, a loss of life."
Moore and Espinoza have each covered disasters and tragedies before.
Moore was sent to cover the Oklahoma City bombings in 1995 while Espinoza worked for The Jersey Journal and covered the New Jersey area in the aftermath of the Sept. 11, 2001 attacks. Each has also covered a number of floods and fires for The Press Democrat.
Espinoza was a mechanical engineering major at Sac State while Moore was a former news editor of The State Hornet, around 1992-1993, he said.