Gavin Newsom speaks about higher education in run for governor at Sac State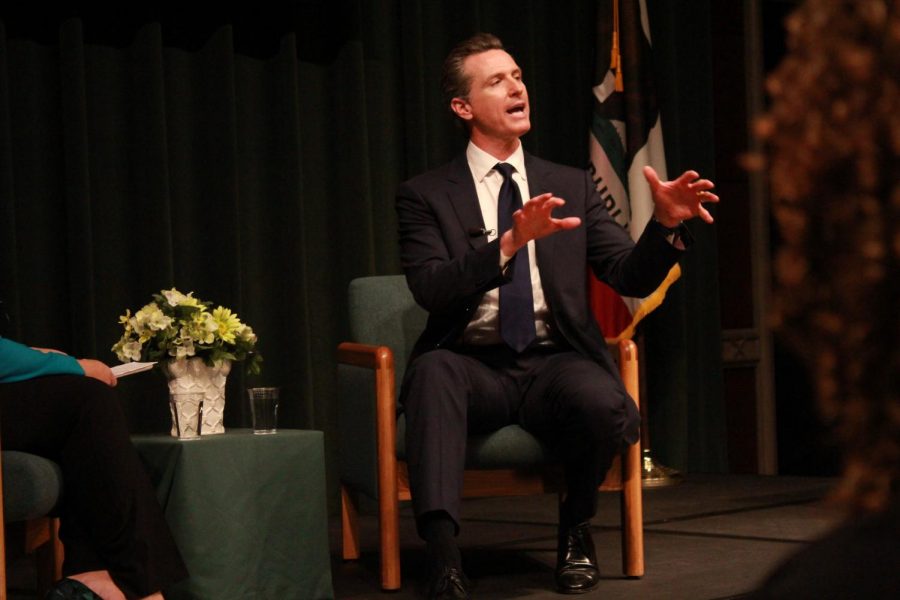 California Lt. Gov. Gavin Newsom spoke about higher education in a forum at Sacramento State on Thursday in a series hosted by the Campaign for College Opportunity.
Newsom, who is running for governor, covered topics including the budget, transfer students and diversity.
As mayor of San Francisco, Newsom appointed the first female police chief, Heather Fong, and the first female fire chief, Joanne Hayes-White. He said he will make diversity one of his top priorities if elected governor.
"We dominated in real positions of leadership in historically male-dominated roles," Newsom said.
Rob Lapsley, the president of the California Business Roundtable, said prior to the forum that Newsom is the leading candidate for governor.
If he were to be elected governor, Newsom said that he wants to increase the budget of the California State University system. The lieutenant governor said the proposed budget increase in January isn't enough.
Story continues below 
"The budget increase we got barely covers the health care cost," said California Lt. Gov. And gubernatorial candidate Gavin Newsom at a Sac State forum. @TheStateHornet pic.twitter.com/iXoQ5HyYcY

— Thomas Frey (@ThomasFreyRP) March 22, 2018
"The state has no higher education goals," Newsom said. "The budget increase we got basically covers the health care cost."
When asked about what he would do to support undocumented students, Newsom said he would help them "100 percent."
"You have no right to prey on vulnerable populations," Newsom said. "It is the right thing to do to protect our dreamers. They aren't good, they are great. I have not met one dreamer who is not."
He wants to make sure that students don't have to worry about being deported because it can affect their livelihoods. He said people are less likely to get vaccinations or go places when they feel like they could be in danger of being caught.
Newsom got personal when asked by a single parent in the audience what he would do for parents who need to drop their children off at daycare. He told a story of how his mother had him when she was 18 and said that because of that, he wants to help all parents in this situation and make daycare more effective.
"More is not always better, better is better," Newsom said. "Focus on training the lowest-paid child care workers to make sure it is a profession with a career track. You organize this space, trust me, it will organize the investment that will come to this space."
The Campaign for College Opportunity will be holding forums in Los Angeles for former Los Angeles Mayor Antonio Villaraigosa and California State Treasurer John Chiang, each of whom are running for governor.
The goal of the forums is to come away with a better understanding of each candidate's priorities for higher education, according to Jessie Ryan, the executive vice president of the Campaign for College Opportunity.