No timeline set for water source tests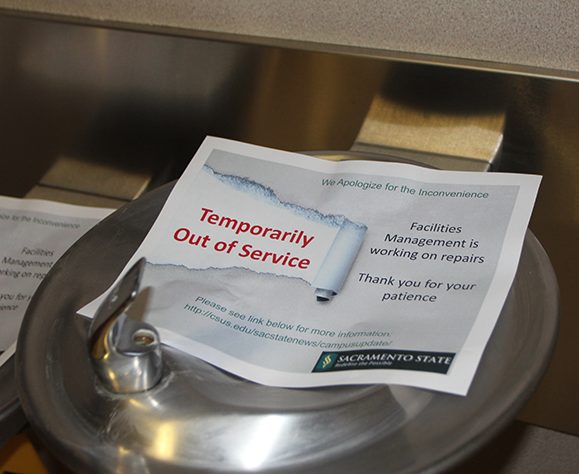 A consultant has been hired to help Sacramento State address the problem of the 58 drinking water sources currently shut down after excess lead was detected in a series of tests over winter break.
Alex Spataru, president of The Adept Group, Inc., a consulting firm based in southern California, was hired to "provide for us some recommendations on what we should do moving forward," according to Steve Leland, the director of environmental health and safety at Sac State.
Leland, who is the head of the effort, previously said on Jan. 25 that the 449 total water sources tested by a university research group represented nearly 90 percent of the Sac State's fountains and sinks. He indicated then that a list of the remaining untested water sources was being compiled.
However, neither Leland nor Spataru revealed what the remainder of the testing will look like and when it will be happening.
"We haven't discussed that," Leland said, adding that it would be decided after Spataru makes his recommendations sometime this week.
When asked about the timing of the testing, what the process will entail or whether he or his firm have worked on a project similar to this for a college, university or California State University before, Spataru declined to comment, saying that the soonest he would be available to give information is in March when he returns to campus.
As of press time, Leland could not be reached for comment on when the testing will begin or what places have not been tested.
On Jan. 25, Leland said the known untested sources included the American River Courtyard Suites, and that "there may have been a couple of other random places."
A press release from Sac State was posted Tuesday night, but failed to answer when testing will begin or what places have not been tested, and did not mention Spataru at all.
Instead, it introduced Jill Parker as the new interim senior director for risk management services and chief risk officer.
According to the release, Parker is "meeting with licensed health and safety consultants to formulate an action plan to address the issues identified," apparently referring to the lack of testing and the shut off sources.
Leland and the press release both indicated that all shut off water sources will remain off until a solution has been implemented.
The university continues to offer bottled water in the following locations: Folsom Hall; Eureka Hall, rooms 206 and 401; AIRC, room 2004; the Student Organizations and Leadership office on the second floor of the University Union; the Office of Admissions in room 1102 of Lassen Hall; and The Well.