Hornets roll over Pacific Union in lone exhibition game 84-53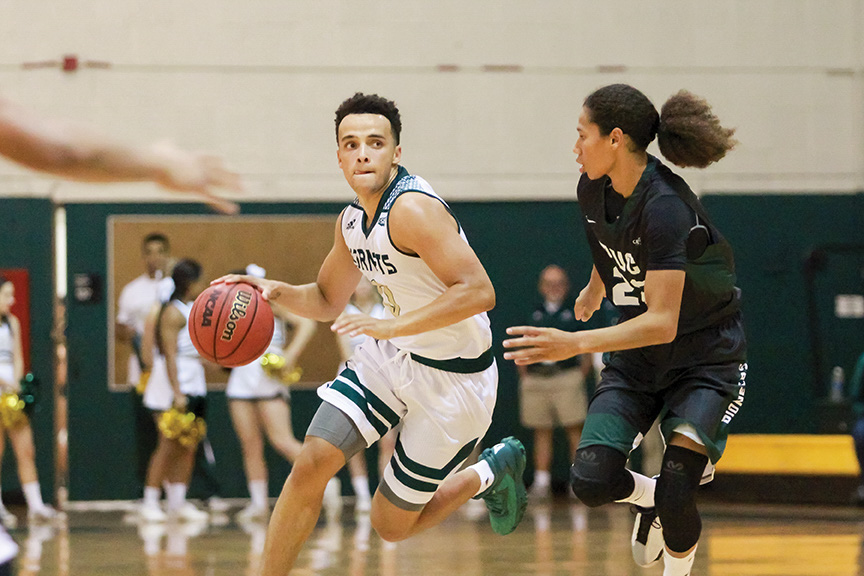 In the lone tuneup before its Nov. 11 season opener, Sacramento State men's basketball made quick work of Pacific Union on Thursday in an 84-53 victory at the Hornets Nest.
With four players in double figures (led by junior forward Justin Strings, who had 25), the Hornets gave NAIA Division II Pacific Union no breathing room, as they led the game wire-to-wire.
Sac State head coach Brian Katz, beginning his ninth season with the Hornets, thought his team played well, though he acknowledged that they were not at their best.
"We knocked off some rust tonight, that's for sure," Katz said. "We had a couple of guys who were coming off injuries, hadn't been practicing, but they'll play better."
From the opening buzzer, Sac State made sure to score early and often. An early free throw by senior center Eric Stuteville gave the Hornets an early 1-0 lead over the Pioneers, and from there the team kept the offensive pace in its favor. After some back and forth during the first half, the Hornets took charge with 9:46 to go in the first half.
A layup from sophomore guard Jeff Wu put Sac State up 11-6; from there the team went on a 14-3 run, capped off by a layup from junior guard Marcus Graves, who finished it off with an and-one from the free throw line to put Sac State up 25-9 with 4:21 to go.
Pacific Union went on a run of its own, scoring nine points in a two-minute span, led by two three-pointers from junior guard Deion Utrera. Despite the run, the Pioneers were down 15 (36-21) to the Hornets going into the second half.
The opening minutes of the second half saw Pacific Union begin to close the gap, outscoring Sac State 9-5 to bring the road team within nine points, the closest margin it would see for the remainder of the game.
Katz talked about the athleticism of the Pioneers, who gave Sac State some fight despite the margin of loss.
"They play really hard, and really pressed us," Katz said. "I think early on the thing that bothers you is the press, and they have a really good press. They're very athletic. You got to give them credit, they're a really scrappy group."
Reserve junior guard Jiday Ugbaja started the scoring spree for the Hornets, getting four points in 19 seconds to put the team up 13 (45-32). The Hornets continued to score at will, at one point going on a 16-0 run, capped off by an emphatic dunk from Strings, who then followed that up with two free throws to put Sac State up 71-42 with 5:15 to go in the game.
From that point on, Sac State began to rest its starters and let the reserves play it out. The Hornets did get some solid production from freshman guard Matt Battaglia, who made two three-pointers in the closing minutes.
Katz acknowledged that it was nice to see the reserves playing well.
"It was pretty exciting to see Joshua Patton (nine points) and Jiday Ugbaja come in and play pretty well," Katz said. "Also, Grant Dressler. He didn't score, but eight rebounds with four assists, that's a pretty good stat line."
Leading the statistical board for Sac State was Strings, who finished with 25 points (6-10 field goals, 11-13 from the free throw line), 12 rebounds and two blocks. Graves (13), Stuteville (10) and Ugbaja (12) also scored in double figures. Utera (12) and Chad Young (10) were the leading scorers for Pacific Union, who played its last of two exhibition games.
Though Sac State won, there were some aspects that coach Katz admits needs some work going into the season.
"Fifteen turnovers is too many. We had 12 offensive rebounds, to me, that's not enough for this team," Katz said. "We should get more."
Sac State will have a week to get its offensive game tighter, as the men's basketball team begins the season on the road against Colorado of the Pac-12 Conference on Nov. 11, followed by Nebraska of the Big Ten on Sunday, Nov. 13.