Gymnastics wraps up 2013 season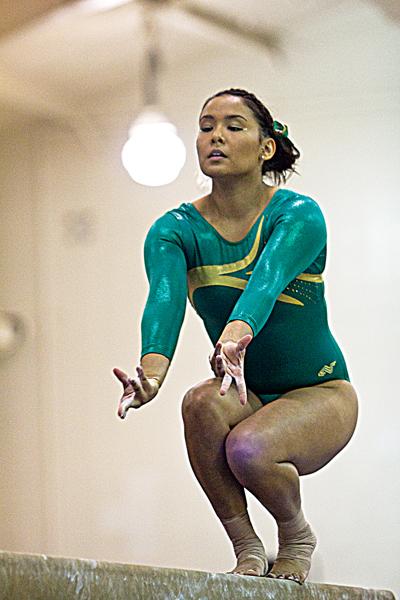 With the 2013 gymnastics season in the books, the Sacramento State team looks to take what it accomplished this season to improve upon the next season.
Sac State finished this season by scoring its highest point total in school history in its last season in the Western Athletic Conference.
"A positive this season was our team peaking at the end of the year again even with injuries we had on our team," said head coach Kim Hughes.
The Hornets wanted to qualify as a team to the NCAA Regionals but those hopes were lost when they fell two spots short outside the top 36 teams in the nation.
However, Sac State was able to qualify three gymnasts for the NCAA Regional in Corvallis, Ore.: sophomore Kalliah McCartney, junior Kailey Hansen and senior Nicole Meiller.
McCartney qualified in the all round competition, but she missed the chance to make NCAA Championships by 25 hundredths of a point. Even though McCartney didn't make NCAA Championships, she did carry the team with her performances in every event she competed in for Sac State.
Meiller finished her last rotation on bars in Corvallis, Ore., with a 9.325, which placed her 38th overall.
"I am beat up from my years as a gymnast so it's a bittersweet finish to my career at Sac State," Meiller said.
Hughes said Meiller battled through her five years at Sac State with injuries and with personal family issues; however, none of those problems distracted Meiller from performing well enough to appear in the NCAA Regional meets almost every year as a Hornet.
Senior Cayla Beutler said she loved being apart of the Sac State gymnastics the last five years.  
"I will miss my coaches and being on campus with teammates and friends," Beutler said. "I always loved being around campus because the people were nice here."
Beutler and Meiller were the only two seniors on a rather deep Hornet gymnastics roster, but both wanted to accomplish different things in their last year.
"I wanted to make sure this season ended well because I have been here for so long and I battled with injuries for so long," Beutler said. "Nicole wanted to make this season special because she wanted to make her dad proud of another great season as a Hornet."
Hansen said she is going to miss both Beutler and Meiller because they taught her so much the last few years.
"I just want to be half of the role models both Nicole and Cayla were for us," Hansen said.
Hansen will now enter into her senior season next year along with five other gymnasts: Elideth Guerrero, Kaila Kilwein, Katie Osaki, Maddie Montoya and Ashley Wooff. The Hornets will have 11 upperclassmen returning next year including a junior class of five gymnasts.
"We have a solid senior and junior classes coming back that all have competed for us last season," Hughes said. "So we are not going to rebuild but reload for next season."
Clifton can be reached on Twitter at @jonesSHsports