Sac State football gets its second consecutive win after defeating the Bears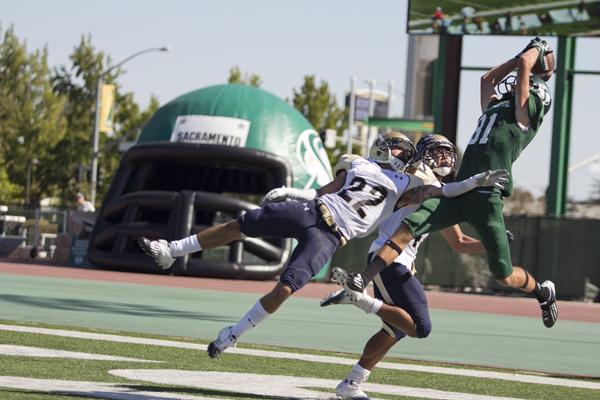 State Hornet Staff
September 15, 2012
Sacramento State's football team moved forward from its Pac-12 win as it defeated Northern Colorado for a seventh straight season, 28-17.
It was the first time the Hornets have won back-to-back games since 2010.
"I'm very excited that we won the football game," said head coach Marshall Sperbeck. "I thought our kids did what they had to do as a team. It's hard to win after what happened last week."
Sac State quarterback Garrett Safron was able to give the Hornets the lead early in the first quarter when he threw a 40-yard touchdown pass to wide receiver Morris Norrise.
Although Safron threw for a season-low 177 yards, the trio of running backs including Ezekiel Graham, Sam McCowan and A.J. Ellis ran for a combined 164 yards and two touchdowns.
"They were giving us the looks that we wanted in the running game," Safron said. "Fortunately they gave us the holes."
Graham, a transfer from LA Southwest College, ran for a career-high 98 yards and scored the first NCAA touchdown of his career, but he said he is still learning how to play at this new level.
"At the JC level everyone is at one speed and if you are faster, then you can outrun everybody," Graham said. "At this level, there is always someone on the field that is as fast as you or faster."
Halfway through the first quarter, Northern Colorado capitalized on a Hornet fumble by DeAndre Carter that led to 10 consecutive points with a 46-yard field goal and a 74-yard punt return by Dominic Gunn, giving the Bears a 10-7 lead.
"You are not going to play your best every single time you go out," Sperbeck said. "You have to find other ways and I think today we did it with our discipline. That helped us win today."
Northern Colorado finished the game with 11 penalties for a total of 117 yards – 35 yards more than Sac State.
The Hornets regained the lead when McCowan scored a 6-yard touchdown run to give them a 14-10 lead at halftime.
Safron came out in the third quarter when he found his second touchdown pass, extending their lead to 21-10.
Sac State's defense took over in the second half when Bears' quarterback Seth Lobato was intercepted twice by defensive backs Osagie Odiase and Ryan McMahon respectively. This was the first game this season the Hornets have forced turnovers.
Although Odiase stands at only 6'1", each week he said he loves to defend taller receivers.
"You have to overcome the adversity when they throw it at you," Odiase said.
Sac State returns to Hornet Stadium next Saturday to play the University of North Dakota in the Big Sky Conference opener.
This will be first time the schools have met since 1979. Kickoff is at 6:05 p.m.
Ryan Kuhn can be reached at @rskuhn