Krush Burger: A 'new era' food truck with great food, prices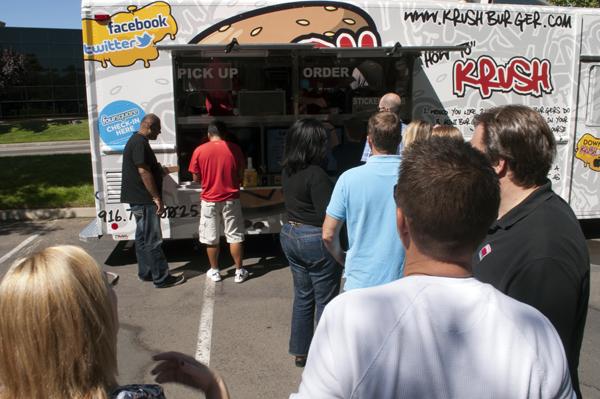 Krush Burger, owned and operated by Davin Vculek since 2011, is a convenient and portable food truck traveling around Sacramento.
These miniature hamburgers became popular fast, causing the burger joint—formerly known as Mini Burger—to revamp its image as well as equipment, in March of this year.
It came back as Krush Burger, a "new era" food truck fully equipped to fit their needs as well as their customers'.
They have been so successful that they will be expanding the operation quite a bit come September. "We actually have another new truck that'll be here in the next two weeks, and we also just broke ground on our first restaurant on Monday, which will open in mid-December," Vculek said.
Vculek believes Krush Burger has grown its fan-base by going to the same spots every week. "We try and do the same thing for all of our spots so people can count on us to be there," Vculek said.
The menu offers burgers, sweet potato tater tots, hand-cut fries, desserts and an array of sodas. The burger selection includes the Philly, Cowbell, Original Krush and the Ninja.
All of the burgers were delicious with their own distinct flavor. The Original Krush is your all-American burger, with ground angus beef, lettuce, tomato, onion and American cheese. Great for those who want to go back to the sesame ginger vinaigrette and a spicy Sriracha aioli to take the flavor up a notch.
The Philly is reminiscent of a Philly Cheese Steak, sans Cheez Wiz, but add provolone, shiitake and crimini mushrooms and a red pepper aioli, and the result is great texture and a spicy flavor. Recommended to those who love their Phillies.
The Cowbell has a rich, smoky taste, with just enough of each ingredient to avoid letting any one overpower another. The onion rings added a crunchy pop setting the tone of the burger. Very good for barbeque fans.
Vculek prefers the Philly and the Ninja, "The Ninja burger has very powerful flavors and is different than what you typically get at another burger shop. Grilled short ribs are marinated instead of a ground beef patty, plus the sauce is spicy – has quite a kick."
Mel Calaustro is a new customer to the hamburger truck. "I've heard about Krush Burger from everybody, relatives, friends. I got the Cowbell, Philly and fries," Calaustro said.
"It's like a Philly Cheese Steak but a burger," said Tony Im, a regular customer. "I come here every week. I get the Philly, and the sweet potato tater tots. It's really good."
Im said he makes sure to get to the truck when it first arrives every Wednesday, "If you aren't out here when they first get here, you're going to be waiting in line for a while," Im said. "But the workers here are really nice and everything usually comes out pretty quick."
As well as reasonably priced burgers, two for $6 and three for $8, you can also mix it up with more than one of your favorites. Jeff Pavao has been here every Wednesday since discovering the spot four weeks ago. "I usually mix and match the burgers – today I got the Cowbell and the Ninja."
"I'll be here every Wednesday until the sun doesn't shine any- more," said Pavao.
Vculek said what sets Krush Burger apart from other burger spots is its commitment to quality over quantity.
"We focus on our meat, we buy certified angus beef, which is fresh never frozen. We also buy our bread every day, baked here in the Sacramento area," Vculek said. "We just try to do things the right way, and have fun with what we're doing."
Designing a menu and operating his own business isn't the only thing Vculek enjoys about his truck. 
"I enjoy it for the challenges, the amount of work you put in you get to see the reward on the other side, which for some owners isn't always the case," Vculek said. "I enjoy it – it has its own set of challenges and stressful times. I mean, it's what I've always wanted to do so it's kind of the realization of a dream."
Vculek and his innovative burgers have caused quite the splash in Sacramento, and with such unique and tasty burgers, it is highly recommended for everyone to keep an eye out for the famous truck.
Krush Burger parks at 1790 Exposition Parkway and is open on Wednesdays until 3 p.m.
Kaitlin Bruce can reached at [email protected]