Buzz of the Crowd: Trio of running backs; help or harm?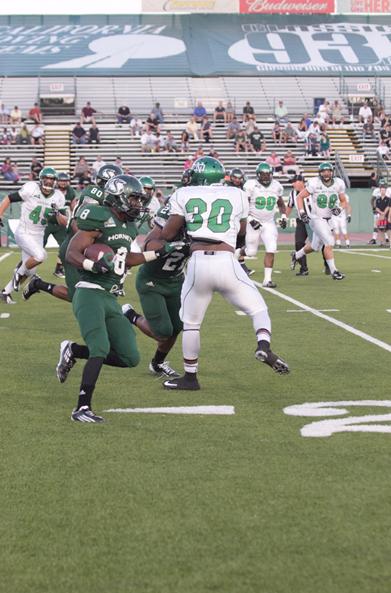 State Hornet Staff
September 26, 2012
In football, teams are lucky to have one premier running back to lean on, let alone three.
But what if it actually harms the chemistry of the offense?
In 2009, Minnesota Vikings running back Adrian Peterson ran for more than 1,300 yards and 18 touchdowns. His backup, Chester Taylor, only ran for 338 yards while playing all 16 regular season games.
Although Peterson may have been overworked, his team rode his success by making it all the way to the conference championship game.
Sacramento State's offense does not depend on one running back. Instead they use what Hornets head coach Marshall Sperbeck calls, "the three-headed monster."
This trio in the backfield features seniors A.J. Ellis, Sam McCowan and junior Ezekiel Graham. McCowan and Graham split time on medium-to-long yard situations, while Ellis serves as the power back.
During the first three games this season, dividing up the touches worked well. Graham leads the group, averaging 86 yards per game, but all three backs have done their jobs.
Last week, however, Sperbeck should have turned the three-headed monster into a one-man wrecking crew.
Sperbeck needs to lean on Graham like the Vikings leaned on Peterson in 2009.
During his last two games, Graham has rushed for more than 230 yards and could have rushed for even more last week if the coaching staff had given him more touches.
In the second half of the North Dakota game, Graham only ran for 24 yards because the offense decided to pass the ball to score quickly. With a hurry-up offense and Graham's speed, a running game would have taken pressure off of quarterback Garrett Safron.
Graham transferred from LA Southwest College where he rushed for more than 1200 yards for the Cougars last season. He finished second in California community colleges in total rushing yards.
NCAA football is much faster than the community college level, but in just four weeks, Graham learned to adapt. In each of his games, Graham has rushed for more yards than the previous week.
If something works, leave it alone. The Hornets coaching staff needs to give Graham more touches and not divide the rushing duties. They will have nothing to lose.
If Sac State uses Graham as the centerpiece of its offense, he will succeed and, over time, it will open up the field for Safron to use the play action.
Starting next Saturday the three-headed monster needs to be slain and replaced by a one-man force. It might help everyone in the long run.
Ryan Kuhn can be reached at @rskuhn