Brothers in track study film together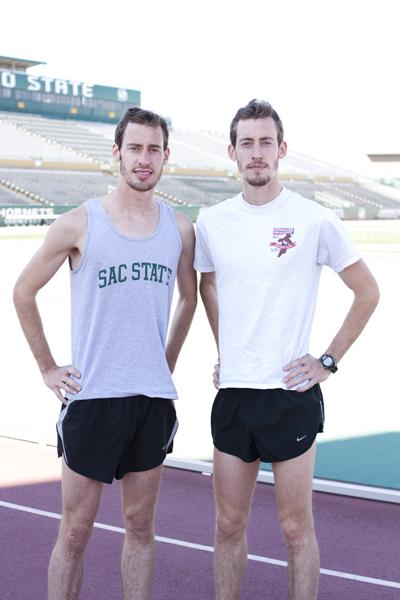 JJ Williams
February 29, 2012
Sacramento State cross country athletes and twin brothers, Mark and Luke Frazier, have a bond stronger than DNA alone, a bond that makes them identical beyond their physical appearances and choice in sports.
The junior Frazier brothers stand 6 feet 2 inches tall, weigh 150 pounds, have brown hair, blue eyes and also share a common major in film production.
The brother's knack for film production has been with them since they were kids, but has developed into a passion since.
"In high school we took a film studies class we were really interested in and ever since we were little we always had video cameras, just making little short skits and stuff like that," Luke Frazier said. "Then at City College we took some film courses and just really kind of fell in love with it."
The natives of Olive Branch, Miss., said their mother, three older siblings and friends back home are supportive of their films and were not shocked when they decided film production was what they wanted to pursue.
"Our mom definitely wasn't surprised when we decided for sure that we wanted to go into film making because she knew we've always had an interest in them," Luke Frazier said. "Our family back home will check out our videos and give us feedback, but they're very supportive."
They started their own YouTube channel called TheGoodieRoom in September 2009 and currently have more than 4,000 subscribers, 43 videos and more than 94,000 video views. Their videos include a range of comedy skits and serious short films they have done for school projects and for fun.
"We have such a love for both, with comedy, a lot of the time it is off the top of our heads. We will think it'd be hilarious to see on film and we'll just do that," Luke Frazier said.
The brothers agreed there is much more preparation that goes into their short films, but said it did not bother them because it is more about the challenge of getting better at making both.
"With our serious stuff, we try and challenge ourselves with the special effects and kind of teach ourselves using tutorials online," Mark Frazier said. "One of the things that motivates us is to get better by trying different stuff because that's how you learn, but there's definitely satisfaction from making both."
The twins choose not to learn by critiquing every movie they see for the first time. Mark said it is easy to get sucked into a movie when you actually enjoy the film and the characters, but both agreed there is something they can learn as directors from analyzing a film.
"If it is a top-notch director, I want to emulate, I'll watch what he does because if I can emulate what he can do and put my own spin on it, that is something to take from every movie I watch," Luke Frazier said.
The Fraziers spend time together not just as members of the cross country team, but also Big Sky All-Academic team members and co-workers. The amound of time spent together has led them to having similiar views regarding film, Mark Frazier said.
"We think alike so we agree on most of our stuff, if we have a disagreement we'll talk about it and come to an agreement pretty quickly," Mark Frazier said. "Or we'll shoot it both ways, then when we're editing it we'll say whose looks better."
With another year of college, cross country and track to go, the twins are preparing themselves for whatever the future brings their way after college. They said they are uncertain about their running careers, but they definitely want to do film production on some level.
"It would be a dream to make a big blockbuster movie, but I also like more simple films that are more character-based," Mark Frazier said. "I enjoy both sides of the spectrum, the big blockbuster and the small independent."
Luke said the plan is to be in the position where they are both directing together one day, emulating brother combination directors such as the Coen brothers, Wachowski brothers or the Hughes brothers.
The Coen brothers direct and produce their films jointly and are responsible for notable films such as "Fargo" (1996) and "True Grit" (2010). The Wachowski brothers wrote, produced and directed "The Matrix" trilogy. The Hughes brothers, who are also twins, are responsible for movies such as "Menace II Society" (1993) and "The Book of Eli" (2010).
The Frazier brothers appear in some of their films together, but Mark said it still takes them working together to create the videos where only one of them makes an appearance.
The duo said they know what it takes to make a good film down to the most specific detail. They credit that not only to their knowledge in film production, but to the support of their fans.
"We get such a great feeling from putting out something that people really like and that is awesome," Luke Frazier said.
The Big Sky Conference announced them as members of the 2011 fall All-Academic team for their 3.6 cumulative grade point average. Doing all this while maintaining jobs at Walmart has earned them the respect of their friends, teammates and coaches.
"I admire that because they're paying their own way through school on top of maintaining a rigorous class schedule and all the athletic work they have," said track and field/cross country assistant coach Scott Abbott. "They're really busy guys but they manage it all really well, they help each other out and they've been a real big part of our team this year."
They are in the process of planning and scripting out their next serious short film, which they say will be filmed on location near Lake Tahoe.
Preparation is key to the Frazier brothers and they said they are taking their time to display all their talents in their next film.
JJ Williams can be reached at [email protected]