Sacramento State police chief given vote of no confidence by 14 officers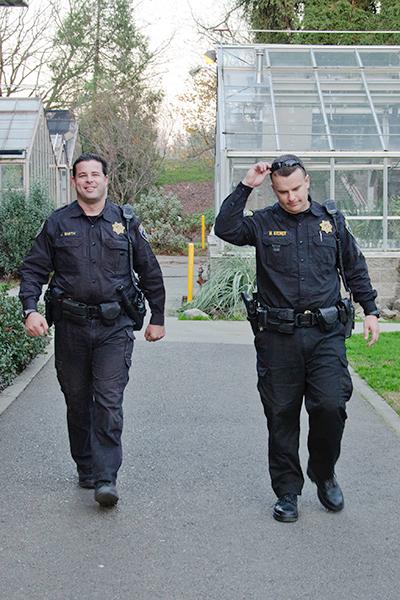 Sacramento State police officers gave a 14-1 vote of no confidence to Sac State Police Chief Daniel Davis earlier this month because of disagreements over his management in the face of rising crime.
The vote of no confidence against Davis occurred at a union meeting Jan. 4. The vote comes in the aftermath of seven incidents of alleged sexual assault last semester.
Some officers said they are concerned with the direction the police department is headed in the face of the rise in such crimes.
"Morale is at an all time low," said Sac State police officer Jeff Solomon, president of the California Statewide Police Officers Association. "I have never seen a police department with morale this bad."
Davis said he could not directly comment on union meeting activities, but felt that it was inappropriate for the officers to publicly air their grievances about him.
"The focus of my day-to-day activities is the safety of the campus," Davis said. "I have complete confidence in my staff to protect the safety of this campus regardless of whatever conflicts we have, but I don't feel it is appropriate for us to air those in the public."
The vote marks the second time Sac State police officers have voiced concerns about Davis' management. Last year, officers passed a union resolution stating an "immediate change in the direction of the police department leadership" was needed.
Solomon said the officers' main concern with Davis is his decision to increase management staff while not hiring more police officers.
Davis' administrative staff includes three lieutenants, one civilian manager, two full-time administrative analysts and one executive assistant. Before Davis took over as chief of police, the department employed only one lieutenant.
Solomon said with so many administrators working for the campus police, management staff often outnumbered patrol officers working on campus at any given time.
But Davis said shifts in which only one patrol officer is working for the entire campus is a rare occurrence.
"It is discouraged by my management staff," Davis said. "Does it happen? Sure it does, but it's usually because unexpected circumstances. When it does happen, we have a great partnership with the Sheriff's Department and Sacramento Police Department to provide with assistance."
Davis said he implemented a 12-hour shift policy at the recommendation of the union to prevent there being only one officer working on campus at one time. He also implemented a minimum staffing policy this week to make sure that at least two patrol officers are on duty at all times.
There are 21 police officers working for the campus police, including the three lieutenants and Davis. A University Police Association press release said the Department of Justice recommends 2.3 patrol officers for every 1,000 people that a police department is tasked to protect.
Last semester, a combined 28,328 students and faculty attended Sac State. Using Department of Justice guidelines, this would translate into patrol officers working at Sac State.
Solomon said the union is not looking for that large of an increase in staff. However, he said the police are severely understaffed in terms of patrol officers.
"We don't want to play politics anymore with the safety and fiscal responsibility of the campus," Solomon said. "We are concerned enough that we felt that we needed to pass this symbolic vote to signal that we need change."
Davis said it is also important to note that he manages 75 employees, including 36 Community Service Officers who also patrol the campus.
"I feel that we are adequately staffed at the moment," Davis said. "I have the utmost confidence that we can protect this campus."
Despite the officers' concerns, the university has still maintained its support for Davis.
"Chief Dan Davis has my full support in regard to the job he has done to protect lives and property on the university campus," said Ming-Tung Lee, interim vice president for Administration and Business Affairs, in a statement to The State Hornet.
Solomon said he would not directly comment on the university's continued support of Davis, but said he hopes the vote will open a dialogue between the officers and the school.
"We hope that we can meet with them and they will take this as an opportunity to look at the police and take our concerns into consideration," Solomon said.
Tim Sandoval can be reached at [email protected]