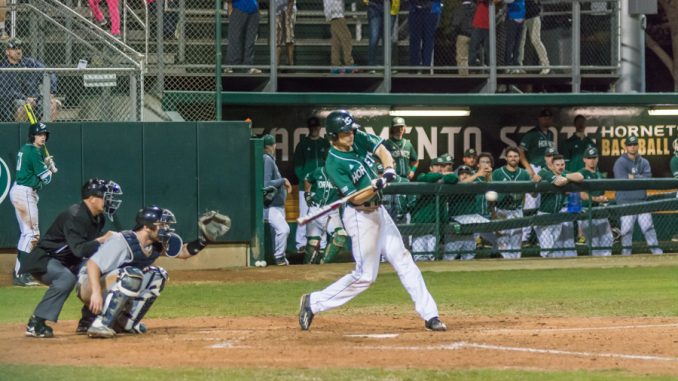 The Sacramento State baseball team entered the winning column for the first time in a week after cruising to an 11-3 win over Penn State Friday at John Smith Field.
The Hornets (8-5) posted 14 hits in game two of its three-game series against Penn State (5-8) — led by sophomore designated hitter Devin Lehman after he went 3-for-4 at the plate with three RBIs.
"Our whole team approach is to get up there and wait for our pitch," Lehman said. "Today, I thought I got my pitch a lot. I took good swings at the ball and it paid off for me."
Sac State freshman pitcher Parker Brahms started the game by striking out all three Nittany Lions' batters, which allowed the Hornets to jump out to a two-run lead after a two-RBI single from junior left fielder Andrew McWilliam in the bottom of the first inning.
"He's done a great job," Sac State coach Reggie Christiansen said in regards to Brahms' four starts this season. "You wouldn't even know that he is a freshman. He pounds the strike zone with multiple pitches and always does well out there."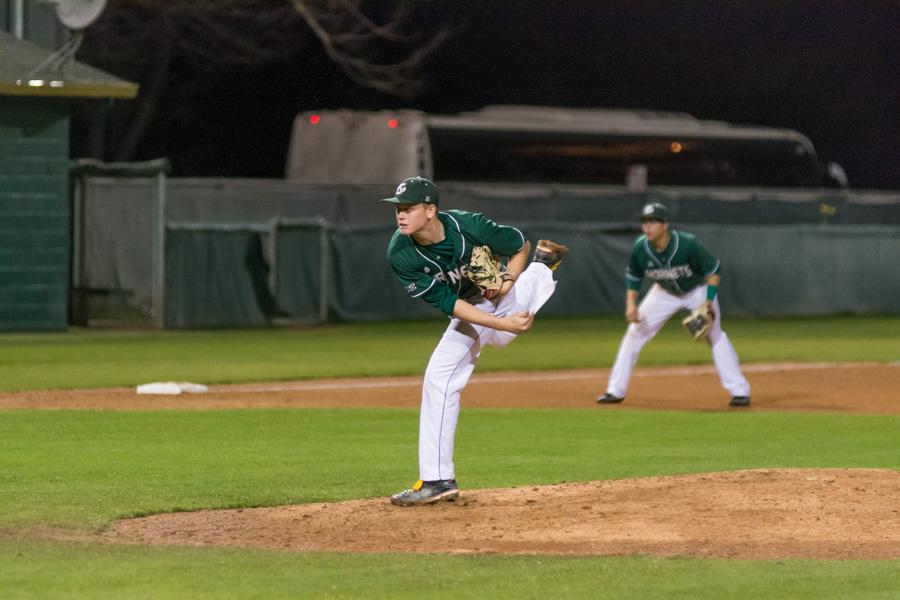 Lehman hit a three-RBI double in the second inning and freshman catcher Dawsen Bacho drove in a run on a single to score junior second baseman PJ Floyd in the third to push Sac State's lead to 6-0.
The Hornets scored again in the fifth inning after senior third baseman Brandon Hunley drove in Floyd with a double to right center for a 7-0 advantage.
Brahms did not give up a hit on the mound until the fifth inning and did not give up a run until Penn State sophomore catcher Willie Burger hit a an RBI single with the bases loaded in the sixth inning.
Sac State retaliated with a four-run sixth inning after senior first baseman Kody Reynolds reached first on an error, which scored junior center fielder Ian Dawkins. Back-to-back wild pitches scored Lehman, followed by a two-RBI single from Hunley to bring Floyd and Reynolds to home plate for an 11-1 lead.
Brahms gave up one more run in the seventh inning after Penn State freshman shortstop Joe Weisenseel scored on a fielder's choice after being walked and moved to third on a double.
Junior pitcher Jonny Palsha entered the game in the eighth inning and gave up a home run to cut the Hornets' lead to 11-3. In the ninth inning, junior pitcher Austin Root closed out the game to end Sac State's four game losing streak.
Brahms (2-1, 1.93 ERA) rebounded from the first loss of his career against Washington to get the win over Penn State. He pitched seven innings and gave up two runs on five hits, while also striking out eight batters.
"I credit all of my teammates — they pushed me through the fall season," Brahms said. "Grinding it out in the weight room, conditioning — they helped me get better on and off the field."
With Friday's win, Sac State evens the series (1-1) against Penn State and will take on the Nittany Lions at John Smith Field on Saturday at 1 p.m.

The following two tabs change content below.


Latest posts by Max Jacobs (see all)