September 5, 2012
The eighth annual Sacramento State Hornet Jamboree will take place on Saturday at Sacramento Granite Regional Park. The Hornet Jamboree is the only cross country home meet of the 2012 season. Approximately 1,500 participants composed of seven to eight collegiate teams – including Sacrament...
August 28, 2012
The Well will be hosting Sacramento State's ninth annual dodgeball tournament on Thursday In collaboration with the Dodgeball Throwdown for The WELLcome Back event. This will be the first year the dodgeball tournament will be a back to school event. Intramural supervisor and special events coordinator Jair...
March 7, 2012
Freshman point guards Dylan Garrity and Fantasia Hilliard swept the best freshman awards for men's and women's Big Sky Conference basketball for the first time in school history. It was also the fourth time in conference history a school took both awards since Idaho State University won both in th...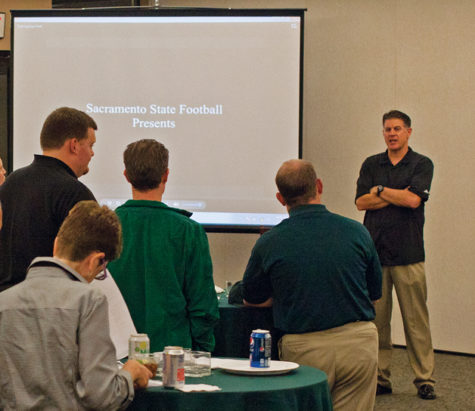 JJ Williams

February 8, 2012
Boosters, coaches and alumni gathered at the Alumni Center on campus last week to partake in Sacramento State football's national signing day festivities. The recruits were not allowed to attend the signing day event where they showcased the recruiting class of 2012 due to NCAA rules. Head coach Marsh...