Football hosts signing day for future Sacramento State players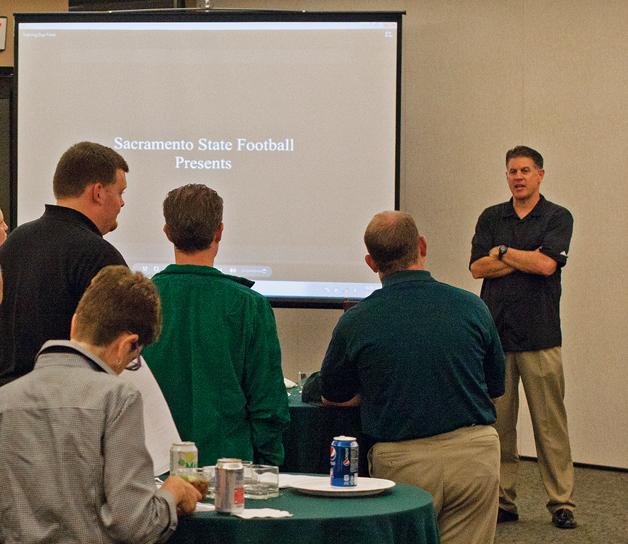 Boosters, coaches and alumni gathered at the Alumni Center on campus last week to partake in Sacramento State football's national signing day festivities.
The recruits were not allowed to attend the signing day event where they showcased the recruiting class of 2012 due to NCAA rules.
Head coach Marshall Sperbeck addressed the audience briefly to talk about the state of the coaching staff and attributes of the recruits before showing their highlights.
"This is my fifth recruiting class here at Sac State and I would say it is probably in the upper half of the better ones," Sperbeck said.
Sperbeck said running back, quarterback and defensive line were some of the basic needs of talent going into the recruiting process and he feels good about the future at those positions.
Included are four freshmen defensive linemen, four running backs, two of whom are transfers who should provide instant depth and two quarterbacks, Sperbeck said.
Defensive coordinator Anthony Parker spoke strictly defensively, agreeing with coach Sperbeck about the team's need at defensive line, but said recruiting is about more than addressing specific needs.
"We're always looking for everything, we're looking for the best player available," Parker said.
Instead of only making recruiting calls and sending letters, Hornet coaches make it a point to get to know recruits off the field as well.
"We do all of it. We go to their games, to their house and talk to their parents, we talk to their coaches, their counselors and teachers on campus," Parker said. "We want to find out everything we can about these kids to make sure we're finding the right fit for our program."
Some of those right fits for the Hornets include 5-foot-9-inch, 175-pound junior running back Ezekiel Graham, who will be transferring from Los Angeles Southwest College. Graham was named a Junior College All-American in 2011, leading the state of California with 2,227 all-purpose yards and ranked No. 4 in rushing with 126.8 yards per game.
Mason Magleby, a 6-foot-2-inch, 205-pound senior, will be transferring from University of Nevada to compete for quarterback. Magleby comes to Sac State with little game experience, playing in only 16 games in his three years at Nevada. However, he completed 10-of-11 passes for four touchdowns and no interceptions for the Wolfpack in 2011.
Look for incoming freshman Demetrius Warren from Fresno, Calif, to provide some of that instant depth Sperbeck mentioned. Warren is a 5-foot-7-inch, 175-pound running back out of Bullard High School. He was named first-team all-state and was on The Fresno Bee all-area team rushing for 2,546 yards and 192 total points as a senior, both are two of his five school records at Bullard.
Sperbeck and Parker were reluctant to name top recruits, but agreed some of the recruits have the ability to come in and make an immediate impact next season.
"We've highlighted some guys that we feel are physically ready to play. We just have to see where they're at when they get here," Parker said.
For the incoming recruits, Sperbeck said competition will be the key to success.
"They have to come in and compete, work at it," Sperbeck said. "We like our kids we have on our campus right now. We have good players returning and the guys coming in make for better competition. The more competition, the better depth we have, the better team we have."
The Hornets signed 21 recruits for 2012, consisting of 13 offensive players, seven defensive players and a punter. However, the recruiting campaign is not over. The Hornets still have about five scholarships left to give and plan on using them to address more needs on defense, Sperbeck said.
"We feel like we've gotten better every year in our recruiting, but that's never really going to show up until a couple years down the road when these kids get on the field and contribute," Parker said.
All the coaches believe they have a good recruiting class, but a player's talent was not the only concern when it came to the recruits. Sac State Athletic Director Terry Wanless was also in attendance and spoke on what the recruits will bring to Sac State off the field.
"I was fortunate to meet a lot of these young men and they are all men of character and here we have a saying, 'character over talent,'" Wanless said.
JJ Williams can be reached at [email protected]