Cross country acquires fresh legs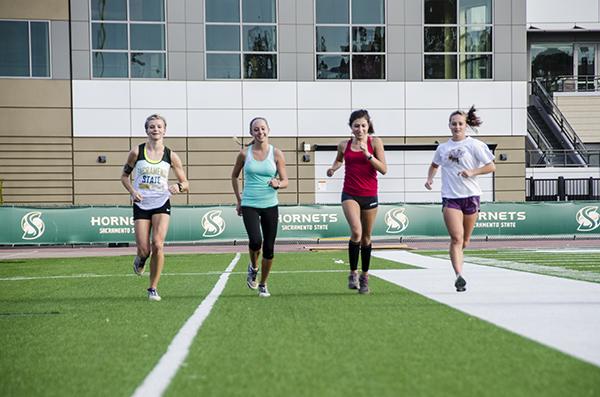 The 2012 Sacramento State women's cross country team features a predominantly young core of inexperienced collegiate level runners.
Kathleen Raske, director of track and field and cross country at Sac State, said the goal of the team's season is to develop the freshmen runners in order to load the team with talent in future seasons.
"With the lineup that we have, it's a great opportunity for our younger athletes to step up and showcase their talents," Raske said.
With the top five runners redshirting this season, the door is open for the freshmen to make a statement.
Freshman Emily Johnston, a forensic chemistry major, arrived at Sac State after running cross country and track and field for four years at Arroyo Grande high school in San Luis Obispo County.
After being recruited by a few schools, Johnston chose Sac State because she connected with assistant coach Scott Abbott and the team, she said.
"He seems like the type of coach that will push me to my limits," Johnston said. "He's really positive and encouraging."
She also feels support from her teammates, including the other freshmen, who she said she has already grown close to.
Johnston competed in her first collegiate race at the UC Davis Aggie open at the Putah Creek Reserve Course in Davis on Aug. 31, placing 28th overall and fifth for the Hornets with a time of 15 minutes, 22 seconds.
Although she was satisfied with her first collegiate race, she did not stay with the front pack as long as she wanted to, which is something she will strategize for the next race, she said.
"It was my first college race. I didn't know what to expect," Johnston said.
Johnston is taking her newfound role and chance to compete as a freshman in stride, while also looking ahead to her future seasons.
"I'm excited because I feel like it gives me a better opportunity to run in big meets and compete for the team," Johnston said. "Next year we'll hit it hard and compete really well."
Freshman Morgan Dampier, a kinesiology major, attended Wasilla high school in Wasilla, Ala. where she competed in cross country her sophomore, junior and senior years and track and field all four years.
Dampier ran unattached at her first collegiate race, the Aggie Open – placing 29th overall in 15 minutes, 28 seconds – because the coaches have yet to decide on how or if to use her this season, she said.
Although Dampier is on the team, she did not wear a Sac State jersey and did not score for the team at the Aggie Open.
While her experience running at the collegiate level is minimal, her training and competing unattached is testament to her desire to develop, she said.
"It's very different for me because I'm not the typical cross country runner," Dampier said. "I don't know who to beat, who to go after or what pace to maintain."
Dampier also noted the similarities between competing at the collegiate level and being a freshman at Sac State – a different environment, more competition and bigger expectations.
"You can't put too much pressure on yourself," Dampier said. "With a lot of freshmen, we don't know any better. This is all new to us, but we're open-minded. It will take us a bit to learn all the tactics and learn to adjust to them."
Transitioning from high school life to college life, she said, has been smooth because the freshman women share the similarities that come with being a new student who isn't familiar with the different surroundings.
"As freshmen we have to stick together because everything is new to us," Dampier said. "Being a freshman on a cross country team is so much easier. Many other freshmen are dealing with the same things as you are."
For the freshmen on the women's cross country team, gaining experience in the 2012 season will prepare them for the future cross country seasons that lie ahead.
"Freshman year is all about transitioning, and towards the end of the year instead of thinking, 'Do my best', think, 'Yes, I can do it'," Dampier said.
James Heck can be reached at [email protected]