Point guards win freshman POY awards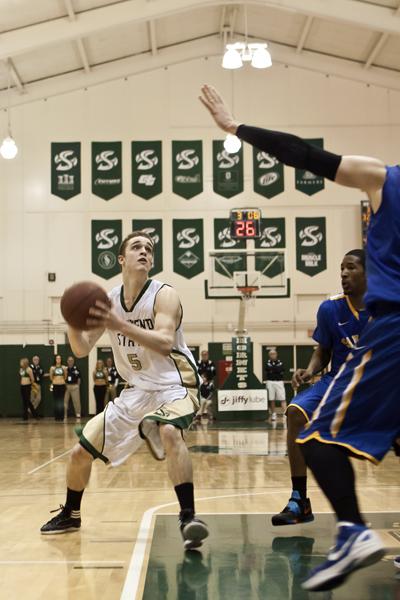 Freshman point guard Dylan Garrity tries to run past his defender during the first half of Saturday night's game against Montana.
" class="catboxphoto" />
Freshman point guards Dylan Garrity and Fantasia Hilliard swept the best freshman awards for men's and women's Big Sky Conference basketball for the first time in school history.
It was also the fourth time in conference history a school took both awards since Idaho State University won both in the 2004-05 season.
Garrity, who was also named to the all-Big Sky honorable mention team, tied the Sacramento State assist per game average this season with 6.9 per game, which is first in the Big Sky and sixth in Division I basketball.
Garrity started 27 out of the 28 games this season as a true freshman and averaged 8.1 points per game and was second on the team with 33.8 minutes per game.
Garrity is the third Hornet to be named Big Sky Freshman of the Year since the Hornets joined the Big Sky for the 1996-97 season and said it was an honor to receive the award.
"I was just extremely thankful for it," Garrity said. "I got calls from literally everyone back home and up at school saying congrats. My grandma called me in tears while she was in the movie theaters and just told me how much she loved me and how proud of me she was. She has always been my number one fan without a doubt."
Garrity's presence and skill on the court attributed to the Hornets first 10-win season since the 2006-07 season and their third straight year of increasing their win total.
Junior center Konner Veteto said this year is just the beginning to a great career for Garrity.
"I am very happy for Dylan getting Freshman of the Year," Veteto said. "He worked extremely hard this year and it showed in how he performed on the court this year. He deserved the award and he is going to continue to improve as a player. Sky's the limit for him."
Garrity put together five double-digit assist games and nine double-digit point games this season and he also broke the Hornets single-game assist record with 16 against Montana State University on Feb. 9.
Garrity's 16 assists also tied for the most in a Div. I game this season and also ranked fourth all-time in Big Sky single-game history.
Senior center Josh McCarver said Garrity's knowledge of the game was a huge factor for his success.
His game is well beyond his years and so is his knowledge of the game," McCarver said. "Dylan can compete with anyone we face and more times than not, come out on top."
After receiving only one Div. I offer to play basketball, Garrity said winning the award paid off and he was happy to prove everyone wrong.
"I felt relieved when I found out because all the hard work I have put in my whole life is now starting to pay off and people are noticing how good I am," Garrity said. "It feels great for sure proving all the other coaches wrong that said I wouldn't make it in college and that was what I really wanted to do."
For the women's basketball team, Hilliard is the first Hornet ever to be named Outstanding Freshman of the Year after averaging 8.7 points per game and being second in the Big Sky with 4.9 assists per game.
Hilliard said she was excited when she found out she won and called her father first with the good news.
"It's really exciting. I didn't know about it until they told me, so I was really shocked when they told me," Hilliard said. "There has been a lot of changes since I've been here so I just want to continue on making history and putting more into the program."
Hilliard is the seventh player in Sac State history to have 100 assists in a single season and her 141 is tied for sixth in school history.
Head coach Jamie Craighead said Hilliard winning the award could mean a championship down the line for the Hornets.
"Having the freshman of the year is a big deal," Craighead said. "A couple of the teams that, as you have freshman of the year and they get older, start to win championships with those types of kids, so we are really excited about that."
With Hilliard running the offense this year, the program has improved significantly.
After going 4-25 (1-15) last season, the Hornets went 12-17 (7-9) this year and have made the Big Sky tournament as the No. 6 seed.
Craighead said having Hilliard doing so well early in her career is going to be a big help to continue the program's improvement.
"To have a point guard that did what she did this year and to know that I have her coming back to run my system for three more years, it's exciting," Craighead said. "We think that we have a lot to build on for this next year and she's a big part of that."
Josh Stanley can be reached at [email protected]