In 2017, Jennifer Gomez stood at the precipice of adulthood as a senior at Argonaut High School in Jackson, California. At 17 years old, her days were filled with a mix of high school norms; working at McDonald's, playing the tuba in her school's marching band and filling her schedule with AP classes.

So when she decided to put college on hold to enlist in the Marine Corps during her senior year, her parents were shocked.
"I was like, a skater girl in high school, the last person you would expect to join the military," Gomez said.
Uninterested in the traditional college fast-track to adulthood, Gomez's decision was prompted by her desire to see the world. She said the Marine Corps gave her a buffer to figure out what she truly wanted to do.
The Marine Corps has a historic reputation for committing recruits to some of the toughest training. She credits her choice of joining the branch to her "go big or go home mentality." Once enlisting, she became a part of the approximate 8% of women who made up the Marine Corps in 2017.
Gomez proceeded to Parris Island, South Carolina where alongside all-female recruits, she was subjected to the mental and physical challenges of Marine Corps boot camp. These consisted of waking up at 4 a.m. every morning, losing all concept of time and doing a lot of push-ups.
Gomez said one of the most challenging transitions to adapt to in the beginning, was learning to become a leader in such a male-dominated space.
"It was rough being one of the only women when it came to leadership and kind of navigating how to lead a bunch of men who don't necessarily believe that you belong there," Gomez said.
RELATED: Veterans Success Center paves way for former service members at Sac State

Gomez took an earlier ship out date instead of attending her high school graduation. She said finally graduating from the intense three-month-long boot camp was the best day of her life.
"They really aim to break you down to the bare bones to essentially build you back up," Gomez said.
After completing combat training in North Carolina, Gomez made her way back across the country to Twentynine Palms, California, where she became a field radio operator. It was shortly after that she would go on to be stationed in Iwakuni, Japan, for three years.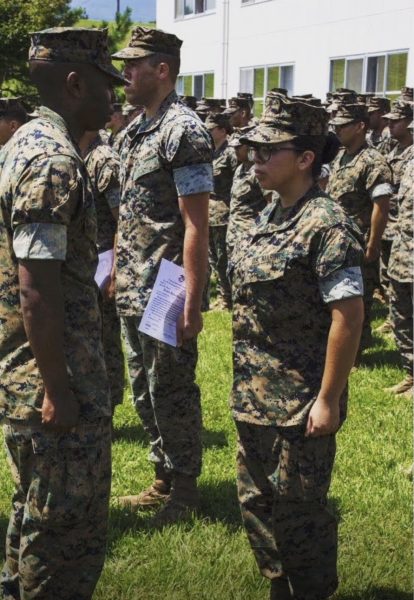 While Gomez said she loved Japan, there was still a culture shock, and being young and away from her family proved difficult at times.
"I was 17 to 21 years old when I lived in Japan," Gomez said. "Those are really formative years. There was a lot of stuff that happened to me that I could have really used family support."
While the United States was not in active war during her service, Gomez said her experience in the Marine Corps revealed her innate sense of leadership. As a sergeant she cared for her fellow marines and their success. This fueled her passion for community outreach, which she has continued to foster at Sacramento State.
"Whether or not I went into combat I know that I was doing it for the betterment of something, something harder, something greater than myself, something bigger than just me," Gomez said.
When she first returned home, Gomez experienced a second unexpected culture shock. She had to re-enter civilian life as an adult, after leaving it behind at 17. Without credit or any rental history to help her navigate adulthood, Gomez said she felt overwhelmed by the rapid transition into independence and self-sufficiency.
"When you get out, you don't have that structure," Gomez said. "You don't have somebody telling you to get up and go run five miles. I joined at 17 and was 21 when I got out and the world expected me to be an adult."
Gomez said she appreciated her time in the Marine Corps as a stepping stone for her, and utilizing the benefits from her time in the military has helped her go to school.
Currently, Gomez is pursuing a communications degree at Sac State, where she also went on to re-establish the Sigma Omega Delta co-ed military veteran fraternity and is now the Education Benefits Advisor for Sac State's Veterans Success Center.
All military veterans have stories to tell, but no two are exactly alike. For Fairfield-native, Steven Talaga, his military story began nearly two decades earlier, sharing a similar thread of unwavering commitment and resilience.


Whether or not I went into combat I know that I was doing it for the betterment of something, something harder, something greater than myself, something bigger than just me.
— Jennifer Gomez
Talaga was 18 years old when he embarked on a journey that would define the next decade of his life– enlisting in the active duty army just three years after the events of 9/11.

"I guess I felt compelled, like a lot of people at that time, to join up," Talaga said. "I didn't have any hopes of going to college or anything at that time. So I figured the next best thing was the military."
His parents didn't want him to go, but Talaga said he's the kind of guy that once his mind is set on something has to see it through.
Talaga finished his training just shy of his 19th birthday and in February 2006 was deployed to Afghanistan. There, he served as an infantryman with Bravo Company 1st Battalion, 32nd Infantry Regiment, of the 10th Mountain Division.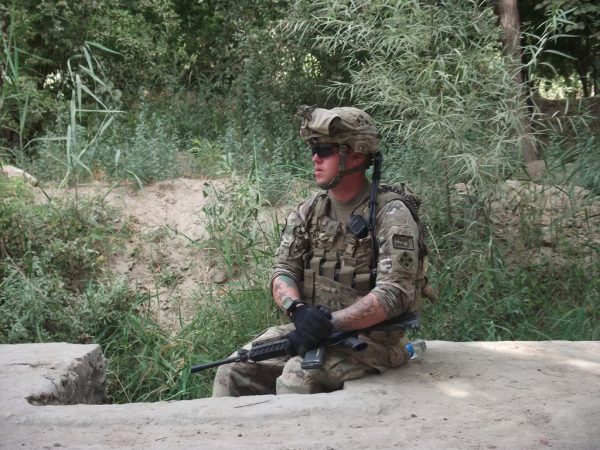 "You can talk to as many people as you can and try to have good expectations, but when you're actually doing it it's a culture shock," Talaga said. "It's a completely different world."
Stationed near the Pakistan-Afghan border, Talaga said his first deployment was full of trial and error.
"There's no conventional enemy over there," Talaga said. "You're just dealing with the local population. And so it was up to us to have that relationship with the locals."
Amidst the challenges, some of Talaga's best memories were forged during humanitarian missions. Venturing into remote villages with food and school supplies, his unit's doctors would aid civilians while they played with local children.
After a second deployment in 2010, he had made up his mind to separate from the army, but his best friend David Nowaczyk, who had been with Talaga throughout his first two deployments, convinced him to re-enlist.
Upon arriving at Fort Carson, Colorado, where he would be stationed the next four years, as fate would have it, Talaga and Nowaczyk were assigned to different units. Talaga deployed before him in May 2011.
"My last deployment was more stress from the politics that the military was putting on us, like 'win the hearts and minds,' which is a good way to go about it, but some rules were restricting what we could actually do to defend ourselves," Talaga said.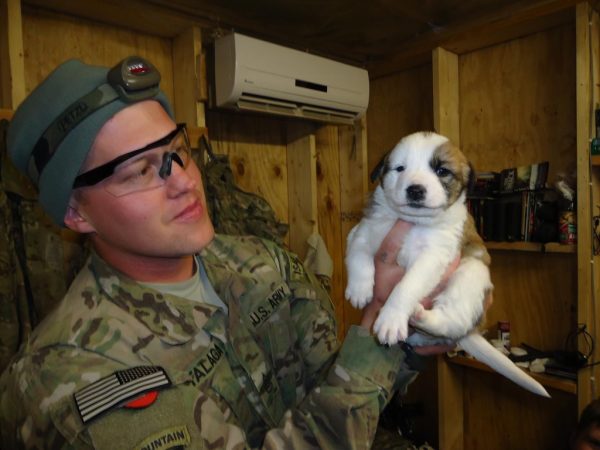 Less than a month before Talaga was set to return home for the final time, Nowaczyk, who had just deployed, was killed by a roadside bomb.
"After that, I checked out," Talaga said. "I was ready to go."
Following three deployments, 11 years of service and a total of 41 months in Afghanistan, Talaga was medically retired in 2015 and faced the new challenge of integrating back into civilian life.
For a year and a half after being home, crowds and even simple trips to the grocery store triggered severe anxiety for Talaga.
"I would get really anxious and break down into a sweat and I'd be drenched by the time I was done in line," Talaga said.
Talaga said one of society's misconceptions about the military is that military service concludes upon retirement.
"We like to feel like we're still needed," Talaga said. "That's why a lot of people have issues when they get out because they feel like they lost that."
In his earlier aspirations, Talaga initially hoped to pursue nursing, driven by a profound desire to continue serving the community without having to carry a weapon.
Since attending Sac State, Talaga decided on a degree in molecular biology and looks forward to graduating this fall. He credits those 11 years for giving him resilience, a trait that has aided him while pursuing higher education.
Talaga and Gomez are emblematic of a shared reality–-the challenge of reintegrating into civilian life while grappling with the desire to still serve their community.
Located on the third floor of Lassen Hall Room 3003, the Veterans Success Center helps provide resources for student veterans like Gomez and Talaga who are making that transition not just in civilian life, but in higher education.
Director Austin Sihoe said they specifically help students access and maximize their benefits from the Department of Veteran Affairs and provide students with leadership opportunities and mentorship.
"Whether it's veterans, dependents or reservists, we certify their benefits so that they can achieve the dream of completing a degree," Sihoe said. "But for me, my biggest point of pride is having a safe space for any military-affiliated persons to come and be themselves at our center. For me, that's the biggest compliment anyone can give me."