Blue emergency towers: Students call for awareness and accessibility
Emergency blue boxes spread across campus directly call police
Spread throughout Sacramento State's campus, blue light emergency towers are available for students to connect with campus police in case of an emergency. With several reported sexual assaults occurring on and nearby campus since last semester, students are calling for more to be installed and for better education on how to use them.
Sidney Niebla, a fourth-year political science major, said she believes these lights can act as an effective preventative measure against sexual assault. However, as someone who has not used these call boxes before, she questioned how quick the process of receiving help would be.
"Hopefully it's fast because if not, something could happen in that short amount of time that you're waiting," Niebla said. 
Second-year business major Morgan Wedge said she understands the importance of these lights for those residing in dorms or walking around campus at night.
"I've never used one," Wedge said about the blue call boxes. "I'm hoping I never will have to use one."
There are approximately 215 towers on and around campus according to Sac State Police Deputy Chief Christina Lofthouse. She said these call boxes can take two forms: the standalone poles placed in high-traffic areas of student travel and wall-mounted boxes located in parking structures.
Story continues below map
Map created by Alyssa Branum
Students can use these light boxes by pressing the box's red button to immediately connect with Sac State PD. This is to avoid the wait time of being transferred between people during an emergency, said Lofthouse. The boxes function as a speaker phone, allowing students to speak to dispatch while awaiting police arrival. 
Lofthouse said student orientation now covers how to use these boxes. Sac State PD has made presentations for students, staff and faculty, she added. Sac State PD will continue to educate the community on how to use these callboxes and where they are located. 
While Lofthouse has said the process is simple, some students need clarification on how these machines work. 
Estrella Perez, a graduate business major, said she did not know how to use them. She added education on how the blue lights operate could be better explained and more available.
"Nobody ever told me what those are," Perez said. "You just assume that's what they are for but nobody ever educates you on how to use them."
Alex Naraval, a third-year health science major, shared similar concerns with the boxes. Naraval said the university administration could be more engaged in educating students on how these call boxes function. 
"I feel like not everybody is aware of how to use them or what happens when you use them," Naraval said. "I think it could benefit to make people more aware of that."
Naraval added it can be hard to educate students, especially if the information is sent through email, which some students need to check, but said she would still like to see the administration try to educate students in different ways.
While there are many blue light boxes on campus,  not all of them are currently operating. For example, the box located near Guy West Bridge is currently defective.
Story continues below photo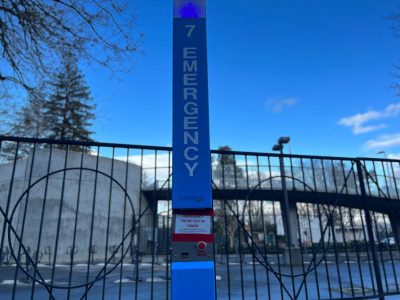 According to Lofthouse, the call boxes are tested twice a year, although she said Sac State PD is looking to increase this number.  
These tests consist of an individual activating the call box to check if the audio connection with dispatch is clear, Lofthouse said. These tests also inspect how well the light works on the call boxes in order to locate the student caller. 
Students like Faith Montemayor, a fourth-year computer science major who often walks around campus at night, said she would want more boxes added so every place on campus has a conveniently placed blue light station.
"I do wish they were a bit closer together and also I think it would be helpful to have brighter lights," Montemayor said. 
Story continues below graphic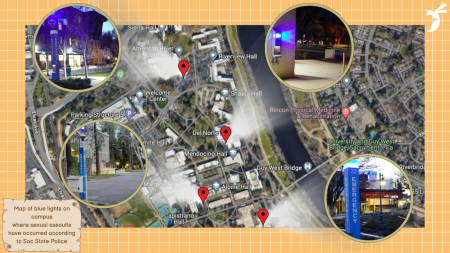 Perez, who had been sitting in an area where there was not a blue light immediately available, said she would want to see more added to campus as well. 
Lofthouse said due to budgetary constraints, Sac State PD cannot address needed changes right away. Instead, she said campus police have plans to add new blue lights should future funds allow. 
Sac State PD said they are working with the company that produces the blue lights to make these boxes accessible for students who are deaf or have difficulty hearing. 
"There's a red light that will activate and that, according to the companies, that's supposed to help people that may be hearing impaired," said Lofthouse. 
Lofthouse added use of these emergency call boxes are treated as 911 calls and should be specifically used for emergencies. She said if students are looking to contact the escort system or have general questions, they should contact Sac State PD. 
Sac State PD can be reached at (916) 278-6000. The Hornet Safety Escort system operates 24/7 and can be contacted at (916) 278-7260.