Lab Rats: Experimental musicians rise in Sacramento's music scene
Unique band mellows it's way to the top
Rhythmic beating of drums reverberates through the Redwood Room inside Sacramento State's University Union as a crowd of listeners tunes into the band's smooth, psychedelic sounds. 
Audience members are enchanted as a fusion of jazz, R&B and soul fill their ears at the university's UNIQUE Program Wednesday Nooner event.
"If you're making your goal to make [your] music serious… you are going to punish yourself and the listener," said Lab Rats drummer Jacob Swedlow.
The Lab Rats are a self-proclaimed "spontaneous" band that has a modern approach to American music. The dynamic of the trio band is supported by multi-instrumentalists Jacob Swedlow, Joey Archie and Miguel Recendez, who is a Sac State student.
Story continues below gallery.
The band members met in the local jazz scene by attending venues in Sacramento, with the idea for Lab Rats being sparked by Swedlow. 
Recendez, Archie and Swedlow connected and said they noticed a trend of merging jazz and hip-hop genres. All three members said they wanted to create their version of this type of music together.
Swedlow formed the band in 2022, when Sacramento was coming back to life after the COVID-19 shutdown.
The meaning behind their name, Lab Rats, showcases the experimentation with their sound and willingness to try new things. According to Recendez, the Lab Rats slogan, "Your Favorite Rapper's Favorite Band" was inspired by rapper MF Doom.
Story continues below photo.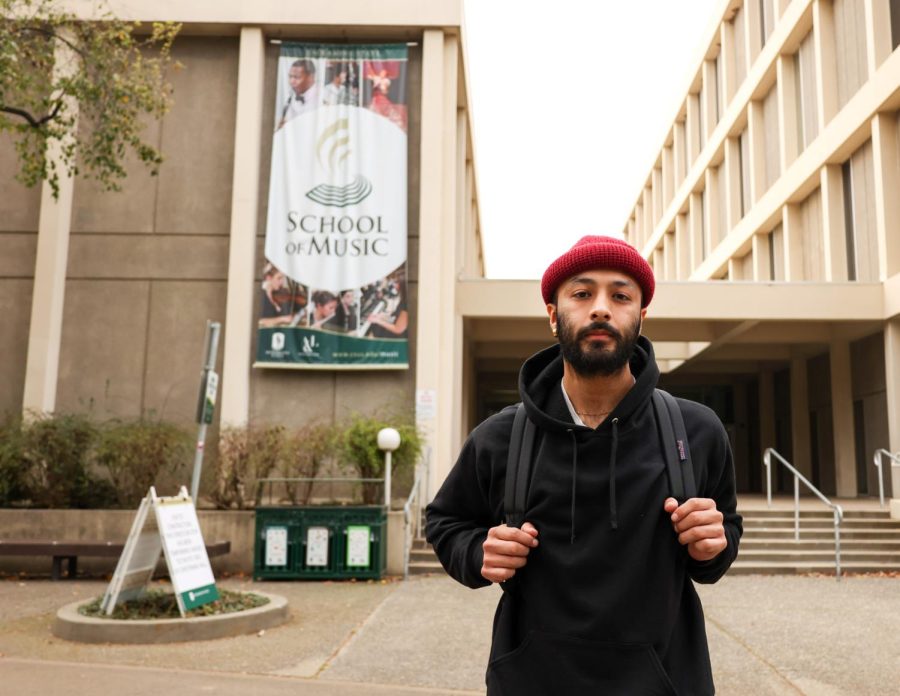 The Lab Rats had their first gig at the Shady Lady Saloon in January 2022 and have been performing at venues throughout Sacramento and the Bay Area since. They captured not only the attention, but the hearts of Sacramento. 
They find their sound by playing secondary instruments and experimenting with distinctive and rhythmic sounds. Archie and Recendez play keys and Swedlow plays drums.
To diversify their music, the band is inclusive in their collaborations with local musicians and are often hired to work with artists.
The Lab Rats have collaborated with local musicians including Diamond Key, Zach Martin, Jakhari Smith, Widda K and other local bands like Big Sticky Mess, dogpatch and Jackson Riley. 
Local musician Joby Morrow has played with the Lab Rats during their Sunday Sessions at Torch Club and said the energy and music they create is phenomenal. 
"I've been playing in Sacramento for 20 years," Morrow said. "The Lab Rats create some of the most excellent music I've ever seen come out of the city." 
Story continues below gallery.
While the Lab Rats started out playing covers, the band is working to create original music. 
They have two singles, "Home Base" and "Loading Screen," available on Apple Music, Spotify and YouTube.
They are preparing to release a new single Saturday called "Peach," featuring dogpatch and WIDDA K. Their new album is set to release sometime this year.
The band said their long-term goal is to give back to the community because they all grew up in Sacramento.
"The community has supported us since day one," Archie said. "To have a community that believes in us so strongly is a beautiful thing."
One of the ways Lab Rats do this is through their weekly Sunday Sessions, which are free and open to the public. The trio said they appreciate the judgment-free zone of Torch Club and feel comfortable trying out their new sounds. 
"It's like going to church on Sunday," Recendez said. "It's something you don't want to miss."
The Lab Rats will perform at the Starlet Room at Harlows with NNAMDÏ and Luke Titus as the opening act on March 31.