REVIEW: 'Midnights' by Taylor Swift
A ranking of the album that broke Spotify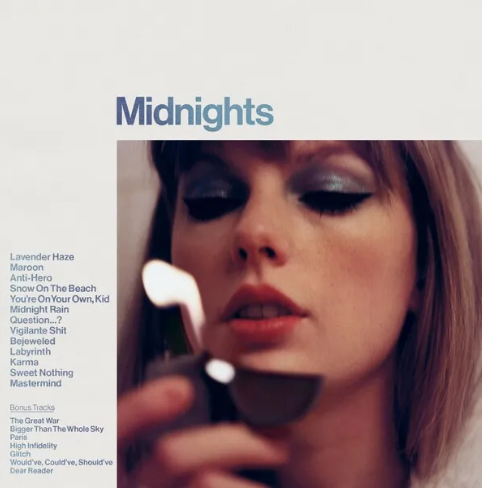 Taylor Swift released her long-awaited 10th studio album, "Midnights" on Friday and it may just be her best album of all time. But don't just take my word for it — "Midnights" has already broken multiple Spotify records.
With more than 187 billion streams in less than 24 hours, the release of Midnights caused Spotify to crash. According to Spotify News on Twitter, "Midnights" is the most-streamed album in a single day and Taylor Swift has become the most-streamed artist in a single day. 
With the authority of someone who's been a Swiftie since 2010, I ranked the 13 songs from the new album in descending order.
13. "Snow On The Beach (featuring Lana Del Rey)"
Favorite Lyric:
My smile is like I won a contest
And to hide that would be so dishonest
And it's fine to fake it till you make it
Till you do
Till it's true
Taylor Swift described in an Instagram video that "Snow On The Beach (feat. Lana Del Rey)" is about "falling in love with someone at the same time they're falling in love with you." Swift said the feeling of love being returned is rare, comparing it to seeing snow fall on the beach.
While the song's meaning is a cute sentiment, I found it slightly lackluster in the collaboration with Lana Del Rey. 
12. "Labyrinth"
Favorite Lyric: You would break your back to make me break a smile
"Labyrinth" explores how Swift navigates a new love after being scarred by past relationships. She equates her mind to a labyrinth, as she has too many ideas of what love should look like.
I really like the parallelism between the lyrics and the sound of the song. While the song is relatively simple, swifts lyrics are complemented by subtle synthesized notes. 
11. "Mastermind"
Favorite Lyric:
 This is the first time I've felt the need to confess
And I swear
I'm only cryptic and Machiavellian 'cause I care
This song seems to be about Swift's current relationship and how she was responsible for it all along. The ultimate message behind the song is that you are responsible for your own fate.
Swift is a mastermind in more than just her relationships and always keeps her fans on their toes with hidden messages in many of her songs and social media posts. 
10. "You're On Your Own, Kid"
Favorite Lyric:
Everything you lose is a step you take
So make the friendship bracelets, take the moment and taste it
You've got no reason to be afraid
This song is about longing for someone who doesn't return your feelings. The lyrics didn't resonate with me as much as some of the other songs on the album. I also feel like the song's buildup from the verse to the chorus drags on too long. After the first thirty seconds of the song, it becomes catchy.
9. "Maroon"
Favorite Lyric:
Sobbing with your head in your hands
Ain't that the way shit always ends
You were standing hollow-eyed in the hallway
Carnations you had thought were roses
Swift sang in the past about how the color red represents love (in the song "Red" from her fourth studio album, "Red"). In Maroon, Swift sings about the difficulties of a relationship and references them to other colors such as maroon, scarlet and rust (all variations of red) shows that the love is still there.
I really like the hidden meaning in this song; particularly, I love the lyric "Carnations you thought were roses. That's us." To me, it represents how the start of the relationship seems perfect and beautiful, like a rose, but over-time the relationship becomes more mundane, like a carnation. =
8. "Sweet Nothing"
Favorite Lyric:
They said the end is coming
Everyone's up to something
I find myself running home to your
Sweet nothings
Swift mentioned in other videos that sometimes it is hard to feel human because of her level of fame. However, in her current relationship — which has lasted six years — she has been quite clever in hiding the specifics from the media. 
I thought this song was boring at first, but it grew on me after a few playthroughs. I believe the simplistic melody fits the overall theme of the song.
7. "Midnight Rain"
Favorite Lyric:
He was sunshine
I was midnight rain
He wanted it comfortable
I wanted that pain
"Midnight Rain" is a song about Swift's past relationships and how it didn't work out because of her focus on advancing her career.
While Swift has not confirmed the details behind this song, I believe it's a reference to 2016, when her sixth studio album, "Reputation" was released. This was the era where Swift changed the most, not just musically but physically. She wore all black and changed her iconic red lip look to dark makeup.
Upon my first listen to the album, "Midnight Rain" would have ranked much lower on the list; the use of distorted vocals is lost on me, but it won my heart after I understood its backstory.
6. "Bejeweled"
Favorite Lyric:
Best believe I'm still bejeweled
When I walk in the room
I can still make the whole place shimmer
The message here is that being in a relationship with someone shouldn't put a damper on your personality. The song takes place from the point of view of Swift after leaving a relationship. 
I can't help but smile when this song comes on because it's one that I relate to the most on the album. I cherish the feeling of being free of a relationship or a friendship holding you back and the excitement of rediscovering myself.
5. "Question…?"
Favorite Lyric:
Does it feel like everything's just like second best after that meteor strike?
In "Question…?" Swift begins confessing that she yearns for the feeling she had in an extinguished relationship before it ended. Through the main chorus of the song, Swift asks for an explanation for why things had to be the way they were.
I like how Swift sampled her own song at the beginning. The song started with a distorted voice singing, "I remember" to the same melody of "Out of the Woods," which was on her fifth studio album, "1989." Another similarity to that album is that they're both super bubbly and pop-sounding. 
4. "Anti-Hero"
Favorite Lyric:
I'll stare directly at the sun
But never in the mirror
It must be exhausting always rooting for the anti-hero
Swift said in an Instagram video that "Anti-Hero" is about her insecurities.
"I struggle a lot with the idea that my life has become unmanageably sized and […] I just struggle with the idea of not being like a person," she said. "This song is a real guided tour through all the things I hate about myself."
Not only does Swift do a great job at encapsulating the relatable feeling of being overrun by insecurities in an extremely catchy and somewhat humorous way.
 3. "Lavender Haze"
Favorite Lyric:
I find it dizzying
They're bringing up my history
But you weren't even listening
Lavender haze is a phrase from the 1950s to describe the feeling of being in love, according to Swift in an Instagram video. She went on to say that the song is about ignoring the incessant input of others when you start a new relationship.
This song is an immediate mood booster, and when it comes on, I can't help but dance when it comes on. All I want in life after listening to this song is to scream it at the top of my lungs on the next Taylor Swift tour.
2. "Vigilante Shit"
Favorite Lyric:
Ladies always rise above
Ladies know what people want
Someone sweet and kind and fun
The lady simply had enough
This song is the ultimate anthem for revenge. Swift sings about how she gave evidence of an affair to the wife of the subject of the song, ultimately leading to their divorce.
It's such a bad-ass power anthem, and I can see myself playing this on repeat when I need to hype myself up.
1. "Karma"
Favorite Lyric:
Cause karma is my boyfriend/
Karma is a God/
Karma is the breeze in my hair on the weekend
This song is about the feeling of happiness when your life is going right and feeling like the things going right in your life are a reward. 
I was expecting a slow, dark ballad, but instead, it's a pop hit. This song made me realize karma isn't always bad; it can be fun and relaxing if you're on the right side of it. This song is absolute perfection.