Diary of a Bookworm: 5 most anticipated reads to look out for
From fantasy to dark academia and young adult romance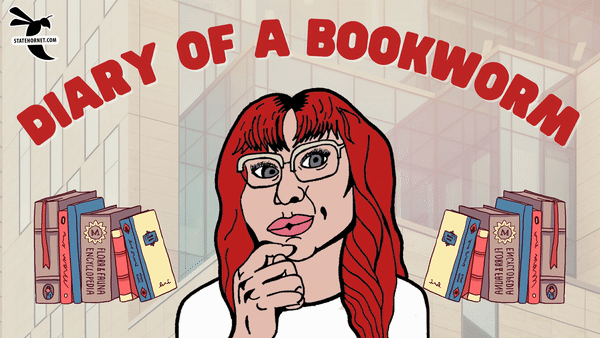 Dear diary, it's time to read something new. It can be a continuation of a series, a prequel novel or a new book altogether. 
In this diary entry, I give you my most anticipated reads, newly released books and future releases I have my eye on. 
As someone who loves reading books with morally gray characters and gut-wrenching plotlines, "Alone With You in the Ether" by Olivie Blake, releasing Nov. 29, is a novel that I think will have both. 
The book's description defines the main characters as "a bipolar counterfeit artist, undergoing court-ordered psychotherapy" and "a doctoral student who manages his destructive thoughts with compulsive calculations about time travel." 
I think this book will hook me into the emotional damage, which is my favorite type of book, because of the reviews on Goodreads. One user asked if the story ends in a so-called "happily ever after" to which another user replied the "book allows there to be an ending in the gray area between 'happily ever after' and 'tragedy.'" 
Blake has also written other novels that I enjoyed. "The Atlas Six" is about six people with some sort of supernatural ability that are asked to join the Alexandrian Society to become caretakers of knowledge. 
Only five will be initiated while one won't survive. This book is a dark academia following each person's point of view to reveal their dark secrets, betrayal, love and hatred towards one another. The book left me on the edge of my seat wishing for more and finally, we're able to get what we want. 
"The Atlas Paradox" released on Oct. 25, is the second book in the series. One reader on Goodreads said the book is slow at first but gets crazy all the way through the end. With this sequel, I hope to see more betrayal and plot twists you don't see coming that leave you completely heartbroken. 
While I love the dark academia theme of Blake's books, I tend to read a multitude of genres, my favorite being fantasy romance. Within that genre, my favorite series is " Blood and Ash" by Jennifer L. Armentrout. 
The series contains four books so far in the main series and now two books in the prequel series. 
The prequel series, called the "Flesh and Fire" series, personifies two of the gods in the main novels and lets readers connect to them, their family, history and their ever growing relationship. 
"A Light in the Flame" is the second prequel novel in the series, which will be released on Nov. 11. This novel will focus more on the characters' relationship development as they fight their growing attraction to one another. 
Another series that follows a prequel timeline is "The Roots of Chaos" series. The novel "The Priory of the Orange Tree" by Samantha Shannon is the first book of the series. However, "A Day of Fallen Night" is the prequel novel, considered a standalone book in the series, being released on Feb. 28, 2023. 
I haven't read "The Priory of the Orange Tree" yet, but it is one of the books that I am most interested in picking up. The book is said to be a sapphic novel with main female heroines and strong feminine power. 
"A Day of Fallen Night" is more world building and history telling, creating strong imagery when it comes to the Roots of Chaos series. Shannon also announced an untitled and unreleased third novel saying we "won't be hearing any details about this for a few years."
A newly released book I am itching to read is "Foul Lady Fortune" by Chloe Gong. This novel is a side story for Gong's duology "These violent Nights" and "Our Violent Ends." The series is a retelling of Shakespeare's "Romeo and Juliet" based in the 1920s during a gang blood feud between the Chinese and Russian mafia. 
The two heirs of each rival gang are destined to find each other, betray each other, fall in and out of love while  falling into the well-known "Romeo and Julliette" ending. When I say I love books that leave me emotionally damaged, these are the books I mean. 
On Sept. 27, Gong released the first book in the duology that follows the "These Violent Delights" timeline. The book is based four years after the events in the second novel from the first duology. While it's not the same main characters, I'm happy to continue reading more of the content in that world.  
Many authors continue to release books throughout each year. With these novels, I hope to explore new worlds, old characters, or new stories altogether. 
Sincerely, a bookworm.