Diary of a Bookworm: Romance books are real books, not just sex
#BookTok breaks the stigma behind romance novels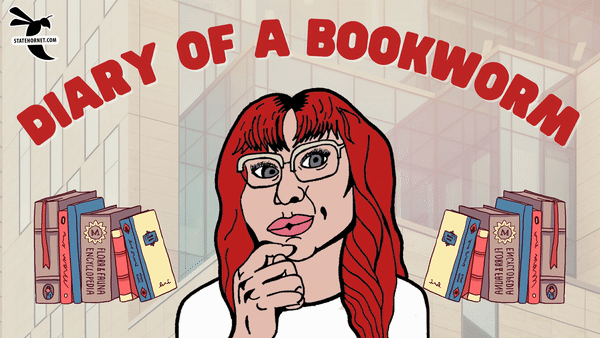 Dear diary, some people may say reading romance is the same as watching pornography just in a different medium. 
A standard romance novel is made up of a central love story and a conventional happy ending while containing the basic structure of a general novel: setting, plot, conflict and resolution. But there is more to romance books than just sex.  
In most romance novels, conflict and resolution are the key traits that keep the story rolling. Within these key aspects, there is also a wide variety of sub-genres and tropes that make the romance genre more diverse in content than some may realize. 
These genres may include contemporary, dark romance, historical, fantasy, young adult, suspense, erotica and paranormal romance. 
The book "Twisted Love" by Ana Haung is an example of a dark contemporary romance due to the content of the plot. The main character Alex Volkov, a wealthy businessman, falls in love with his best friend's sister, Ava Chen. 
After a series of plot driven incidents involving betrayal, murder and heartbreak, the book ends with a conventional happy ending where the main characters eventually resolve their issues and live a so-called "happily ever after." 
Sometimes contemporary romance novels can be boring or repetitive, which is why finding books like "Twisted Love" that break this pattern by adding juxtaposition through more dark topics and a "twisted" driven plot is so important for the romance genre.   
"From Blood and Ash" by Jennifer L. Armentrout, is a fantasy, paranormal romance novel that also breaks the stereotype of a "boring contemporary" romance book. The series is about Penellaphe "Poppy" Balfour, a maiden sworn to protect her kingdom, and her guard Hawke Flynn, who may not be entirely who he says he is. 
The setting of the book is based in a fictional kingdom with versions of vampires and werewolves but continues to follow a central love story. 
Fantasy romance books tend to be the most interesting due to the world building that goes into creating a fantasy novel. Having a book that builds on different versions of vampires, werewolves, mythologies, fairies and other fantasy aspects makes the romance genre more diverse and more interesting to indulge in.
Some romance readers believe part of the stigma behind this genre comes from misogyny and how the majority of romance enjoyers are women. Romance books are continuously called trashy or too sexual. 
However, in recent years, TikTok has made romance books more popularized and common with the viral trend #booktok breaking the stigma. Here TikTok users share their favorite books such as "It Ends With Us" by Colleen Hoover, "The Love Hypothesis" by Ali Hazelwood and "A Court of Thorns and Roses" by Sarah J. Maas. 
For romance books with a large amount of sexual content, such as "Neon Gods" by Katee Robert and "Den of Vipers" by K. A. Knight, the BookTok community uses #spicybooktok.  These books tend to have a plot based purley around sexual relationships but these books continue to change, along with the trend. 
Booksellers such as Barnes and Noble dedicate sections of their stores to these BookTok trends with tables and websites advertising books currently going viral in the trend.
View this post on Instagram
No matter what genre you are indulging in, a book is still a book and reading is still reading. Whether it's a 150 page erotica, 800 page fantasy novel or a 200 page graphic novel, it still has the same benefits for most readers.
you're allowed to have your own opinions but those who find romance books "cringe" are the most embarrassing people to be alive on earth, ngl.

— cross is semi active (@crosmaee) March 2, 2022
Reading books expands vocabulary and grammar. It helps create a bigger imagination and, in some cases, expresses healthy sexuality. 
Sincerely, a bookworm.