Diary of a Bookworm: Where's the LGBTQ+ representation in the book community?
Queer representation is rarely seen on popularized reading platforms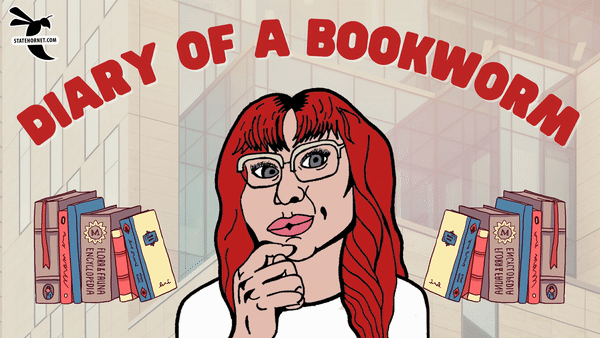 Dear diary: as a queer woman, it's disappointing when I don't see enough LGBTQ+ representation throughout the book community. 
The viral books on TikTok and trending tables at Barnes and Noble seem to mostly have a heterosexual main love interest. Almost every book that I've picked up because of BookTok is this way. 
I'm not saying there aren't any viral queer books on social media, because there are. For instance, books like "One Last Stop" by Casey McQuiston, "They Both Die at the End" by Adam Silvera and "The Song of Achilles" by Madeline Miller are queer books that became popular because of social media. 
We need to see more queer books on the trending pages across social media platforms. Specifically novels that include more diverse topics.
Most popularized queer novels involve gay relationships: men loving men. And while there is no issue with gay representation in the book community, representation for more sexual and gender identities is important. 
Representation is needed for people who identify as pansexual, asexual, non-binary, genderqueer, transgender, bisexual or any other sexuality. 
LGBTQ BOOKS TO READ
"Giovanni's Room" by James Baldwin follows the story of an American man named David who finds an interest in Giovani, an Italian bartender, after his fiancé leaves on a trip. Goodreads describes the novel as a "highly controversial story of death and passion that reveals the  unspoken complexities of the heart." 
While I haven't read Baldwin's book, it seems to explore the struggle of figuring out your sexuality and fighting the stigma that being homosexual is immoral. 
A similar novel that follows the same stigma is "My Policeman" by Bethan Roberts, which follows the story of Tom, a policeman, his wife Marion and his closest companion and lover, Patrik. 
Recently, the novel was made into a movie starring Harry Styles, David Dawson and Emma Corrin. I missed the book, but I have seen the movie. This movie shattered my heart, which just means the book will do worse, in a good way.
While both "Giovanni's Room" and "My Policeman" are works of queer fiction, "This Arab Is Queer: An Anthology by LGBTQ+ Arab Writers," edited by Elias Jahshan, is an anthology of memoirs written by queer Arab writers. 
Not only does this book incorporate queer voices, it also delves into first-hand queer experiences from a minority group that does not have much voice in the mainstream book community. 
"Cinderella Is Dead," by Kalynn Bayron, is also a work of queer fiction that caters to a minority group that unfortunately isn't on trending social media trends often.
Bayron's novel is set in the same kingdom as Cinderella, 200 years later.  The young women  are now required to attend the Annual Ball ball where the men of the town select their next wife. After fleeing from the Annual Ball, Sophia finds herself working together with Constance, the last known descendant of Cinderella.
The books description states "this fresh take on a classic story will make readers question the tales they've been told, and root for girls to break down the constructs of the world around them."
One Goodreads user references the Pixar film Brave, saying "I'd pitch this as Black Cinderella falls in love with Merida and together they destroy the patriarchy." 
In the end, it is important to realize that the novels that garner the most attention are continuously focused on themes of cisgender, heterosexual and white communities when it comes to characters and storylines. However, there is so much more diversity and representation out there that needs to be explored in literature. 
It is important to read queer stories and support queer authors. Representation matters.
Sincerely, a bookworm.