Deadline for 50% refund of Sac State spring parking permit extended
Express permit drop-off will be available Monday, Tuesday at Parking Lot 7
Sacramento State students will be able to return their spring parking permits for a 50% refund until March 20 following classes being moved online for the remainder of the semester according to Tony Lucas, associate vice president for business and administrative services.
The mass demand for refunds comes after Sac State announced that the majority of classes will be held online, in an effort to stop the coronavirus spread.
RELATED: Sac State to suspend most in-person classes over coronavirus concerns
The University Transportation and Parking Services will have an express permit drop-off in Parking Lot 7 Monday and Tuesday from 8 a.m. to 3:30 p.m. where students can drive up and return their permits to uniformed parking officers, Lucas said. Students do not need to get out of their cars, and they do not need to fill out a refund application form. 
After students drop off their permit, UTAPS will process refunds based on the permit owner's information in the PeopleSoft database. The refunds will take 4-6 weeks. If a student has an outstanding debt to the university, the refund will be applied to that balance. 
Lucas advised that students peel their permit off before pulling up to the permit drop-off in order to expedite the process. 
Story continues below map.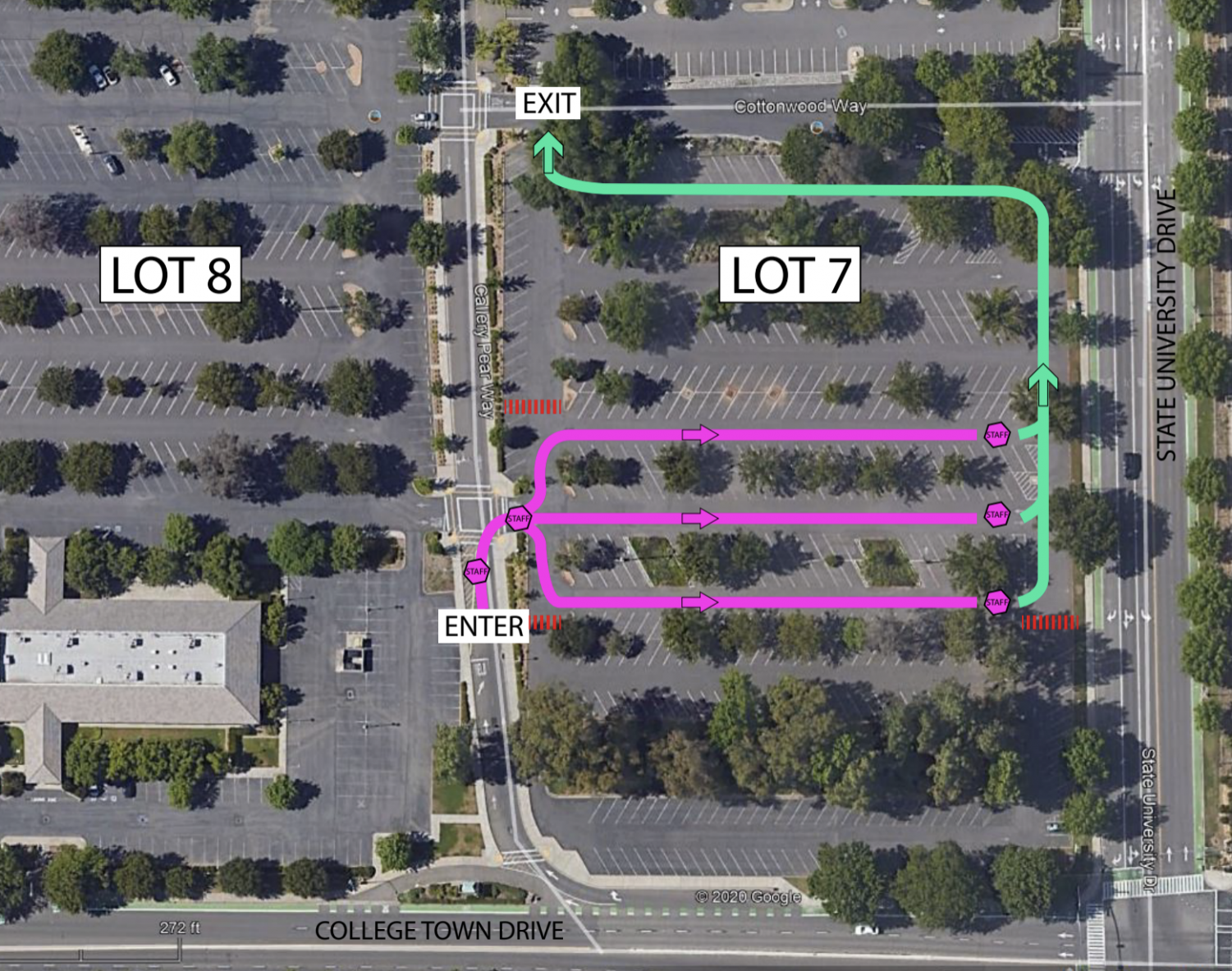 UTAPS encouraged students to use the express drop-off to prevent a large amount of people from gathering at the UTAPS building, said UTAPS Administrative Services Manager Jeff Dierking, prior to announcing the closure of in-person customer service windows effective March 19 due to the COVID-19 outbreak.
Students can mail their parking permit refund application to UTAPS with their permit attached to receive a refund, according to a Twitter thread from UTAPS. The applications will be processed according to the postmarked date, the thread said.
All parking services are available by mail or online through their website, the thread said.
Story continues below Twitter thread.
Mailed Refund applications for Spring Parking Permits will be processed according to the Postmarked date.
1. Download and complete the Refund application: https://t.co/4a4AhWNF5d
2. Attach the permit to the Refund form and mail to

3 of 4 pic.twitter.com/a62AaUmhYJ

— Sac State UTAPS (@sacstateutaps) March 19, 2020
UTAPS employees originally told students that the last day to receive a 50% refund was Friday, which is the last business day within 60 days of the beginning of the permit's eligibility. However, Sac State's parking refunds information page says the last date to receive a 50% refund is 60 calendar days from the beginning of classes, which is March 20.
Following State Hornet questions about this discrepancy, Lucas extended the last date to receive a 50% refund to March 20. 
After March 20, the refund amount will go down to 25%, Dierking said. 
Parking permits are still necessary for students wishing to visit the campus, and parking rules will still be enforced, Lucas said. He advised that students who plan on coming to campus regularly keep their permits. 
The daily parking permit passes will stay at their current price of $7.