A day in the life of a woman in ROTC
Follow Sac State student and Army recruit Carissa Summers' day – starting at 4:45 a.m.
1,800: that's how many miles Carissa Summers moved to attend Sacramento State. Summers takes a much shorter trip now to go to Sac State.
As a sophomore in the Army Reserve Officers' Training Corps, Summers is a 15-minute bus ride from campus and two years closer to achieving her dream.
Most days Summers is up before the sun.
"So my day starts out with waking up at 4:45 in the morning and getting my stuff packed," Summers said.
As a cadet in the ROTC program, Summers has to attend physical training three days a week.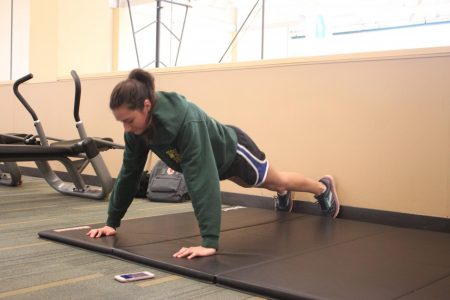 "Show up time for P.T. is 6:15 in the morning," Summers said.
P.T. starts at 6:30 in the morning, and cadets train for an hour. After P.T., Summers has her first class at 9 a.m.
"So from 7:30 a.m. until 9 a.m. I'm stretching and getting ready for school here at Yosemite [Hall] with showering and things like that," Summers said. "And then I have classes back-to-back from 9 a.m. to 5:30 p.m."
Before her 9 a.m. class Summers sneaks a blueberry crisp Cliff Bar, blueberry yogurt and a cup of coffee from the Mr. Coffee machine in the ROTC room.
"I'm a blueberry person," said Summers.
After a couple of classes, Summers typically eats lunch between 2 and 3 p.m.
"I usually have a sandwich, Cheese-Itz are my favorites, and pretzels," Summers said. "I eat a lot of seeds like sunflower seeds, peanuts, things like that."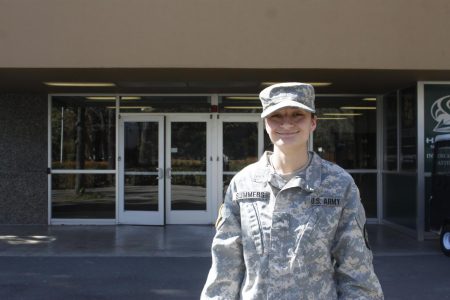 On Tuesdays, cadets in the ROTC program have military science lecture, and on Thursdays they have lab at Cal Expo. The week before spring break Summers was in charge of making sure everything was packed in the van for their lab. After her final class, Summers spends a little more time on campus.
"From 5:30 until 8:00, I'm in the library or the AIRC," Summers said. By 8:30 p.m. Summers arrives home to dinner that she left in a Crock Pot.
"I usually put stuff in the Crock Pot in the morning, so then I tell my roommates to turn it on at a certain time, like at 12," Summers said. "That consists of pot roast, turkey, potatoes, and stew."
Another constant in Summer's days is her twin, Skye, who runs cross-country at Southeastern Oklahoma State University.
"She has been very supportive of me in ROTC," Summers said.
They often talk at night on the phone. Other times Summers will talk to her mom.
"When I first showed up in ROTC, I ran track and cross-country in high school but I've never done a push up in my life," Summers said. "I remember the first workout ever was, and I remember standing there with my jaw open like I'm not going to make it. I'm going to tell them to return my scholarship, I can't do it."
Summers' twin gave her words of encouragement and an important support system which Summers says is crucial for being in the ROTC program.
"But then with the help of my sister and me calling her all the time, she's like 'hey, there's a reason why you wanted to do this and you can't keep telling yourself it's too hard. You have to tell yourself it is hard but (you're) capable of doing it,'" Summers said.
Summers said that this semester she maxed out her P.T. test.  Soldiers are scored based on their performance in three events consisting of the sit-up, push-up and a two-mile run, ranging from 0 to 100 points in each event.
Summers was able to perform 80 sit-ups in 2 minutes, 65 push-ups in 2 minutes, and her two-mile run ranged between 13 to 14 minutes. She scored 100 in each of these events.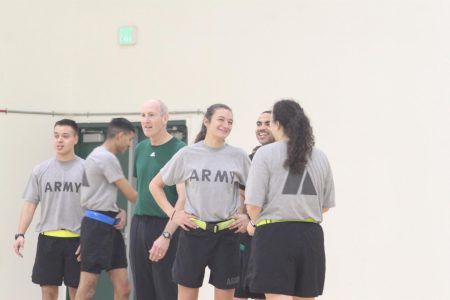 "It took a lot of work but you can't get through ROTC if you don't have support," Summers said. "Because there are times in ROTC where you feel like things are so hard and you feel sometimes even alone. That's why I'm very big on growing relationships in the program."
Building relationships is also one of the main reasons Summers joined the ROTC program, she said.
"I'm not going to say that I had a calling to do anything in the military because God visited me in a dream or anything, but I believe that … God created community for a purpose. And a community is where everyone needs to help each other out," Summers said.
Summers is also the president of the Warrior Fund club, which handles the finances for the ROTC program. She's also a member of the Environmental Student Organization and the Christian Students at Sac State.
After graduating, Summers will enlist for four years of active duty and be able to start living her dream of traveling.
"It's more of I want to travel with a purpose as well as getting the benefits that I can for myself and for my children in the long run," Summers said. "Being able to travel and get out there, meet other cultures, that's, to me, more important ."
By 11:30 p.m. Summers is in bed ready to start her day before the sun rises again.
Summers often reflects on her busy schedule at the end of the night, and thinks about the day ahead.
"What helps destress me is organization: so knowing what I'm already packing in my gym bag, what I'm packing in my regular backpack, what I'm going to have for breakfast, lunch and dinner, that de-stresses me," Summers said. "Because if you can imagine having to go to six classes in a day and you're like 'Aw crap, I forgot to eat because I never packed anything."
Additional reporting by Milan Cabebe.