Panel of women in politics reflect on #WeSaidEnough and #MeToo
Panelists ranged from Sac State professors to reporter, lobbyists and government officials
With calls for social change in light of #MeToo and #WeSaidEnough, an all-female panel at Sacramento State Downtown on Wednesday discussed how the "year of the woman" is changing politics.
The #WeSaidEnough campaign started by an open letter published as an op-ed in the Los Angeles Times. The letter contained the personal stories of women working in the state Capitol who were sexually harassed.
The panel was introduced by Kim Nalder, a political science professor at Sac State and director for the Project for an Informed Electorate, the institute for social research at Sac State. Nalder compared #WeSaidEnough to the broader #MeToo movement. #MeToo captured people's attention due to its focus on celebrities, according to Nalder.
"Although members of the legislature may like to think of themselves as celebrities, it's possibly more important, because these are the people making legislation," Nalder said. "They wield power in a more direct way then celebrities do."
Nadler said she was concerned with the environment of California's Capitol and how students she sends for internships are treated and if their safety is ensured.
There have been no incidents involving Sac State students reported, according to Nalder.
"We know all these things are underreported, so I still worry that there have been things that are not above board that we don't know about," Nalder said.
The panel was moderated by Sac State political science professor Danielle Martin and had four speakers. Topics ranged from personal experiences within the state Capitol to being on the campaign trail. The panel included discussions on how to get men involved with helping to change the social structures within politics.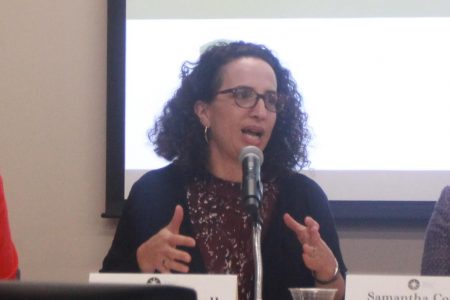 According to panelist and CALmatters reporter, Laurel Rosenhall, the letter resulted in almost two dozen pieces of legislation, some of which made it through committee. However, Gov. Jerry Brown vetoed key pieces of legislation, such as requiring the state to start tracking sexual harassment complaints of large companies and annual reports of sexual assault settlements by government agencies.
RELATED: Power behind #MeToo changes legislation in California
Lobbyist Samantha Corbin recounted her frustration with the inaction of men who called themselves allies.
"It was like an SNL sketch," Corbin said recounting a story from a function. "After the Harvey Weinstein stuff came out, I remember this group of legislators at a function and they were standing in a circle patting themselves on the back over how great allies they were."
Their support of #MeToo was out to the test that night however, and Corbin said she found their reaction disappointing.
"This other drunk lobbyist comes over and manhandled a friend of mine right in front of them," Corbin said. "They didn't lift a finger to stop it."
Shannon McKinley, deputy secretary of Legislation for the State of California Business, Consumer Services and Housing Agency, was an appointed staffer at the time when the L.A. Times letter was published. McKinley said that after it came out and more women started coming forward that some of the staffers starting being more optimistic about a change in work environment.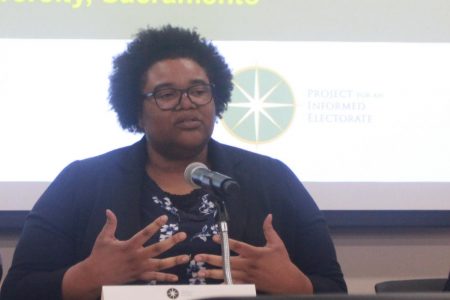 However, according to McKinley, there's still a healthy amount of skepticism.
"The people in charge of investigating the legislature is the legislature," McKinley said.
During the Q&A period, Lilian Rodriguez and Emma Smith, a pair of eighth-grade students from Edna Hill Middle School who are both involved in their student government, came to express their frustration with their peers and look for advice.
"I was sitting in one of my classes and this group of four boys were behind me and I could hear everything they were saying, and they were making rape jokes and laughing," Rodriguez said.
"It's personally really harmful," Smith said. "I've had a friend who's been sexually assaulted, and when they make jokes about it, it really downplays how much that hurts."
The panelists offered them recommendations for making sure they know which teachers are safe to turn to for help, as well as more specific instructions on how to present data and evidence to their school boards.
Andrea Mata, a Sac State freshman majoring in child development, said she came to the panel event as a requirement for Government 1.
"I chose this event, this is the one that called out to me," Mata said. "I think it's really great for women who've been in the shadows to come out and say something."
Donate to The State Hornet
Your donation will support the student journalists of Sacramento State University. Your contribution will allow us to purchase equipment and cover our annual website hosting costs.