OPINION: 2001 Halloween World Series game is the best sporting event, ever
Everyone in my neighborhood had on the Yankees versus Diamondbacks game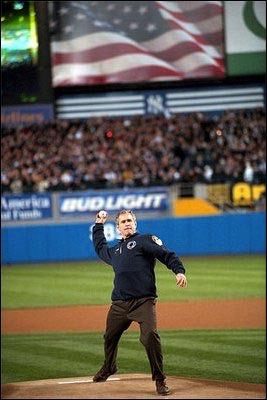 My favorite sporting event ever happened on Halloween in 2001. It was the fourth game of the World Series between the New York Yankees and the Arizona Diamondbacks.
I was trick-or-treating dressed as Batman and everything just felt right to me. Maybe I was just in my own little world, but in 2001, after 9/11, it felt like everyone turned to baseball as a distraction and to build back around.
It seemed like everyone cared about the World Series that year. Former President George W. Bush even threw the ceremonial first pitch of Game 3 wearing a bullet-proof vest.
But on Halloween, the magic really happened, because the season was put on hold for a week following 9/11. This was the first World Series game ever played on Halloween.
A lot of kids and myself had a choice to make. Do I go trick-or-treating, or do I watch the game? I loved watching baseball more than anything, but I made the choice to get candy. But which kid wouldn't choose candy?
What followed showed me just how important baseball was. I lived in San Diego, which is about as far from New York that you could get, but every single house had the game on. It was a spectacle.
I remember in the eighth inning, standing at someone's porch watching with other trick-or-treaters as the Diamondbacks took a scored twice to take a 3-1 lead.
It really didn't get any better, I was getting free candy and I was watching a great World Series game.
It looked like the Diamondbacks would win the game and take a 3-1 lead in the series, but then the trouble happened.
Arizona put its closer, Byung-hyun Kim, out for a second inning. Kim nearly got out the inning, but with one on and two outs, Tino Martinez, who had previously hit a clutch grand slam against my San Diego Padres in the 1998 World Series, crushed another big bomb into the bleachers at Yankee Stadium to tie the game 3-3 in the bottom of the ninth.
By this time, I was at home watching the game with bated breath going through my selection of Snickers and Starbursts.
In the bottom of the tenth, Kim came out to pitch for a third inning. Closers aren't supposed to pitch more then one inning. But like the ninth, Kim nearly got out of the inning.
By this point, the clock had struck midnight in New York, and this was now the first game ever played in the month of November.
It was 9 p.m. in San Diego and I didn't have to go to bed yet. Hall of Fame shortstop Derek Jeter came up to the plate with two outs in the bottom of the tenth. He worked a full count and then homered to the opposite field to win Game 4 off of Kim who had just thrown his 61st pitch of the night.
The series went seven games resulting in Arizona's win. As a collection, this is one of the best World Series of all time.
Four of the games were decided by one run and two of those went into extra innings. While Game 7 was won by a walk-off hit from Luis Gonzalez, Game 4 will always be my favorite, because of the magic of watching this game at everyone's house, and then having it end on a walk-off home run.
To me, it seems impossible to ever duplicate a Halloween sports moment like this one. It was a time when baseball was America's distraction, and for one night, it was as if everyone got to watch the game together in a unique experience that may never occur again.