Sac State professor recognized with Faculty Innovation and Leadership Award
Students learn leadership through an emotional lens
California State University recognized Sacramento State business professor Hakan Ozcelik with the Faculty Innovation and Leadership Award for teaching students to view leadership through an emotional lens.
The professor of management in the college of business administration was one of 26 faculty members awarded from the 366 nominations coming from 23 California State University campuses.
"I feel like our college received an Oscar at the CSU level," Ozcelik said. "What we are doing in these projects especially is quite innovative and sometimes innovation comes with being on the edge, so it's important to find some sort of legitimacy to what you do."
Ozcelik said he was surprised the day after returning home from the Academy of Business Conference in Chicago; he received the news via email formally congratulating him on his award.
The Ph.D. from the University of British Columbia is recognized for his creative approach in applying film to his teaching. Ozcelik said he first developed the project seven years ago for a special topics class for human resource management.
"I started reading books on filmmaking and I kept reading on emotions and leadership, and then one day, the idea emerged," Ozcelik said. " 'What if my students are given leadership theory and then a theoretical question to force them to integrate the leadership theory to emotional intelligence concepts in a story?' "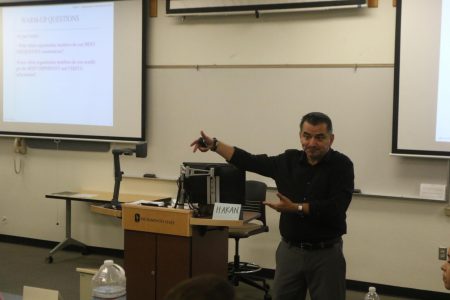 Ozcelik said his unconventional method of teaching emotional intelligence theories became a beacon of knowledge for himself and experts in the research field, which is why he created the College of Business Administration Film Festival to showcase his students' creativity. 
Chelsea Lucani, a business major who is currently taking Ozcelik's human resource management course, said she is terrified about the film festival after she learned more about the assignment she will produce at the end of the semester.
Luciani said she looks forward to gaining confidence working with others on producing her film project and appreciates Ozcelik's dedication to learning more about emotional intelligence.
"I feel he is very knowledgeable and passionate about his research," said Luciani, "You can see it when he teaches our class."
In addition to receiving the Faculty Innovation and Leadership Award, CSU will allocate $10,000 to the business department to continue students ongoing advancement, which Ozcelik said he is excited for.
"I think this speaks volumes about (the CSU's and Sac State's) commitment to innovation, quality education and leadership, which are almost essentials of business life right now for our students when they graduate from here," Ozcelik said. "I'm so glad that our university is catching up with this wave of translating the industry and translating to what we practice on campus."
Ozcelik said part of the money will go to maintaining and expanding the CBA Film Festival by providing more tools and resources for students as well as expand research topics on loneliness and studentship and what it means to be a student in the 21st century.
The eighth annual CBA Film Festival will take place on Nov. 15. in the Redwood Room in the University Union and the theme will be "Not alone but lonely: How emotionally intelligent leadership can combat workplace loneliness."
Donate to The State Hornet
Your donation will support the student journalists of Sacramento State University. Your contribution will allow us to purchase equipment and cover our annual website hosting costs.