DeVos prepares new policies regarding college sexual misconduct
The Secretary of Education plans to make significant changes to Title IX policies on college campuses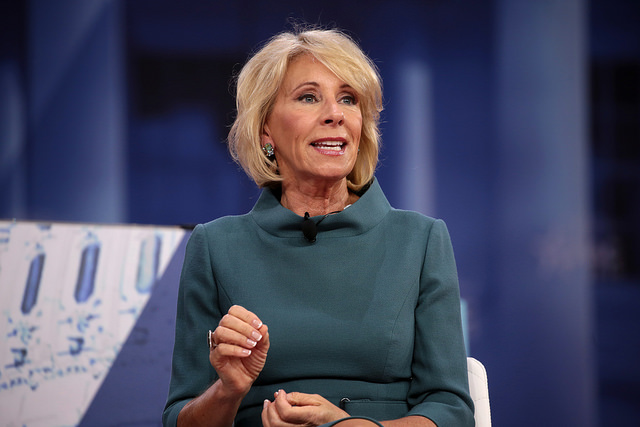 Education Secretary Betsy DeVos is preparing to implement new policies that may change the way college campuses deal with sexual misconduct.
DeVos's rules would undo policies set by the Obama administration and in turn, create a more specific definition for what constitutes sexual misconduct.
The policies would also create a tighter set of standards in regard to the types of allegations that colleges and universities would investigate.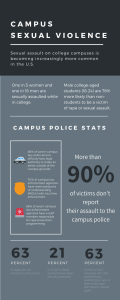 This may make it more difficult for campuses to prove a sexual assault since the policy requires a University to collect a higher volume of evidence.
Kyle Shallcross, the president of the Hornet Republicans, said that he thinks law enforcement and university administrators must be forceful with their intolerance to issues of sexual misconduct while still protecting their students.
"It is counterintuitive to continue using a subjective and partial legal conduit for addressing an issue that demands the (utmost) diligence and compassion on a case-by-case basis," Shallcross said.
The proposal of the new policies will also relieve the campuses of some of their liability if the assault occurs off campus.
According to the Rape, Abuse & Incest National Network, among undergraduate students, 23.1 percent of females and 5.4 percent of males experience sexual assault through physical force, violence, or incapacitation.
Floyd Johnson II, president of the Sacramento State College Republicans, said that he thinks the new policies will give universities more freedom to decide how they want to handle cases.
"I do agree there should be sanctions levied against the accused," Johnson said. "I do think there should be a level of due process for the accused."
Sac State Chief of Police, Mark Iwasa, said that he thinks these policies will have little effect on campus policies.
"What will probably happen over time is certain cases are gonna be brought before courts that are test cases," Iwasa said. "And then how those cases are resolved will direct how campuses conduct their business."
Sac State student Andrea Mejia, a third-year social work major and member of the Lambda Sigma Gamma Sorority, said that she feels the new policy will give more opportunities for the accused to protect themselves.
"As a sorority, we have events off campus," Mejia said. "Let's say something happens that's out of our reach and it's off campus and it's involving two Sac State students, I believe a victim is not going to feel comfortable enough to come forward especially with the new policies."
According to the National Sexual Violence Resource Center, more than 90 percent of victims on college campuses do not report their assaults.
Kevin Corona, president of the Sacramento State College Democrats, said he thinks the protections of students should be clearly defined.
"Universities have a responsibility to protect all their students at all University-related events and help victims have easy access to channels here and across the country to report sexual misconduct that takes place in a college setting," Corona said.
Sac State Title IX Coordinator William Bishop said that CSU policies follow the Department of Education and California Law.
"If and when that guidance changes, we will work with CSU leadership from the Chancellor's Office and our sister campuses to update those policies, if necessary," Bishop said. "In the meantime, Sac State remains committed to eliminating sexual misconduct and will continue its efforts to do so."