4 gymnasts set career highs as Hornets put together a fall-free meet
Sacramento State gymnastics didn't record a fall in any of its 24 routines and had its second highest score of the season in front of a loud crowd on Friday at the Nest.
This positive energy helped lead Sac State — which finished in third place — to a score of 195.175 against the University of Alaska Anchorage, No. 21 ranked Cal and No. 22 ranked University of Minnesota. As the Hornets drilled every landing, the momentum kept growing.
First, sophomore Alexis Belkoff recorded a career-high 9.850 on the vault. Up next came the uneven bars where all six gymnasts hit scores of 9.700 or above. Sac State then nearly fell twice on the balance beam before the gymnasts regained their balance and stayed upright.
Senior Courtney Soliwoda helped set the pace by leading off the meet just shy of a career high with a 9.725 on vault. She then had a 9.800 on the uneven bars before she maneuvered with ease on the four-inch wide balance beam to lead the team with a score of 9.825.
The meet is underway as senior Courtney Soliwoda starts the night with a 9.725 on vault. Here is her vault and the debut of the teams new green leotards. @SH_Sports @SacStGymnastics pic.twitter.com/sq33ml3E2R

— Thomas Frey (@ThomasFreyRP) March 10, 2018
"Vault was much better for me technique wise and air-awareness wise," Soliwoda said. "Bars I had improvements (and) I'm happy with my performance tonight."
The energy among the team looked like it was at an all-time high entering the final event, the floor, and it was aided by fan support. Not only was the Nest buzzing, but so were fans from Minnesota, who took up an entire section.
"The energy was great tonight," senior Annie Juarez said. "It was hard not to hit."
Junior Carly Pratt led off the event and was in the floor lineup for the sixth time this season. Pratt, who had some hiccups and averaged a 9.600 in her previous five floor routines, was flawless with a career-high 9.800.
"She was on the exhibition spot the last two weeks, and last week, she was thrown into the mix because of injury," said Sac State coach Randy Solorio said. "To see a 9.800 on that routine was ginormous."
Three of the next four gymnasts had scores of 9.800 or higher, including a career-high 9.825 by junior Jackie Sampson.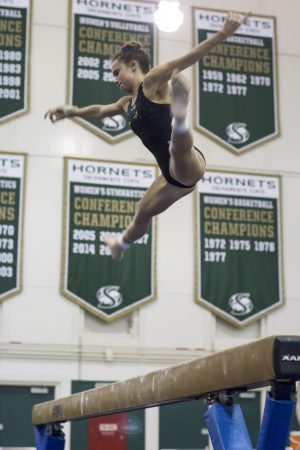 The stage was then set for Juarez. The all-arounder from Indiana needed to earn at least a 9.800 in order to receive her fourth score of 39 or higher this season.
In the final routine of the final event in the meet, she found a rhythm and dazzled the judges with a 9.900 to finish with a 39.100 all-around score. Her 9.900 was the second highest score on floor in the meet behind Cal gymnast and 2016 Olympian Toni-Ann Williams, who had a 9.925.
The Hornets finished floor with a 49.125, which is the highest event score they have had all season, and ended the meet ahead of Minnesota in the event.
Not only was the 9.900 a career high for Juarez, but it's the best score a Hornet has recorded individually since senior Caitlin Soliwoda tallied a 9.900 on the balance beam in last year's Mountain Pacific Sports Federation Championships on March 24, 2017.
In order to qualify for a spot in an NCAA Regional on April 7 as an all-arounder, only six top scores are factored into the equation.
Heading into the night, Juarez had three scores above 39 as an all-arounder. Her three next highest scores were just above 37.
Having another score above 39 means that Juarez can take away one of her scores in the 37 range which makes her average skyrocket. With two meets remaining, she has a chance to erase all of her 37s.
"If she hits these next two meets, it will give her a much better chance to qualify," Solorio said. "(Those 37s) would go away."
Juarez is currently projected to advance as an event specialist in the floor routine. Caitlin Soliwoda is projected to advance as an all-arounder, while freshman Jordyn Brent (uneven bars) and Courtney Soliwoda (uneven bars and balance beam) are projected to move on as event specialists.