'6 months at a time': Sac State gymnastics head coach's journey to being cancer-free
Randy Solorio discovered he had liver cancer while being screened for kidney stones
In early 2020, Sacramento State gymnastics head coach Randy Solorio went to the doctor for a kidney stone.
In an effort to see if he had more stones, Solorio's doctor ordered a CT scan and saw something in his liver. In March, Solorio received his diagnosis– he had liver cancer.
"If I hadn't had that kidney stone, I would not have discovered my liver cancer and been able to start treatment when I did," Solorio said. " [I've] never been so happy for a kidney stone."
In the two years since his diagnosis, Solorio has endured six months of chemotherapy and an invasive treatment with a radioactive isotope called Y90. 
The treatments caused him to lose 40 pounds– 25 of which he's since gained back. In January 2022, Solorio underwent surgery that removed his tumor and 45% of his liver. 
"
Right now, I live my life six months at a time, whenever the next scan is, I'll worry about [cancer] then.
— Randy Solorio
Despite all of this, Coach Solorio only missed a single month of work. 
 Solorio said the pandemic is a major reason he was able to stay so close to the sport.
"It worked out perfect," Solorio said. "School went virtual; it was the end of our season. Athletes went home and the next year was the COVID year." 
In the early stages of his diagnosis, Solorio said he made the decision to keep the number of people informed of his diagnosis to a small circle. 
"I didn't want too many opinions," Solorio said. "I had my professionals." 
Among those he did not inform were his athletes, who did not find out about his diagnosis until June 2020 while everyone was under shelter-in-place orders. 
By the time his team found out, Solorio was already several months into his chemotherapy treatment. The reveal came on a Zoom call recapping the season, which fifth year senior Amber Koeth described as a sobering moment for the team. 
"It was definitely a terrifying time," Koeth said. "But he did a really great job at being so positive; it made us worry a little less."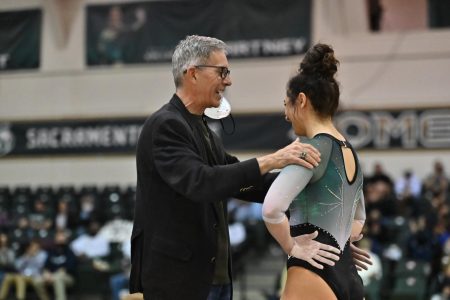 Solario said positivity has been the name of the game for him not just in his approach to cancer, but to life as well. 
Former Sac State gymnastics head coach Kim Hughes worked with Solorio for over 30 years before he retired in 2015 and Solorio became the head coach.
Hughes said the two worked  together successfully for so long because of their shared philosophy on coaching. 
"We didn't feel like we needed to yell or scream [at our athletes]," Hughes said. "We didn't feel like we needed to use that style of coaching to get results." 
Hughes said he was devastated to find out about Solorio's cancer and said his former assistant has always been outgoing, vivacious and full of energy.
Solorio's positivity left such a mark on his team that Koeth said  their personal relationship was one of the main factors in choosing to return for a fifth season. 
RELATED: Sac State gymnast reflects on journey before her senior season
Solorio said some of the positives of his chemotherapy treatment are that he didn't lose his hair or get too sick.
Despite the NCAA sponsoring a 2021 gymnastics season, guidelines were implemented to prohibit teams from using offsite facilities. This ruled out use of Elevate Gymnastics Academy in Elk Grove, where Sac State trains. 
Coupled with a lack of on-site facilities to safely field a team, the decision was made for Sac State's gymnastic team to withdraw from competition for the season. 
The early ending to the season meant less travel for Solorio and more time to recover between treatments.
Training, however, continued for the Hornets. Solorio managed to be in attendance– coaching from a seated position. 
While he couldn't be as hands-on as he said he'd like to be, his athletes stepped up to fill the void.
"Every single one of us stepped into more of a leadership role," Koeth said.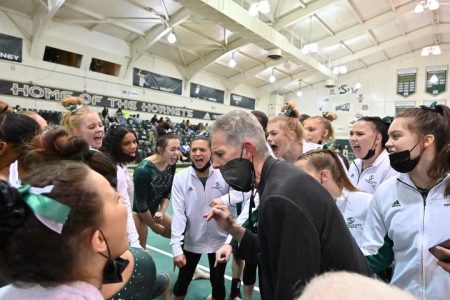 Solorio praised his athletes for their extra support.
"There was not a single one of them who was more or less [helpful]," Solorio said, adding that they gave when he couldn't be as hands on. "They were all incredible." 
It was around this time that Solorio started the highly-invasive Y90 treatment, which involved directly placing a radioactive isotope on his tumor. Solorio said this took the greatest toll on him.
At the end of the year-long treatment, on January 4th, 2022, Solorio underwent surgery.
"Going into his surgery, we all knew the risks," Koeth said. "He asked us to put all of our positive vibes into the universe– which is what we did." 
The surgery was a success and Solorio was deemed cancer free.  
Solorio returned to leading Sac State Gymnastics in their preseason training Feb. 1st, 2022 and began recouping his body from the two years of battling. 
Solario said putting cancer in the rearview is paramount to him.
"Right now, I live my life six months at a time," Solorio said. "Whenever the next scan is, I'll worry about [cancer] then."