Decision Time: Sac State men's soccer captain still determining his future
Jaime Robles unsure what's next for him
As the season draws to an end, Sac State defender Jaime Robles has to make some tough decisions. 
With the option to use his extra year of eligibility to continue playing Division I soccer with his fellow Hornets or make the jump to go pro, Robles will soon have to choose between the program that's helped mold him and the lifelong goal that drove him to become the player he is.
"It's always been my dream," Robles said. "Being a professional soccer player, doing that for a job is just something that I've always wanted to be."  
Robles, a 6'3" junior from Fremont, California, joined Sacramento State men's soccer in 2019.  
Robles started playing soccer at a young age because his dad got him into it, and he fell in love with the game. 
When he joined Fremont's Washington High school, Robles understood that competition was going to be harder. He took on that challenge and was able to play for various MLS academies; San Jose Earthquakes and Portland TImbers, he said. 
Sac State men's soccer started to really recruit him when Robles was playing with the Timbers, according to head coach Michael Linenberger.
"We saw him again and we thought he had matured and grown tremendously," Linenberger said. "We started recruiting him heavily and we were able to bring him in." 
Robles said he chose Sac State over Cal Poly, Bakersfield, and UC Irvine. 
"They told me what they had planned for the future," Robles said. "I was brought in and I'm glad that they believed in me — and here I am."
.As a freshman Robles earned the Big West All-Freshman Team award after playing a total of 711 minutes and being one of four freshmen to play more than 15 matches.  
Robles' defense also earned him Honorable Mention all-Big West his sophomore season in 2021. He played 15 of 18 matches, earning a career-high of 1,312 minutes that season.
"He's always been a solid and strong guy," sophomore goalkeeper Mac Learned said. "I can always rely on him to make big time tackle, big time headers and help us win big time games."  
This season Robles has led the Hornets 14 of 15 matches as a captain and has played a total of 1,142 minutes. He's also scored two goals this season, one of them being the game winner versus Utah Tech.  
RELATED: Sac State men's soccer winning streak extends to three games
Robles' presence in the Hornets defense has been immense, but he also impacts his teammates outside the field.
"He's more than a leader inside the pitch," sophomore midfielder Ali Sasankhah said. "Outside of soccer, outside of games, he's making sure everyone is doing okay. It's a pleasure to play next to him."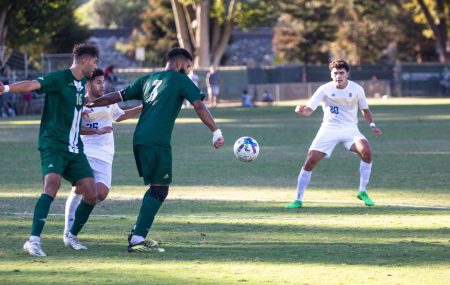 Robles credits his dad's advice as one of the things that pushes him to be a great leader. 
"When things get hard, just look up, keep your head up high, show no weakness and just work hard, work hard." Robles said.  
Not only does he apply it to himself, but those who Robles shares the field with as well. 
"I'm one of the more experienced players here — I've been here for a long time," Robles said. "Giving them advice … just helps me create connections." 
Building strong bonds with his teammates is very important, because as a leader Robles has to step up.
"I take it to heart. I like to be humble especially, and try to be a good leader," Robles said. "I want to be a good role model for the young guys."
With the postseason arriving and the end of the year approaching its end, the soon-to-graduate junior captain will have to make a decision.  
Going pro is not only Robles' dream but it's also his fathers dream, he said. 
"Having his dream of making it pro is something I want to accomplish," Robles said.