Campus Health Center could be required to provide medication abortions
The California State Senate voted 25-13 on Monday to approve a bill that would require California public universities, including Sacramento State, to provide medication abortions.
If it becomes law, Senate Bill 320 would require all UC and CSU campuses to offer abortion by medication starting January 1, 2022. It was first introduced by Sen. Connie Leyva, D-Chino, in February 2017.
Medication abortion consists of two medications, mifepristone and misoprostol, which can be  taken by women up to 10 weeks pregnant. The patient has to meet with a medical professional before and after treatment, which can cost between $300 to $800, according to Planned Parenthood.
John Johnson, the director of the Centers for Diversity and Inclusion which includes the Women's Resource Center, has been following the bill and believes that it can impact the campus community.
"We want to serve the students' needs as best as possible," Johnson said. "(The bill) is polarizing. It can create a location where anti-abortion groups might choose to come to protest."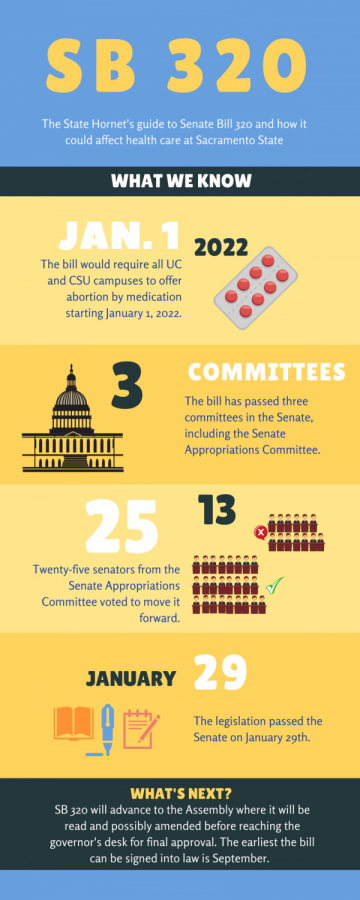 The idea for the bill originated with two UC Berkeley students. In 2016, Adiba Khan and Meghan Warner advocated for the campus health center to provide medication abortions. The proposal was never implemented, but now the concept is being debated on a bigger stage.
All public university campuses in California have on-campus health centers, but none provide abortion medication techniques, according to the bill.
The legislation would establish The Medication Abortion Implementation Advisory Council. The  council would be responsible for developing future objectives and handling finances from the Medication Abortion Implementation Fund.
Private grant money from the fund would then be distributed to the on-campus health centers. The bill states there is no requirement for the universities to use student fees to help fund the costs.
In a tweet from January, Leyva said in part, "…(SB-320) ensures that pregnant college students  — if they so choose — are able to safely end their pregnancy within the first 10 weeks without needing to travel off campus to access this constitutionally protected right."
The bill highlights the challenges college students face when wanting to terminate a pregnancy, such as transportation, time and finances.
     RELATED: Birth control vending machine coming to campus
"It would be safer for students to go to the health center instead of having to travel to a Planned Parenthood," junior Carly Haynes said. "I had a friend go over there. It's kind of far and in a sketchy place."
According to a report from UCSF, an estimated 1,038 students across the 34 UC and CSU campuses seek medical abortions at off-site health facilities every month. The report projects there would be up to 519 medication abortions each month if student health centers offered the pills.
Sacramento Health and Counseling Services did not comment on the bill, saying it is too premature at this time to discuss it.
Sacramento State's website currently lists several off-site facilities and organizations for students wanting to explore pregnancy termination options, including Planned Parenthood, Choice Medical Group and ACCESS: Women's Health Justice.
"It would be better if it's available to them on campus," Sac State junior Ali Briscoe said. "And it would be convenient at school because it does happen a lot, and women do need that option."
The bill will now move on to the State Assembly where it will be read and possibly amended. It will have to pass in that body before reaching the governor's desk for final approval. The earliest the bill can be signed into law is September.
UPDATED 1/29 10:27pm: The article has been updated to reflect the results of the State Senate vote on Monday.