Birth control vending machine coming to campus
Sacramento State will become one of a number of colleges to have a vending machine dispensing over-the-counter medication and healthcare products on campus.
The date of completion is unknown, as it is still in the planning process, but the project is being spearheaded by The WELL's Pharmacist in Charge, Janet Dumonchelle.
"I'm looking at that as a potential option as something that would benefit the student community," Dumonchelle said. "Next year would be a nice goal, would be a nice goal to get something going."
The location for the new vending machine has not yet been determined, though having it in a location that's accessible 24 hours a day would be ideal. Dumonchelle said, for security reasons, they would want a location that's generally safe to access.
RELATED: #SacStateSays: Why or why don't you use Sac State's offered contraceptives?
UC Davis installed a similar vending machine this past April, which they call "Wellness to Go". It dispenses products including Advil, emergency contraceptives and feminine hygiene products.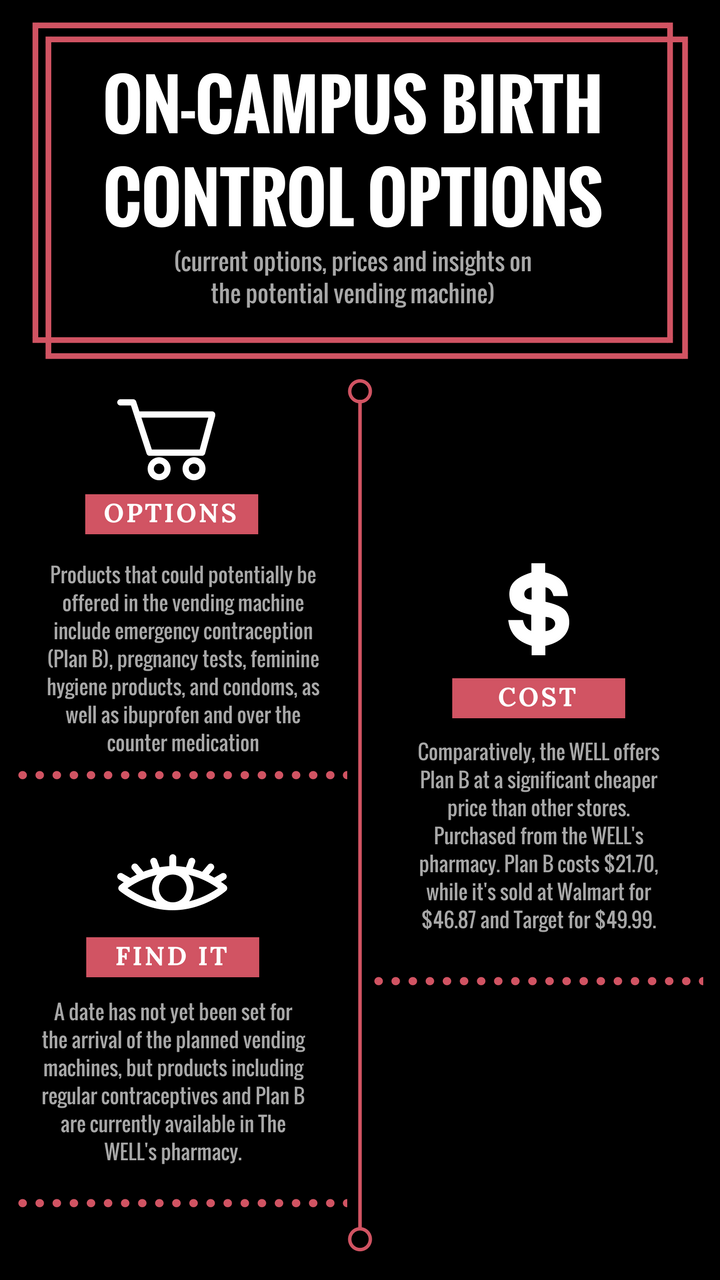 Dumonchelle plans on speaking to UC Davis about how they run their vending machine and the vendors they use in planning for Sac State's.
The ideas for installing vending machines at schools like Pomona College, UC Davis and Stanford were all student-conceived. Though Dumonchelle is heading the project for Sac State, she is looking to incorporate ideas from a former student.
"I also know a pharmacist who got her MBA here from Sac State," Dumonchelle said. "A vending machine carrying these products was a business project of hers."
Over the past few years, several colleges across the country have had vending machines similar to UC Davis' installed, including UC Santa Barbara, Dartmouth College, and most recently, Stanford University.
"I think it would be a good idea," said senior psychology major Carmen Candelario. "Because sometimes it's easier to go to a vending machine than to try to go to a store."
In April 2013, a federal judge ruled in favor of emergency contraceptive being accessible over the counter to anyone, regardless of age. Previously only those who were over 17 could buy the drug with proper identification, and those who were younger had to obtain a prescription.  
Since 2006, the ruling over the age limit for emergency contraceptive has been changed twice by the FDA. One notable concern was the responsibility of allowing young teens access to the drug and the potential for abuse.
"Safety is always going to be our main concern," Dumonchelle said. "Whatever is put in the vending machines, if there's any possibility for abuse, I feel we can find novel delivery methods that will service the students."
While having a vending machine dispensing products such as emergency contraceptives would be convenient, over-the-counter medication and healthcare products are also available at The WELL's pharmacy.
Student privacy is one thing that the pharmacy takes seriously, as a lot of students go there to purchase emergency contraception, according to Dumonchelle.
"I think, for the most part, they feel comfortable coming in here because we try to be very discreet," Dumonchelle said. "Most of the time, if they have a concern about privacy, they'll request a consultation with a pharmacist."
The discreteness of getting emergency contraception from vending machines, rather than having a face-to-face interaction with someone, is something that appeals to students. Students who face any type of hesitation or embarrassment will have easy access to products without having to talk to any medical personnel.
"I think it will be easier for students without having to go ask someone," Candelario said. "If you're in a situation where you don't want to tell anyone, you could just go to the vending machine."   
Chloe Welch, who has worked at The WELL's pharmacy for three years, said many students aren't aware of the healthcare offered to them on campus, including urgent care drop-in and the pharmacy.
"We have over-the-counter medication and pretty reasonable prices," Welch said. "We get good traffic during the week, especially Mondays and Tuesdays."
Students can buy Plan B for $21.70 at the pharmacy located inside The WELL. At other pharmacies like Target and Walmart, emergency contraceptives can range in price from $35-$50.
For a vending machine, Dumonchelle hopes to keep the product prices as reasonable as The WELL's pharmacy prices.
"It's a matter of trying and finding vendors (to supply the vending machine)," Dumonchelle said. "It's very important, whatever system we look at, that the prices will be comparable, and if there is a difference, it would be minor, like 50 cents."
A vending machine located on campus could also create more accessibility, not just for emergency contraceptives, but for items such as as condoms, ibuprofen and cold medication, which Dumonchelle said flies off the shelves during the winter months.
"This will create accessibility to certain products," Dumonchelle said. "We're always looking for ways for things to be more accessible."