Sac State student allegedly seen drinking and driving in viral video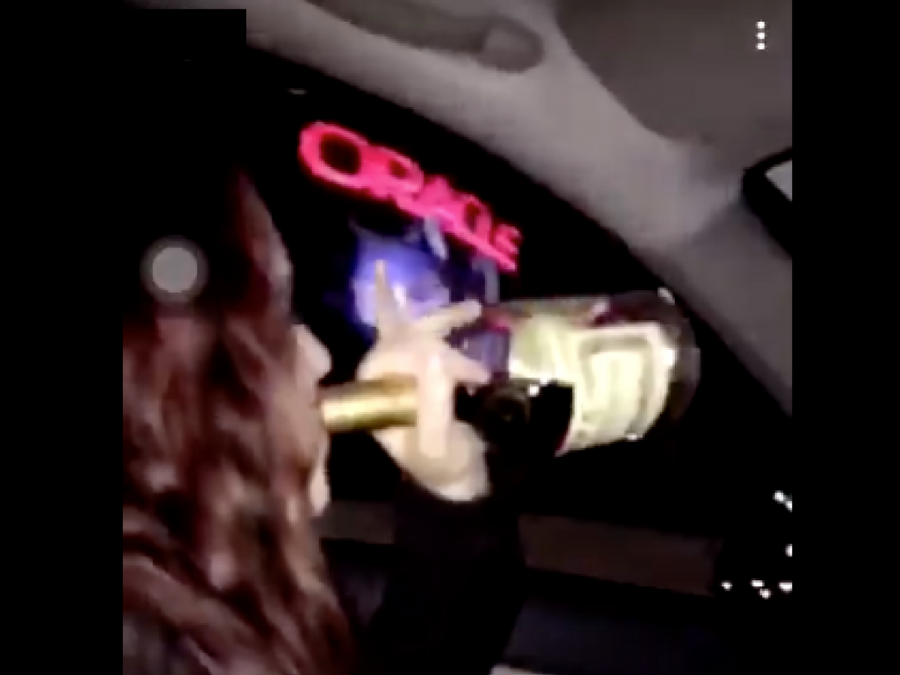 A viral video shared on Twitter and Facebook appears to show a Sacramento State student drinking alcohol behind the wheel of a moving car in the Bay Area.
According to the user who posted the video, and seemingly confirmed by many of the replies, the driver is Hayley Hagen.
The video appears to show Snapchats of Hagen drinking from a bottle of Hennessy while driving. Applied geofilters throughout the video show locations like Oakland, Union City, Newark and Sunnyvale. The Snapchats also have time filters indicating they were posted between approximately 3 and 5 a.m.
The video has a combined total of 23,858 likes and retweets on Twitter and around 12 thousand views on Facebook as of press time. The tweets have since been made private by the original poster, Lacy Thompson, @laadeeeeezzzzy on Twitter.
One still photo shows a hand holding an empty bottle with the caption referring to someone who "killed two bottles by myself." Another shows the driver's view of a road with the caption, "Tell me why I just spun out on the freeway and kept driving."
Hagen appears to be accompanied in the car by two men, one of whom also appears to have driven. She has not yet responded to request for comment.
Social media profiles indicate Hagen is a 19-year-old freshman criminal justice major who graduated from Dixon High School last year. The University Registrar's Office confirmed Tuesday that Hagen is a student with an expressed interest in criminal justice.
Thompson also posted apparent screenshots of an Instagram messenger conversation between her and Hagen in which Hagen writes, among other things, "That one post is going to ruin my life."
Thompson said in an interview with The State Hornet via Twitter that she has known Hagen for a year or two and met her around the time that Hagen was in a previous drinking and driving accident.
Thompson said she posted the video because of her own personal experience with losing family and friends to drunken driving.
"I posted the video after replying to her story saying, 'I thought you would've learned by now,' because my mind was utterly blown someone could be so selfish and ignorant to drink and drive and post it all over Snapchat like it's something to be proud of," Thompson wrote to The State Hornet.
"I hope her eyes are open to how serious of a problem this really is."
Brian Blomster, Director of News and Communications at Sac State, said in an email that "we do not comment on the conduct of individual students. That information is confidential."
"The safety and well-being of our students, and that of the greater Sacramento State community, remain our top priority," Blomster said. "If students exhibit potentially dangerous behaviors, we have resources to offer, including counseling, substance abuse education, and referrals. Students whose actions violate University conduct standards are also subject to discipline."
The State Hornet will continue to update this story.
Additional reporting by Claire Morgan
---
5:30 p.m. This story has been updated to include comment from Sacramento State and that the original tweets have since been made private.