Citing money concerns, Sac State pulls plug on winter commencements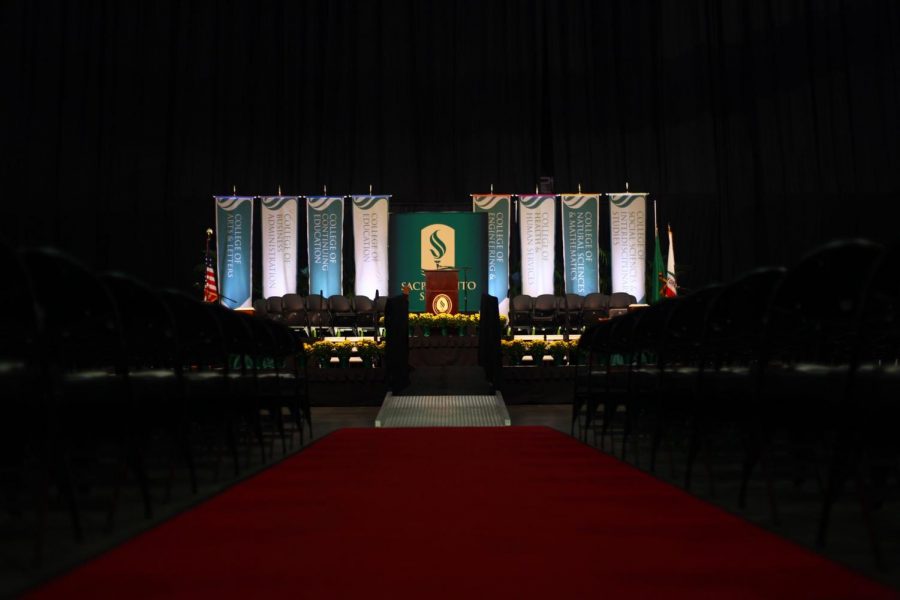 Sacramento State's announcement last week that the upcoming 2017 winter commencement ceremony would be the last held, marking a permanent switch to spring-only graduations, could not be accurately described as well-received.
In a lengthy email from Sac State President Robert Nelsen, it was explained that the University is the last of the 10 largest CSUs to still hold a winter commencement and had made the "difficult" decision to cut the extra, less-attended ceremony.
Last spring's ceremony, the first of Sac State's held at the Golden 1 Center in downtown Sacramento, cost the university and its students $151,643 total, nearly three times more than the average price of graduation ceremonies previously held at Sleep Train Arena, which has been stripped of most of its internal equipment and is not currently fit to be used for public events.
RELATED: OPINION: Ceasing Winter Commencement a lose-lose for students
Sac State was reported by both The State Hornet and The Sacramento Bee to have scrambled to pay around $50,000 more than it was prepared to, using a mix of student commencement fees and money from the University reserves.
Though Sac State spokesperson Craig Koscho said that commencements are designed to be paid for entirely by student fees, continuing to hold two ceremonies a year would have virtually guaranteed an increase in those fees.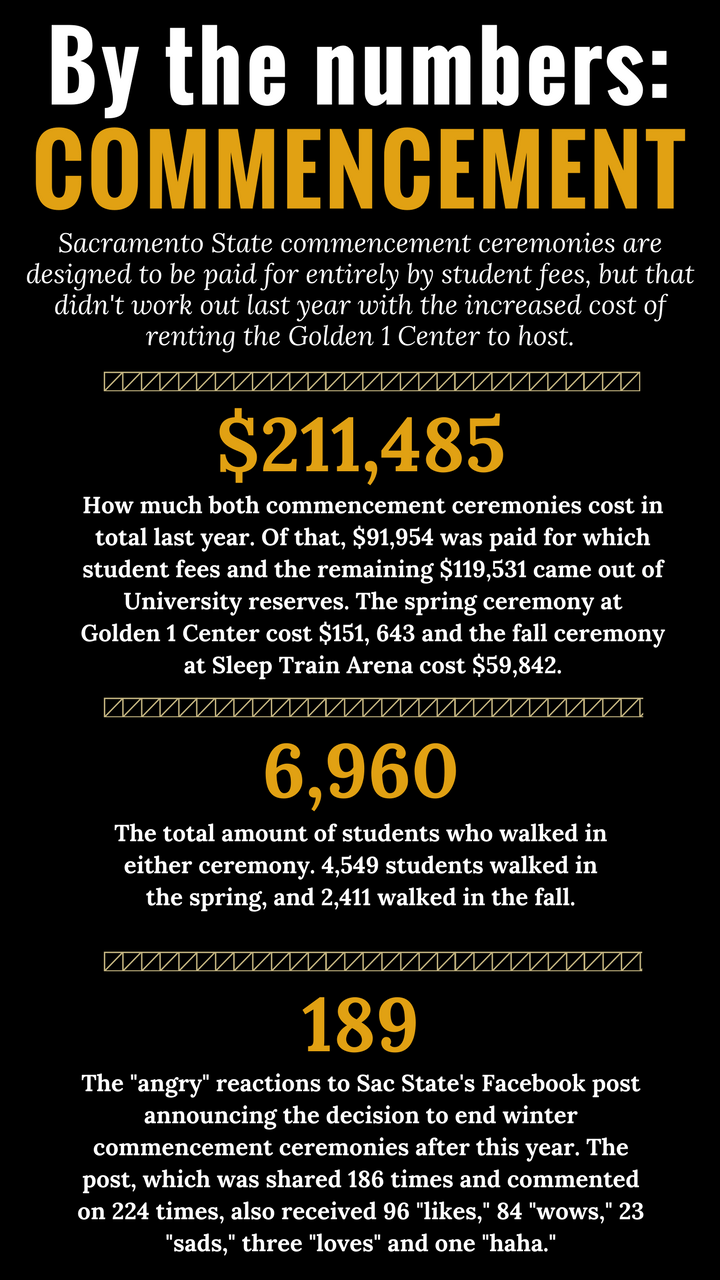 Currently, the commencement fee for students is $76.50, an increase of $13 from the previous year. Before, the fee hadn't changed since 2009, according to Koscho who added that with the elimination of winter graduations, the university is "not anticipating an increase in fees at this point."
Both ceremonies last academic year cost Sac State $119,531 of reserve funds and $91,954 of student fees, an overall total of $211,485.
RELATED: EDITORIAL: University should have asked students first about graduation
The total cost would have been higher by $50,000 had the city of Sacramento not designated all three days of the ceremony as "civic event days," of which the city has nine to use per year in an agreement with the Sacramento Kings who operate the arena.
Koscho said that Golden 1 Center is the planned long-term venue for Sac State's graduation ceremonies, but the University does not know, as of now, whether Sacramento will continue to designate graduations as civic events, as the city is creating a formal application process for acquiring civic day designations.
"They will be accepting applications once that is completed," Koscho said. "We have no idea when that will be, but we will submit a request as soon as that is available."
A request for information sent to the city of Sacramento on what the process will entail or when it will be implemented was not returned as of press time.
Sacramento City Councilmember Steve Hansen, who represents District 4, the area of downtown including the Golden 1 Center, supported the move to make Sac State graduations civic events last semester, and he reiterated his support Tuesday via email.
It is unclear at the moment how much the two upcoming ceremonies this academic year will cost, according to Koscho.
"We really don't know how much it costs until after the ceremony," Koscho said.
Several complaints were brought up by students on social media after the announcement, including concern over fall graduates being feasibly able to attend six months after finishing their degree, increasing the already over-long runtime of the spring ceremonies by compacting both classes into one ceremony and the number of offered tickets continuing to shrink.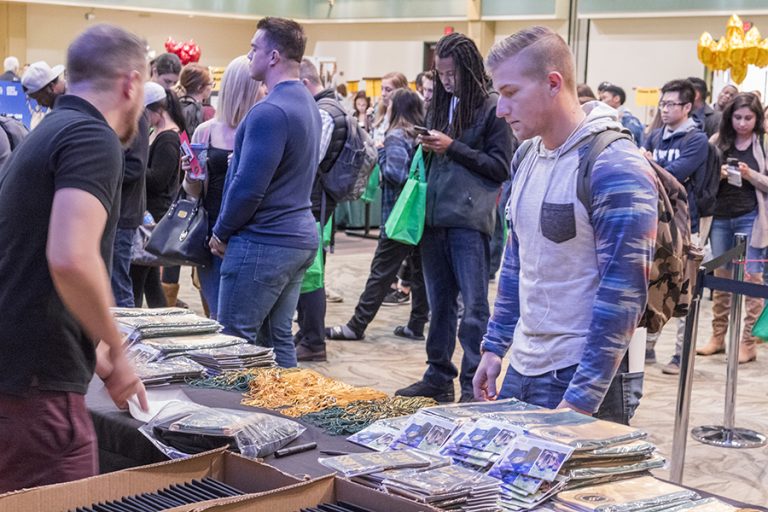 The most consistent student response to the announcement seemed to be that they felt it was unfair to those who graduate after future fall semesters and who may move away immediately, either back home or to wherever they can find a job.
Facebook user and Sac State finance major Kylie Smith received the most positive reactions of any commenter on the University's post announcing the change when she expressed her disappointment in the decision.
"So what about students who graduate in Fall of 2018 and move away right after school? We have to travel back in May to walk? Stupid. I guess I won't be walking at all lol," Smith wrote, in part.
"Certainly it's a major inconvenience for those who are planning to graduate in December next year or years beyond that," Koscho said. "The fact is though, that in looking at the comparisons, commencement is designed to be paid solely through the commencement fees that each student pays. We anticipated that, by keeping the winter commencement, our fees would have had to go up more than we hoped."
Last winter, for the last commencement at Sleep Train Arena, graduates were offered twelve free tickets for guests. That number shrank to nine for the spring ceremony at the Golden 1 Center, and it is expected to shrink again when adding whichever fall graduates wait until spring to walk.
Four-thousand four-hundred fifty-nine students walked in the spring 2017 ceremony at Golden 1 Center, and 2,411 walked in the winter 2016 ceremony at Sleep Train Arena. Both arenas have capacities at slightly over 17,000.
Lacking a true events center with enough size, the University considered holding winter or spring commencements at Hornet Stadium last year but estimated that the cost of labor and maintenance would have exceeded $200,000 per ceremony, making it slightly cheaper to hold it at Golden 1 Center.
Other Sacramento venues like Cal Expo, Raley Field, the Sacramento Convention Center Complex and the Memorial Auditorium were deemed to hold too few seats for guests.
Sleep Train Arena may be usable again by 2019, as the city of Sacramento is attempting to convert it to a convention center on a temporary basis while the Sacramento Convention Center undergoes scheduled construction.
Sac State has been holding mid-year commencements for 50 years. Its first was in January 1967, reported in an archived Hornet article to be located in the "Men's Gymnasium." The article also said that up to 900 invited students were offered three free tickets each.