Sac State searching for $100K to pay for the first Golden 1 graduation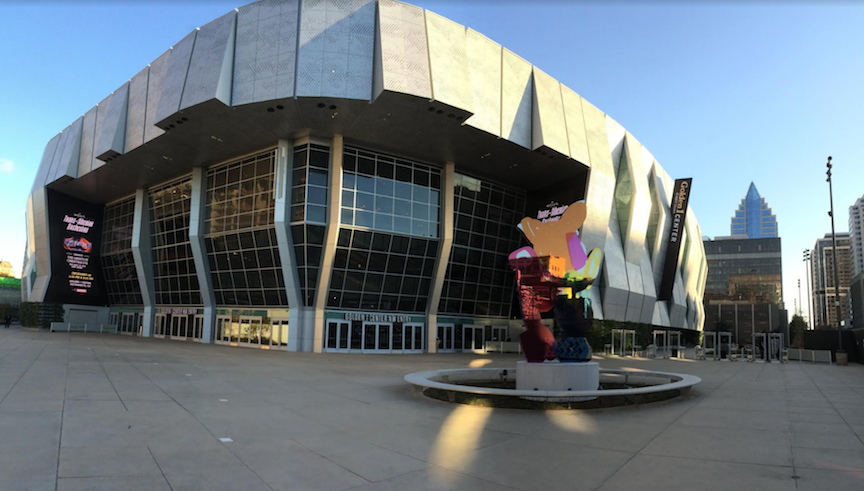 UPDATE: March 16, 2:42 p.m. — Sacramento councilman Steve Hansen, who represents the district in which Golden 1 Center is located, said in an email to The State Hornet that he supports the idea that Sacramento should waive the $50,000 fee that Sacramento State would otherwise have to pay the Sacramento Kings. 
Sacramento State's spring 2017 graduation ceremony plans certainly were finalized later than usual, but the university is now working to find money to pay for it after the Sacramento Kings increased the amount of the bill.
Sac State is as of now unsure of how it will pay for the first class to graduate at Golden 1 Center downtown, after the Kings organization tripled the bill between Sleep Train Arena and Golden 1.
Sac State spokesperson Craig Koscho said in an email Tuesday to The State Hornet that the costs for Golden 1 Center's commencement ceremonies were estimated to be $190,595, including $50,000 for rental fees.
The rest represents the cost of holding such a large, two-day event in downtown, including traffic control, operations within the arena and arena staff.
Previous Sac State graduations, including the ceremonies for the fall 2016 class, took place at Sleep Train (formerly Arco) Arena, which is no longer being used for public events.
The Sacramento Kings charged Sac State a total of $59,842 for the spring 2016 commencement ceremonies, nearly one-third of the cost for the upcoming Golden 1 Center ceremonies.
The Sacramento Bee was the first to report that Sac State is nearly $100,000 from being able to pay the full cost, and does not know where the extra money will come from.
Koscho said Wednesday that "funding sources are still being reviewed."
Koscho also said that the move to Golden 1 Center was hampered because the arena is new.
"While the need for a new venue was anticipated, answers to how we could use Golden 1 had to wait until it was actually open and they had a chance to see how major events would proceed," Koscho said.
Golden 1 Center opened September 30, 2016, the same week Sleep Train Arena had its last public event, a Ringling Bros circus.
Sac State also considered other Sacramento venues like Cal Expo, Raley Field and the Convention Center, none of which would have provided as many seats as Golden 1 Center will.
It was announced last week in an email from Sac State President Robert Nelsen that the final date, times and location for commencement ceremonies were set. All colleges of the university will walk between May 19-20 at the Golden 1 Center.
The late announcement is causing a headache for graduating seniors — but Sac State's accommodations appear to be more student friendly than those at commencements at comparable institutions in California.
It was also announced that the final number of tickets that Sac State will offer each graduate is nine, three less than the 12 given during fall 2016, but three more than the six promised earlier this semester.
Sac State spokesperson Elisa Smith said to The Bee that the university is paying an additional cost in order to offer nine tickets to each student.
Students can claim their nine tickets starting April 10, and have a month to figure out how many more than can borrow from fellow students should they need more for family or friends.
The State Hornet looked into what other similarly-sized universities with similarly-sized graduating classes offer senior classes in terms of tickets for family members and found that most institutions do not offer more than the nine per graduate that Sac State offers.
UC Davis offers its graduating students a range of 4 to 7 tickets for ceremonies that start in the middle of May and end in the middle of June, according to a spokesperson. Other universities such as UC Irvine, San Diego State University, and San Francisco State all offer fewer as well.
UC Berkeley allows students to purchase up to 15 tickets. Its commencement ceremonies are held at the California Memorial Stadium, which seats about three times as many people as the Golden 1 Center.
According to the email from Nelsen, the number of tickets per student dropped from 12 for the fall 2016 class to nine for the upcoming class because of the nearly doubled amount of expected graduates.
Sac State is attempting to supplement the insecurity in the amount of tickets by establishing the official Sacramento State Alumni Facebook page as a forum for seniors to swap tickets.
It's unknown how much the delay in confirmation — plus the number of tickets offered — will hamper or prohibit family members from attending.
Many graduation ceremonies are set years in advance to allow for families to travel, yet the families of Sac State graduates have had no guarantees until now, and have 10 weeks to work out a plan.
Raveena Hans, a biomedical sciences student, expects around 15 family members to attend her commencement, and said it has been an issue all year that the location and date were never settled.
"A lot of family was asking what day it was going to be and they wanted to take days off, and because there was such a delay they had to hold off," Hans said.
Overall, Hans just wants to figure out what to expect.
"I just hope my whole family can come," she said.