Next steps unclear as Sac State, CSU implement tobacco ban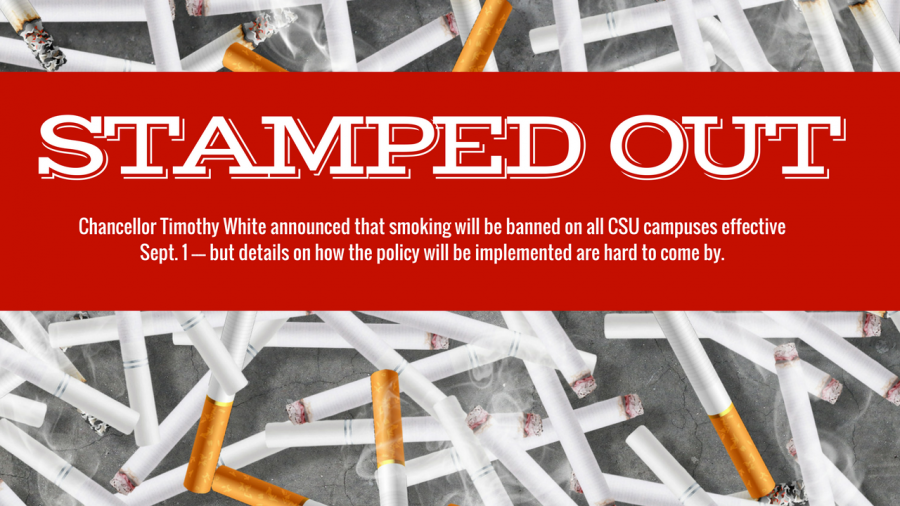 CSU Chancellor Timothy White issued an executive order on April 7 mandating that all 23 campuses be smoke- and tobacco-free by Sept. 1. The ban not only covers traditional cigarettes but other tobacco or nicotine products such as electronic cigarettes, hookah, snuff and chewing tobacco.
The order also mandates that each campus and the system as a whole establish committees to implement the new policy, a task which will include communicating the message to students, faculty and staff, changing signage and removing outdoor ashtrays.
The systemwide committee will be meeting soon, although no date has been scheduled, according to CSU spokesperson Elizabeth Chapin, who said that the system is still looking for representatives from the different campuses to serve on the committee.
Sacramento State is setting up its own committee as mandated by the order, according to university spokesperson Elisa Smith.
The Sac State committee will include representatives from Student Affairs, the Sac State Police Department and Human Resources, who will devise a communication plan, Smith said.
When asked when the committee will begin to meet and what measures will be taken to enforce the policy, Smith said that she did not have any information because "it's still too early."
Smoking is currently allowed at Sac State except for indoors, inside Hornet Stadium and other athletic venues, within 30 feet of the American River Courtyard, within 20 feet of other building entries and on major walkways.
The tobacco ban will not contain an exception for on-campus housing, according to Chapin. Currently, Housing and Residential Life allows smoking with the same restrictions as the rest of the campus.
Angelica Bachman, a Housing and Residential Life student assistant, said that she hasn't been informed about how the policy will be implemented there, adding that there are several places around campus housing where residents go to light up.
"We do have some tables outside the buildings that are far away, so people will use that space," Bachman said. "There's also a grassy area that people will go to."
The closest place to campus housing where residents will be able to smoke after Sept. 1 will either be the levee along the American River or across J Street, though there is not a sidewalk along some parts of State University Drive, between the Residence Halls and J Street.
California tobacco users have faced increasing restrictions and obstacles in recent years aimed at encouraging them to leave behind a habit which is the leading cause of preventable death in the United States, according to the Centers for Disease Control and Prevention.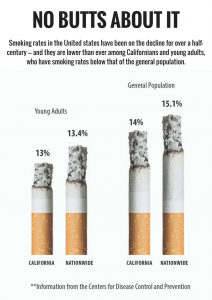 Last year, the state banned tobacco sales to adults under the age of 21 for the first time. In November, voters approved a ballot proposition which became effective on April 1 that increased the state tax on a pack of cigarettes by $2 to $2.87 — with equivalent tax increases on other tobacco products as well as electronic cigarettes.
These moves follow decades of legislation which have led to the elimination of smoking from most workplaces, restaurants, airplanes and other indoor public spaces where it was once not only accepted, but encouraged.
Many Americans have responded to this, as well as increased knowledge about the health risks posed by tobacco, by quitting.
Forty-two percent of Americans smoked in 1965 — the year that then-Surgeon General Luther Terry announced after exhaustive study that smoking was indeed a cause of lung cancer. That number has plummeted to 15.1 percent, according to the CDC.
The numbers of Californians, young adults nationwide and young adults in California who smoke hover slightly below that total at 14, 13.4 and 13 percent respectively, according to the CDC.
Chancellor White's tobacco ban isn't the first time that smoking on campus has been challenged. In 2013, then-President Alexander Gonzalez announced that tobacco would be banned at Sac State effective in fall 2015.
But that ban never went into effect after the Chancellor's Office asked Sac State to hold off until the CSU could devise a policy that would apply system-wide.
In the meantime, Sac State alumnus and Assemblyman Kevin McCarty, D-Sacramento, introduced a bill to ban smoking and electronic cigarettes at California public colleges.
The bill passed the Legislature but was was vetoed on Sept. 26 of last year by Gov. Jerry Brown, who said it was unnecessary because the higher education systems already had the authority to ban smoking.
All University of California campuses banned tobacco in 2014 and some CSUs, such as Fullerton and San Diego State, have already banned smoking.
There is no ban on the community college level, though smoking is banned at all four colleges of the Los Rios Community College District.
Now that Chancellor White has acted on his authority, students who use tobacco are left figuring out what they will do when the ban goes into effect.
Crystal Forame, who smokes cigarettes, said that she feels there should be designated smoking areas.
"It's a bad habit, and we should stop, but we should have a choice," she said.
Melissa Herrera, who does not smoke, cited the dangers of secondhand smoke as a reason to support the new policy.
"Just because someone wants to kill themselves doesn't mean they have to kill us along with them," she said. "It's their choice, not ours."
Alex Lee, an international student who hails from South Korea, pondered what he will do come Sept. 1.
"Maybe go to the parking lot to hide," he said.
RELATED: #SacStateSays: Where will you smoke when the ban takes effect?