Professor co-creates podcast 'Ear Hustle' with San Quentin inmates to fight stigma
Sacramento State photography professor Nigel Poor and San Quentin State Prison inmates Earlonne Woods and Antwan Williams will be spotlighting life-in-prison stories on a biweekly podcast called "Ear Hustle."
All stories on the podcast, which is slated to premiere in June of this year on EarHustleSQ.com, will originate from San Quentin, where Woods and Williams are currently incarcerated.
Each episode will focus on different topics, including living with pets in prison and the culture around the n-word.
Poor started volunteering at San Quentin in 2011, teaching photography. Currently, she volunteers her time inside the prison working on Ear Hustle with Woods and Williams.
Woods, who co-hosts the show with Poor, is serving a 31-year to life sentence for attempted second-degree robbery — while Williams, who works as the show's sound designer — is serving a 15-year sentence for armed robbery.
"People would not think we would work together," Poor said. "One of the things I really like is that it's a surprise to people and that we're all really committed to making it work."
RELATED: 5 podcasts you should be listening to right now
While teaching photography in San Quentin, she was approached by a student who wanted her help on a film project about life inside of prison.
However, due to the complexity of film production, the project was turned into audio segments instead.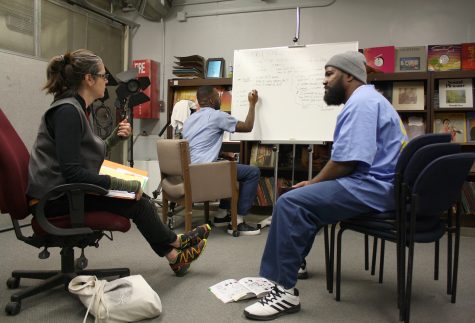 San Francisco's public radio station KALW 91.7 FM began broadcasting the segments as a program called "The San Quentin Prison Report." The station has aired almost 50 segments since 2013, according to Poor.
"Those were more news oriented stories — more (like) journalism," Poor said. "I was really interested in telling stories more from an artist perspective — more (like) storytelling."
Poor's interest in story-driven podcasts led her to collaborate with Woods and Williams, and in March 2016, the trio decided to enter "Podquest," a Radiotopia competition looking for diverse and new talents for story-driven podcasts.
"Ear Hustle" topped the competition of 1,537 podcast ideas from about 50 countries because of its perspective from inside an isolated, rarely heard-from community.
"'Ear Hustle' was completely original in the mix of submissions we considered," said Radiotopia's executive producer Julie Shapiro. "We just don't hear stories about life in prison — an inaccessible and unknown place for so many listeners — from the perspective of those living it."
Beginning in June, the podcast will air two episodes every month for five months.
In between episodes, listeners will have the opportunity to phone in or send a message through the website to speak with the "Ear Hustle" production team through Q&A sessions.
Though the team will air 10 episodes, they are looking to produce 15 in total and choose the best stories from the batch.
Woods and Williams said in a recent interview with Ike Dodson of the California Department of Corrections and Rehabilitation that it's easier for inmates to share stories with them because they're all in the same position in life.
Since the inception of the podcast, the two inmates have been regularly approached by other prisoners about story pitches or to express personal interests in becoming involved in the production process.
Other times, they'd have to scour for stories themselves, which they refer to as "ear hustling."
"Sometimes it's really about ear hustling," Woods said in the interview with Dodson. "Because you'll be sitting in line for chow, and you can't turn your ears off from hearing the story that might be in front of you."
As the only non-prisoner in the team, Poor said she has received support and positive feedback from the prison community, as well as criticism for her involvement in the project.
"I think one way we find self-worth as people is through creative work and feeling that our voices count," Poor said. "This project is one way of seriously giving people a voice to not feel invisible anymore — I don't think there's any reason I shouldn't be a part of making that happen."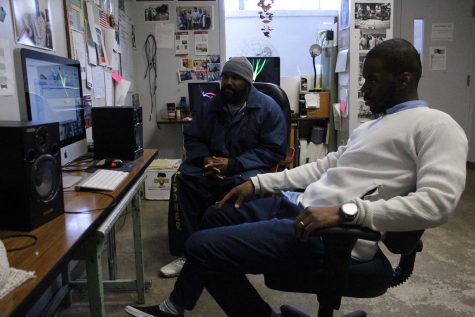 Along with a stream of the podcast, the "Ear Hustle" team plans to play the podcasts within the closed circuit TV system that runs between all the prisons in the California Department of Corrections for inmates to hear.
"We don't want to just make the stories for the (people) outside to hear; we want other incarcerated people to hear the stories about their brothers," Poor said. "(It's) about the people they know."
With three episodes already completed and its May deadline fast approaching, the team hopes to break down preconceived notions about prisoners through the podcast.
"To some degree, people expect for the quality to not be as good as it is," Williams said. "When we work, we want to make sure that the sound is as professional as it can be."
The team spends hours addressing even the small details, creating its own music to emphasize particular moments within a story.
Williams and Woods work about 12 hours a day, five days a week on "Ear Hustle" in the media lab, which is equipped with Apple computers, microphones and the essentials needed to produce their show.
Despite the group's commitment to the podcast, there are limitations to creating the show within a prison. They have no internet access and no way to communicate with each other when Poor is not at the prison.
Even without those basic amenities, the "Ear Hustle" team wants to show the public that sometimes there's a bigger life in prison than what people usually expect.
"The biggest thing we want to showcase is life inside. You know, that it isn't all stabbings and rapes and riots and people just slamming bars," Williams said. "Sometimes that's the furthest thing from prison. We want to make sure the stories have a real relevance to what life actually is in prison."
Transitioning from a photographer to podcaster, Poor hopes her students will learn from her experience and never stop challenging themselves.
"I remember what it's like now, to be the person who doesn't know," Poor said. "And that's what life is. It's a constant learning."