Body art no longer reserved for bikers as students get inked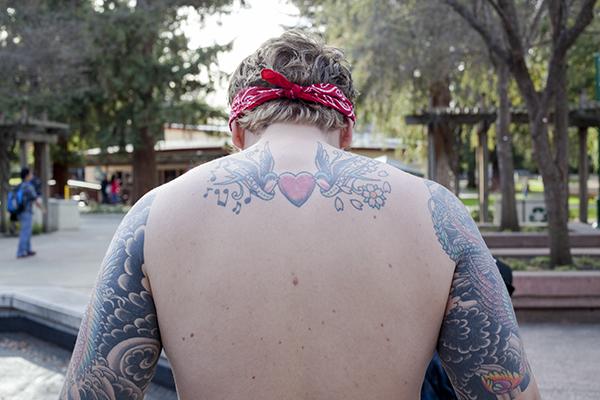 Walk across the campus at Sacramento State on any given day and you are nearly as likely to see someone sporting a tattoo as you are a backpack.
Thomas Eidam, a junior criminal justice major, got a Celtic cross tattooed on his arm two years ago.
The tattoo is a personal expression that represents ties to his family. The traditional Celtic symbol was engraved into the casket for two of Eidam's grandparents.
"My cousin has a Celtic cross, my brother has it, and all the men on our side of the family have started to get (the same tattoo),"Eidam said.
Eidam said the cross represents his grandparents' legacy because they were both from Ireland.
"My parents are first generation (Irish immigrants) from Boston and my family is 100 percent Irish,"Eidam said.
Eidam is not worried about his job prospects because he said his tattoo can easily be covered up.
"It's high enough to where when I wear a short-sleeved T-shirt you can't see it," he said.
Ashly Amey, a senior business major, just got a tattoo on her shoulder on Jan. 26. Along with her sorority sister, Amey spoke about the matching tattoos each girl has on her foot. 
"We've been planning this a long time because we're very good friends and now we just got our financial aid," Amey said. "She just goes, 'oh I know what we're doing tonight.' and we just went out and got tattoos. I got a cat and she got paws."
Cynthia West, a computer engineering sophomore, said she and Amey became friends when they first joined their sorority. It is her fourth tattoo. 
 "When we both joined we kind of had a hard time connecting with our big sisters so we connected with each other," West said.
Over time, the tattoo will become a souvenir of her life now.
"In essence it  marks my college years and this will be a reminder of this time of my life," West said.
Amey said she wants a career so she always thinks about where to place tattoos so they will not be seen.
"So if I'm in a professional setting my tattoo wouldn't show," Amey said. "Like the one on my shoulder- if I wear a blazer[, it won't show."
Mike Coats, a marketing junior, said all of his tattoos have meaning. One of his favorites is a phoenix, which he had done after a major car accident.
"Phoenixes die and then they get reborn," Coats said. "I feel like I got a second chance. That's why I put 'hope' in there so I hope I have a second chance."
One of Coats' tattoos represents the story of the koi dragons. He said the story is about koi dragons who swim up the stream, and when they get up to the top of the mountain they turn into dragons.
"This is kind of like the transformation of my life," Coats said. "I started out as a kid and now I'm growing into an adult-ish."
Among Coats' other tattoos lives Ganesh, the Hindu elephant god, because he likes the meaning. He also has tattoos signifying his mom and dadand a pair of praying hands that represents his grandfather.
Coats said that he will continue to get tattoos for as long as he is alive.
"I do get dumb stuff, but it all means something to me still," Coats said. "I just love them. I just love them."
His mantra, "Be Real" is forever emblazoned on his body.
"Be real – that's what I live by, baby," Coats said. "I don't lie. I don't do dirt. People either love me or hate me cause I'm so blunt."
Coats said he does not know why someone would not get a tattoo because they are afraid of what employers think.
"It's just your skin you know you can cover it," Coats said. "If a job really hates on that then I think it's an old school, repressive attitude. It's 2013."