Sacramento State students' designs to appear on this year's runway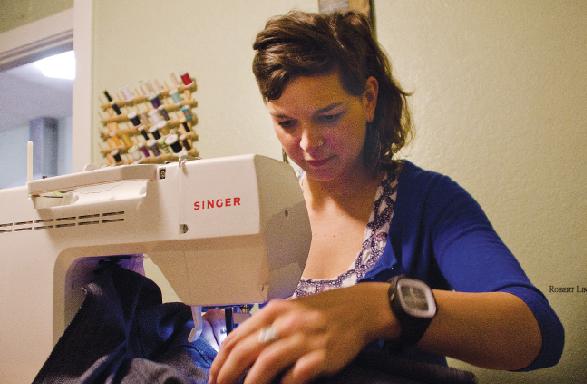 Sacramento is getting a makeover as a throng of fashion designers, photographers and industry insiders prepare for the annual Sacramento Fashion Week held Feb. 21-25.
Workshops, forums and fashion shows will give outsiders a peek inside the exciting world of fashion.
A panel of industry professionals will educate students and community members about opportunities within the fashion industry on Feb. 23 during the Fashion Forum hosted by the Student Fashion Association at the Hinde Auditorium in the University Union at Sacramento State University.
"The forum is going to have a lot of designers, stylists, people who are actually in the industry from different areas of California," said Tamika Bellamy, Student Fashion Association president. "You never know who you're going to meet so it's a really good networking opportunity."
Both the workshops and forum are free to the public.
The week will end with two days of fashion shows on Feb. 24 and Feb. 25 when 16 Northern California designers will send their collections down the runway.
In their Sacramento Fashion Week debut, lifestyle brand PLDM will be showcasing their 15-look collection during Saturday's lineup. Launched in December 2010, PLDM is the brainchild of Hannah Hicks and Kevin Rogers, two Northern California natives who turned their love for music, fashion, skating and art into a collection of upscale yet simple garments.
"It's definitely inspired by just all different genres of music, art, graffiti art, street art (and) skating," Rogers said.
These elements came together in a collection that stays true to the individual's style while fitting into their lifestyle, Hicks said.
"They're just really comfortable clothes that aren't over the top," Hicks said. "You can be active in all those things and still have style while you're doing it."
The 15-look collection includes eight for women and seven for men.
"We've pushed each other a lot on this one. It's pretty much everything now," Rogers said on the expansion of the line from tees to denim to jackets.
Yet, even as the line has expanded, Hicks and Rogers continue to create items that can easily be integrated into preexisting wardrobes.
"A lot of it is staple stuff that you can pair with other things to get your individual look you're going for," Hicks said.
After the show, Rogers and Hicks said they plan to begin work on PLDM's summer line while reaching out to musicians, skaters and surfers who may be interested in teaming up with the brand.
"We kind of want to create just a big collective of talented people that are good at what they do and look good doing it," Rogers said.
After her 1950s-themed collection was a success at last year's Sacramento Fashion Week, designer Janelle Cardenas has returned to the runway with her 12-piece collection titled "Love."
"This collection is inspired by mainly my mom. My mother was actually a seamstress and my mom's college years were in the '60s. A lot of my inspiration for this collection embodies '60s mod," Cardenas said.
In designing her collection, Cardenas drew inspiration from family photos, music, movies and mod icons such as Twiggy and Edie Sedgwick.
"I love things that are vintage. I think things from the '20s through the '60s have this classy appeal with clean lines and an edge," Cardenas said.
While finding ideas in past decades is a large part of her design process, Cardenas said she aims to create garments reminiscent of the era while maintaining a modern feel suggestive of the woman who wears it.
"What I try to do with my pieces is in terms of classiness," Cardenas said. "I believe every woman wants to be classy, but every woman wants to be unique in their own sense."
Cardenas' designs are available by order-only through the designer.
Sac State senior public relations student Joycelynn Brown will showcase "Kennie's Doll," her clothing line named after her daughter, during the Feb. 24 fashion show.
"The line is named after my daughter Kennie Marie," Brown said. "In my mind all the models are her dolls and I wanted to dress them up."
Feminine and romantic, "Kennie's Doll" encapsulates the love and joy Brown feels life has brought her.
"My line is inspired by my life. I have a 3-year-old daughter and am engaged and getting married at the end of the year," Brown said. "It's really beautiful with a lot of love and romance in my life. I'm really hoping to express that through the music, clothing and fabric choices."
Attendees to the show can expect to see Brown's romantic inspiration through her use of flowing chiffons and light colors such as cornflower blue and green. Brown said each piece is made to timelessly show off a woman's silhouette without going overboard.
"I have a similar opinion as Diane von Furstenberg of 'Be a woman, wear a dress,'" Brown said. "I believe that you can be beautiful and sexy without being inappropriate."
Jessica Scharff can be reached at [email protected]